General Aviation Aircraft
Explore the world of general aviation aircraft with our reviews. Written from a pilot's perspective, these reviews provide fantastic insight into what these general aviation planes are really like.
Tuesday, September 22, 2009
Backstage With A Rock Star
An exclusive look into flight-testing one of the most anticipated light-sport aircraft: the Icon A5

"Rock star." It's a phrase you frequently hear when talking to Kirk Hawkins, founder and CEO of Icon Aircraft in Los Angeles, Calif.
Wednesday, September 9, 2009
Gobosh 800XP: Flying With Composites
It has been five years since the FAA approved the first LSA. Here's one of the latest and most innovative entries in the class.

I wasn't quite sure what to expect. Gobosh's Dave Graham had promised me that this was an LSA with a difference.
Wednesday, September 9, 2009
Getting Creative: Affordable Flying
With the economy in trouble, pilots are finding innovative ways of keeping themselves in the sky

Affordable flying is something of an oxymoron. World War II aviator Jimmy Doolittle is credited for uttering the phrase, "How can it be said that there is no money in aviation? That's where I left all of mine!"
Tuesday, August 25, 2009
Rocky Mountain High: The Aviat Husky
With a new Garmin G600 panel, Aviat re-creates the Husky backcountry classic with modern comforts and capabilities

4:19 a.m. That's what the clock read as I stared at it for the fifth time in an hour. I was trying to sleep and it just wasn't working.
Tuesday, August 11, 2009
First-Class Glass: Sting S3
Amazing cockpit visibility, tough, nimble, fast: What's not to like?

There's a joyful aspect to flying any low-wing LSA that you just don't get with a high-winger: the unrestricted panoramic view from the horizon upward.
Tuesday, July 28, 2009
Bonanza In The 6th Decade
Is there a pilot out there who doesn't yearn for a Bonanza?

When I was a college student about XX years ago, one of the coolest cars on the planet was the Jaguar XKE.
Tuesday, July 14, 2009
The Big Blue World: Evektor Sportstar SL
The Evektor SportStar SL is friendly to fly, sturdy, beautiful and roomy—and what a view!

Below, the greening, lake-dotted checkerboard of central Florida stretches in every direction. It's a beautiful day to be flying a beautiful bird. Color me happy!
Tuesday, June 23, 2009
LSA Roundup
Light-sport models and avionics to suit all budgets

You need go no farther than a summer air show buzzing with a vibrant, colorful contingent of light-sport aircraft to see what the excitement has been all about and sense where it might take us. The LSA movement is a living, breathing example of the sheer innovation, quality and giddy diversity that has characterized personal flight from the very beginning in 1903.
Tuesday, June 23, 2009
Cessna 400 Corvalis TT
Cessna initiates changes to its recently acquired Columbia line of low-wing singles

Back in the '80s, when I was working on the ABC TV show Wide World of Flying, I flew up to Washington State to interview Ken Wheeler, designer of the Wheeler Express homebuilt, and fly his innovative airplane.
Tuesday, May 26, 2009
Mooney Ovation 3: Turbo Performance Without The Turbo
The Ovation 3 is the fastest normally aspirated production single ever—period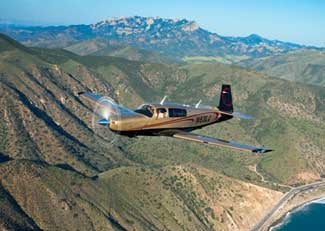 Say what you will about American cars, but America builds some of the best civilian airplanes in the world. In the lower rungs of general aviation, especially trainers through four-seat retractables, American flying machines have virtually no equal.