General Aviation Aircraft
Explore the world of general aviation aircraft with our reviews. Written from a pilot's perspective, these reviews provide fantastic insight into what these general aviation planes are really like.
Tuesday, January 27, 2009
King Me!
Down & dirty in the spectacular Utah Canyonlands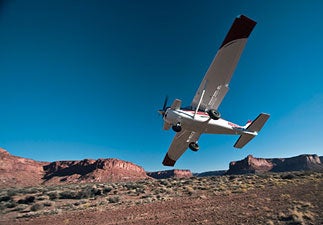 If you're coming down that canyon thinking, "I can do this three out of five times," you're going to be scared to death. Because you don't know if this is one of the three—or one of the two.—Todd Peterson
Monday, January 26, 2009
Liberty XL2 Vanguard: The Soul Of A Tiger
The FADEC-equipped two-seater makes training and cruising fun again

The mission was an intriguing one: I would fly the brand-new Liberty Aerospace XL2 Vanguard Edition for a pilot report along California's Malibu coast.
Tuesday, December 2, 2008
Choosing A Six-Seat Single
Efficiency, comfort, modern technology and so much more

In our current era of financial belt-tightening, efficiency counts for a lot. Vero Beach and Wichita are really getting it right with their newest batch of six-seat singles. Why? Because today's six-seat singles offer a great combination of comfort, baggage capacity, speed, ease of flying and modern technology for people who need to cover a typical 250-mile stage length with four to six passengers and a lot of luggage.

Tuesday, December 2, 2008
LSA Buyer's Guide
Vanilla, chocolate, strawberry or Fudge-Ribbon Granola-Mocha Delight? How's a pilot to choose which bird to buy?

As a prospective LSA owner, you might justifiably conclude that once you've made the crucial decision to buy an aircraft, the most difficult decision is behind you, yes? To quote Comrade Putin: Nyet!
Tuesday, December 2, 2008
The Hottest Four Seaters
A look at new fixed-gear, four-seat singles

If you're looking to purchase a four-seat single, then you've got no shortage of models to select from. Aside from price range, the models encompass a wide variety of performance capabilities and equipment.
Saturday, November 1, 2008
A Look At The Piper Jet

Approximately two years after unveiling its much-anticipated PiperJet, Piper Aircraft recently gave members of the media, Piper dealers and prospective owners a firsthand look at the jet. Piper's unveiling consisted of both a ground viewing and aerial demonstration over the Vero Beach, Fla., factory. With more than 200 visitors on hand, Piper provided many new details on the jet's performance, design and certification status.
Tuesday, October 21, 2008
Co-Ownership: Navigating Airplane Partnerships
Buying an airplane with a partner opens up ownership to any pilot. Do it right the first time

It's a safe bet that before the ink was dry on your solo endorsement, you started thinking about buying an airplane. If you stayed with the same FBO after your checkride, the negative aspects of renting became clear: dirty cockpits, long squawk lists, items held together with duct tape, and having to schedule weekend flights far in advance. Like many pilots, you probably made some calculations and figured out that you could never afford to own. Most people stop there. But there's a way that almost anybody with just about any income can own an airplane. The answer: a partnership or, more correctly, a co-ownership.

Tuesday, October 21, 2008
Cessna 350: Cessna's New-Generation Single
Is the Cessna 350 the new NGP?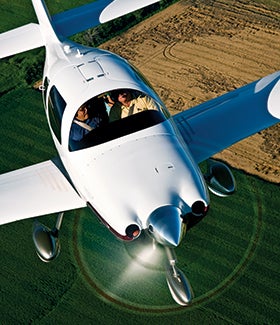 If you want to start a lively debate with a group of pilots, take a side on the high-wing/low-wing debate, and then stand back. You're almost guaranteed to hear passionate arguments from both sides of the issue. Cessna has always built its single-engine airplanes with the wing on the top. Columbia Aircraft models are most emphatically not high-wing airplanes. Perhaps for that reason, it came as a surprise in November 2007 when Cessna purchased the rights to a bankrupt Columbia Aircraft for a relatively paltry $26.4 million.
Tuesday, October 21, 2008
Maule MXT-7: Simplicity Redefined
A different take on the question of four-seat economy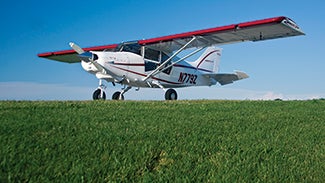 Back in the last century, when I lived in Alaska, I used to hear stories of pilots who could fly Maules out of places where other airplanes would fear to roll a tread. I didn't have a chance to fly one in those days, but I always wondered if the stories were true.
Tuesday, October 21, 2008
Jabiru J230: Heart Of Gold
Beauty and solid, easy-flying handling in one package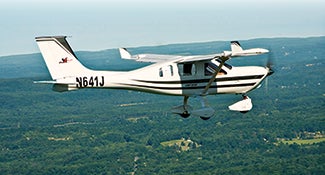 What draws a person to an airplane? For some it's raw performance—faster/higher/farther; for others, it's enthusiastic raves from fellow pilots. But for most of us, it's an intangible moment of "smittenness" with the sheer visual appeal of a new flying machine. How great, then, when the object of your latest affection turns out to not only have eye-catching beauty, but a heart of gold as well.