General Aviation Aircraft
Explore the world of general aviation aircraft with our reviews. Written from a pilot's perspective, these reviews provide fantastic insight into what these general aviation planes are really like.
Saturday, December 1, 2007
TL-Ultralight: Sting Sport TL-2000
Yet another Czech Republic LSA is showing the world how to build a true economy machine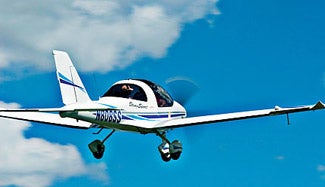 It seems the Czech Republic is one of the world's centers for LSA manufacturing these days. A multitude of light-sport aircraft are being built in the former Czechoslovakia and sold all over the world.
Thursday, November 1, 2007
No Worries With iFly
Shared access and exceptional member care make flying a cinch

I was introduced to a new kind of flying at an open house in Long Beach, Calif. Erik Lindbergh, grandson of Charles Lindbergh and cofounder of iFly, spoke of the "world's first exclusive aero club," a membership-only venture that provides shared access to technologically advanced aircraft and high-end customer service. Having recently earned my private license, I typically rent airplanes (and envy friends who own theirs). But iFly's program was intriguing, so I decided to check it out.
Thursday, November 1, 2007
The "New" Old Centurion
Now out of production for 20 years, Cessna's top piston single offers good range, excellent stability and reasonable, six-seat comfort for pilots with a yen for a high-wing speedster

The step-up market has always been critically important to the major aircraft companies. There may not be much profit in building trainers, but manufacturers are well aware that pilots tend to buy the same brand in which they learn. A pilot who earns his license in a Warrior, 152 or Musketeer is likely to consider an Arrow, Skylane or Bonanza, respectively, as a first step-up airplane.
Thursday, November 1, 2007
Partnership Aircraft
With careful planning, shared ownership could be the best way to go

Would an aircraft partnership save you money or allow you to fly a bigger and better airplane for less than you're spending now? A partnership, or shared aircraft ownership, is one of the oldest and sometimes most practical forms of owning an airplane.
Thursday, November 1, 2007
Diesel Maule: Alternative Energy For The Boondocks
One of America's oldest, and too often forgotten, aircraft manufacturers introduces its answer to the ever-tightening supply of avgas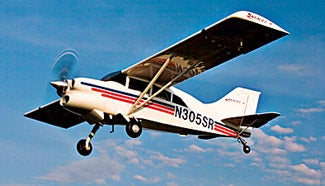 I don't know about you, but I can't imagine a world without avgas. Within a few years, I may need to stretch my imagination. The reality is that avgas may not be with us for more than about another decade (if that long).
Thursday, November 1, 2007
Kappa KP-5: LSA With A Difference
The Czech Republic continues to offer some of the most comfortable and capable LSAs in the industry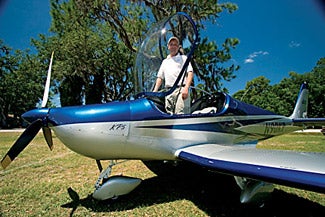 Most of us who came to LSAs from the fully certified Part 23 side of the industry were initially a little skeptical as to whether the new class of aircraft was "real." Would LSAs be as flimsy and primitive as some of the early ultralights?
Tuesday, October 23, 2007
Diamond DA40 XL: Polishing The Diamond Star
The new Diamond DA40 XL incorporates new aerodynamics, an improved, composite prop and an advanced exhaust system to increase the knot count

Ask anyone who's tried to wring more speed from an existing aircraft design, and you'll learn that the task is very difficult. Hot-rodders have long been adding speed on cars and motorcycles by installing progressively more powerful engines, and that works great for machines that roll on wheels. Unfortunately, it's not nearly as effective on airplanes.
Monday, October 1, 2007
$500 Per Month?
You can own an airplane on a budget

I've always believed that everyone can own an airplane. Indeed, I've noticed that many of the people who are now jetting around in Gulfstreams or Challengers got started in Champs, Cubs, Stinsons, Cessna 150s, Cherokee 140s or similar entry-level airplanes.
Monday, October 1, 2007
Ovation3: Reaching For 200
Mooney's new Ovation3 pushes the cruise-speed battle closer to 200 knots—without a turbocharger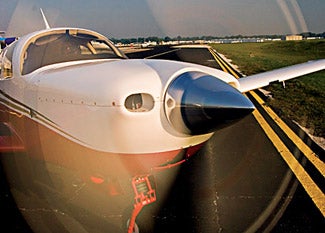 On the face of it, retractable gear seems almost an ideal solution to the problem of making an airplane fly faster. The whole idea is to reduce drag and increase cruise; cleaning up the underwing accomplishes that mission, though with varying levels of success.
Monday, October 1, 2007
Bad Girl
Flying Patty Wagstaff's "girly" Extra 300S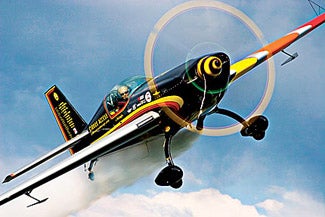 There I sat as the consequence of a misunderstanding, watching the ground drop away at a satisfyingly rapid rate. I anticipated a high nose attitude, but still underestimated and had to keep pulling back on the stick—even while setting the throttle and prop to "25 squared" out of concern for the noise-sensitive airport neighbors. I tried to hold 90 knots and reached the end of the 5,000-foot-long runway passing through 1,100 AGL. And the plane wasn't even trying!