General Aviation Aircraft
Explore the world of general aviation aircraft with our reviews. Written from a pilot's perspective, these reviews provide fantastic insight into what these general aviation planes are really like.
Tuesday, February 9, 2010
FADEC Comes Of Age
Simplifying engine management with Teledyne Continental

Face it. Computers are taking over the world. Like it or not, more and more of those functions we used to perform manually are being accomplished faster and more efficiently with electronic assistance.
Tuesday, January 26, 2010
Bear 360: Living The Warbird Dream!
A sexy new airplane reminiscent of the WWII Bearcat

Designed for aspiring warbird pilots who lack the funds for a P-51 Mustang, the Bear 360 has a price tag roughly equivalent to that of a new Cessna 172.
Tuesday, January 26, 2010
Upgrade Your Plane! Part III
Firewall forward—life after TBO

When purchasing an aircraft, the selection criteria usually relate to mission capabilities such as seating capacity, speed, range, weather capabilities, etc. Consequently, the first engine-related decision that most aircraft owners make comes at TBO (time between overhauls).
Tuesday, December 15, 2009
Upgrade Your Plane! Part II
A new panel

While having a modern, state-of-the-art panel may be a dream, this is no dream article. Given today's economy, we're taking a practical look at the best real-world solutions for getting maximum functionality without having to sell a kidney for financing.
Tuesday, December 15, 2009
The Single-Engine Jet From Diamond

I want one. And if you're thinking about stepping up to your first jet in the next few years, you will, too, once you fly it.
Tuesday, December 1, 2009
Cessna 162 Skycatcher: It's Here!
Cessna's successor to the 152, the Skycatcher, is poised to shine in the trainer market

The proliferation of LSA since the FAA announced the first approval at Sun 'n Fun 2005 has been little short of amazing.
Tuesday, December 1, 2009
Buying & Selling Strategies For 2010
This may be the ideal time to get a new or used airplane

Today's GA marketplace is best described as difficult but not impossible.
Monday, November 2, 2009
Upgrade Your Plane! Part I
Part I: A new exterior

From time to time, Plane & Pilot embarks on a proverbial aircraft-upgrade project and chronicles the progress for the enjoyment and edification of readers.
Monday, November 2, 2009
Breezer II: The Girl Next Door
Familiar and lovely, easy to be with and great to fly

Flying an unfamiliar LSA is a bit like a first date. Your friends have talked her up. She has a pretty smile, but will you get along? Does she Tweet or use Facebook, keep an old-fashioned diary, or both?
Tuesday, October 20, 2009
New Light Twin From Italy
Tecnam introduces a twin-Rotax-powered four-seater in the tradition of the Partenavia P68C

Naples, Italy, April 18, 1986: Today, I'm first in line for takeoff from Naples toward our initial destination of Nice, France. It has taken all morning to assure that the paperwork is up to Italian standards, but we're finally ready, or so I hope.
Tuesday, October 6, 2009
170-Knot SUV
It's the top of Cessna's piston line, and not unlike ground-bound SUVs, the Turbo Stationair can haul (almost) anything you can close the doors on

As one of the premier general aviation manufacturers, Cessna has always enjoyed something of a utility image.
Tuesday, September 22, 2009
Power Trip
King Air Upgrades Spur Aftermarket Action

With heavy in- and outbound Philadelphia and New York traffic passing overhead, it's a challenge getting cleared to climb directly to FL280 from Queen City Municipal Airport (KXLL) in Allentown, Pa.
Tuesday, September 22, 2009
Backstage With A Rock Star
An exclusive look into flight-testing one of the most anticipated light-sport aircraft: the Icon A5

"Rock star." It's a phrase you frequently hear when talking to Kirk Hawkins, founder and CEO of Icon Aircraft in Los Angeles, Calif.
Wednesday, September 9, 2009
Gobosh 800XP: Flying With Composites
It has been five years since the FAA approved the first LSA. Here's one of the latest and most innovative entries in the class.

I wasn't quite sure what to expect. Gobosh's Dave Graham had promised me that this was an LSA with a difference.
Wednesday, September 9, 2009
Getting Creative: Affordable Flying
With the economy in trouble, pilots are finding innovative ways of keeping themselves in the sky

Affordable flying is something of an oxymoron. World War II aviator Jimmy Doolittle is credited for uttering the phrase, "How can it be said that there is no money in aviation? That's where I left all of mine!"
Tuesday, August 25, 2009
Rocky Mountain High: The Aviat Husky
With a new Garmin G600 panel, Aviat re-creates the Husky backcountry classic with modern comforts and capabilities

4:19 a.m. That's what the clock read as I stared at it for the fifth time in an hour. I was trying to sleep and it just wasn't working.
Tuesday, August 11, 2009
First-Class Glass: Sting S3
Amazing cockpit visibility, tough, nimble, fast: What's not to like?

There's a joyful aspect to flying any low-wing LSA that you just don't get with a high-winger: the unrestricted panoramic view from the horizon upward.
Tuesday, July 28, 2009
Bonanza In The 6th Decade
Is there a pilot out there who doesn't yearn for a Bonanza?

When I was a college student about XX years ago, one of the coolest cars on the planet was the Jaguar XKE.
Tuesday, July 14, 2009
The Big Blue World: Evektor Sportstar SL
The Evektor SportStar SL is friendly to fly, sturdy, beautiful and roomy—and what a view!

Below, the greening, lake-dotted checkerboard of central Florida stretches in every direction. It's a beautiful day to be flying a beautiful bird. Color me happy!
Tuesday, June 23, 2009
LSA Roundup
Light-sport models and avionics to suit all budgets

You need go no farther than a summer air show buzzing with a vibrant, colorful contingent of light-sport aircraft to see what the excitement has been all about and sense where it might take us. The LSA movement is a living, breathing example of the sheer innovation, quality and giddy diversity that has characterized personal flight from the very beginning in 1903.
Tuesday, June 23, 2009
Cessna 400 Corvalis TT
Cessna initiates changes to its recently acquired Columbia line of low-wing singles

Back in the '80s, when I was working on the ABC TV show Wide World of Flying, I flew up to Washington State to interview Ken Wheeler, designer of the Wheeler Express homebuilt, and fly his innovative airplane.
Tuesday, May 26, 2009
Mooney Ovation 3: Turbo Performance Without The Turbo
The Ovation 3 is the fastest normally aspirated production single ever—period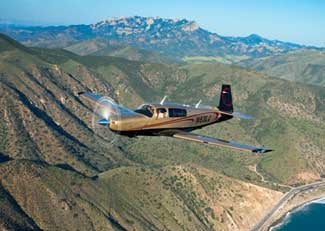 Say what you will about American cars, but America builds some of the best civilian airplanes in the world. In the lower rungs of general aviation, especially trainers through four-seat retractables, American flying machines have virtually no equal.
Tuesday, April 21, 2009
A New Cirrus With A New Boss
Flight Into Known Icing is added to the SR22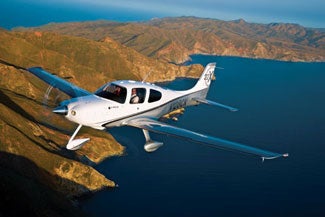 Working under the code name "Project Kiwi," Duluth, Minn.–based Cirrus Design has been laboring over the last 20 months in relative secrecy to certify its first FAA-approved Flight Into Known Icing (FIKI) system on its flagship aircraft, the SR22.

Tuesday, April 21, 2009
Luscombe Phantom II: A Modern Time Machine
With its radial engine and timeless design, Luscombe introduces an LSA with attitude

I was glad my editor couldn't see the little jig I danced after reading her e-mail asking if I was interested in flying a new taildragger from Luscombe called the Phantom II.