General Aviation Aircraft
Explore the world of general aviation aircraft with our reviews. Written from a pilot's perspective, these reviews provide fantastic insight into what these general aviation planes are really like.
Friday, July 1, 2005
"301 Knots!"
Take the Beech Duke, add turbines, and you get that magical number

It's a magic number and one not often seen in turboprop corporate aircraft. A bare handful of propjets can touch 300 knots in cruise—the Piper Cheyenne 400LS, Commander 1000, Mitsubishi Solitaire, Beech Starship and King Air 350, and the Socata TBM 700.
Friday, July 1, 2005
Clark Kent Of The Sport Class
Mike Jones is a mild-mannered businessman, but in Reno, NEV., he's some kind of Superman!

If you're like me and would not consider missing the Reno Air Races every September, you have to have noticed the increasing popularity of the sport class. The Reno Air Races have survived for years with only four classes of competition: sport biplanes, Formula One, T6 and unlimiteds—the latter, by far, being the top draw of all.
Friday, July 1, 2005
Symphony 160
This new sport trainer gets even better the second time around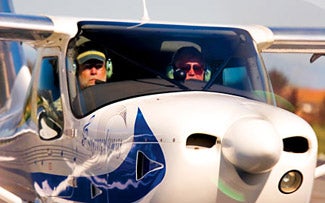 The Symphony 160 was introduced five years ago by OMF Aircraft of Neubrandenburg, Germany, which established a Canadian manufacturing subsidiary, OMF Canada, in 2003, located in Three Rivers, Quebec. Through no fault of its Canadian subsidiary, the parent company declared bankruptcy and the Symphony design was left stranded in the murk of litigation. After negotiating an almost unimaginable morass of legalities, several of the original OMF Canada team has emerged with the rights to bring the high-tech two-seater back to market.
Wednesday, June 1, 2005
2005 Electronic Skyhawk
It's here—the most popular airplane in the world now comes with a glass panel

When Garmin premiered its G1000 do-everything glass-panel avionics system in mid-2003, the package was perceived as an extremely talented collection of electronic wizardry obviously intended for high-end general-aviation aircraft. Glass panels have been available on airline and corporate aircraft for years, but the G1000 expanded the technology to general aviation.
Sunday, May 1, 2005
Cherokee 6
This Oshkosh winner is one of the all-time great flying SUVs!

Folks who live in Seattle, Wash., tell strangers about how bad the weather is; it's a mantra for them. The message is almost subliminal—it's a gloomy place, the sun never shines, it's always raining… For some reason, they don't want the rest of us up there. But the weather in Seattle actually is different from the message. In reality, the climate is mild, the landscape beautifully green, and for Randy Kersten, it's one of best places on the planet to own an airplane.
Sunday, May 1, 2005
Buying Your First Plane
It's an issue practically all of us must address at one time or another. Virtually every pilot—student, private, commercial or ATP—dreams of owning an airplane.

In most cases, the first question a pilot must answer is the obvious one: How much money are you willing to spend on an airplane? In the majority of cases, this will be a finite number that will make the selection process easier. In others, a prospective buyer may be willing to spend as much as he or she needs to buy the airplane he or she wants. One way or another, a smart purchase, like a small fight, begins with gathering all the important information.
Sunday, May 1, 2005
The Littlest King Air
Fifty years of continuous production point out the importance of a twin turbine.

Too often, it seems the aviation press gives short shrift to one of the most important segments of business flying. Turboprops have long been the forgotten stepchild of corporate aviation. To paraphrase comedian Rodney Dangerfield, "Turboprops just can't get no respect."
Sunday, May 1, 2005
The New & Improved Liberty XL2
The composite and aluminum two-seater has already come further than most. Now it's pulling into the fast lane!

What would you do with a successful two-seat, kit-built airplane? Some folks would be happy to just bask in the glory of it. Others would think about a new model at some point, or a different engine, or even a fast-builders program. But this path was no good for Tony Tiarks, the CEO of Liberty Aerospace.
Friday, April 1, 2005
Straight Talk From Lycoming
The largest piston-engine maker to introduce diesel & other designs

In a long-awaited move, Lycoming general manager Ian Walsh said that his company will be introducing a new diesel engine. While the company hasn't released details of the new engine, Walsh did say that it would be dramatically more efficient than today's gasoline-powered engines and would solve other problems, including the use of lead in aviation fuel. The diesel, when introduced, would run on standard jet fuel.
Tuesday, March 1, 2005
Mooney's Glass-Paneled Ovation2 GX
The cockpit of an airplane with the soul of a sports car

Have you ever driven a Ferrari? A Ferrari is like no other, a bit hard to climb into, but once you're there, you become part of the car. Acceleration, braking, turning, a Ferrari does everything fast, with a solid in-control feedback you feel in your whole body. It looks as fast as it drives.