General Aviation Aircraft
Explore the world of general aviation aircraft with our reviews. Written from a pilot's perspective, these reviews provide fantastic insight into what these general aviation planes are really like.
Tuesday, December 2, 2008
The Hottest Four Seaters
A look at new fixed-gear, four-seat singles

If you're looking to purchase a four-seat single, then you've got no shortage of models to select from. Aside from price range, the models encompass a wide variety of performance capabilities and equipment.
Saturday, November 1, 2008
A Look At The Piper Jet

Approximately two years after unveiling its much-anticipated PiperJet, Piper Aircraft recently gave members of the media, Piper dealers and prospective owners a firsthand look at the jet. Piper's unveiling consisted of both a ground viewing and aerial demonstration over the Vero Beach, Fla., factory. With more than 200 visitors on hand, Piper provided many new details on the jet's performance, design and certification status.
Tuesday, October 21, 2008
Co-Ownership: Navigating Airplane Partnerships
Buying an airplane with a partner opens up ownership to any pilot. Do it right the first time

It's a safe bet that before the ink was dry on your solo endorsement, you started thinking about buying an airplane. If you stayed with the same FBO after your checkride, the negative aspects of renting became clear: dirty cockpits, long squawk lists, items held together with duct tape, and having to schedule weekend flights far in advance. Like many pilots, you probably made some calculations and figured out that you could never afford to own. Most people stop there. But there's a way that almost anybody with just about any income can own an airplane. The answer: a partnership or, more correctly, a co-ownership.

Tuesday, October 21, 2008
Cessna 350: Cessna's New-Generation Single
Is the Cessna 350 the new NGP?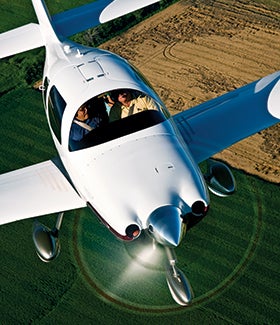 If you want to start a lively debate with a group of pilots, take a side on the high-wing/low-wing debate, and then stand back. You're almost guaranteed to hear passionate arguments from both sides of the issue. Cessna has always built its single-engine airplanes with the wing on the top. Columbia Aircraft models are most emphatically not high-wing airplanes. Perhaps for that reason, it came as a surprise in November 2007 when Cessna purchased the rights to a bankrupt Columbia Aircraft for a relatively paltry $26.4 million.
Tuesday, October 21, 2008
Maule MXT-7: Simplicity Redefined
A different take on the question of four-seat economy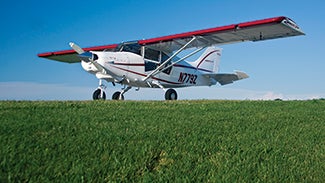 Back in the last century, when I lived in Alaska, I used to hear stories of pilots who could fly Maules out of places where other airplanes would fear to roll a tread. I didn't have a chance to fly one in those days, but I always wondered if the stories were true.
Tuesday, October 21, 2008
Jabiru J230: Heart Of Gold
Beauty and solid, easy-flying handling in one package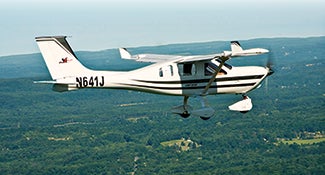 What draws a person to an airplane? For some it's raw performance—faster/higher/farther; for others, it's enthusiastic raves from fellow pilots. But for most of us, it's an intangible moment of "smittenness" with the sheer visual appeal of a new flying machine. How great, then, when the object of your latest affection turns out to not only have eye-catching beauty, but a heart of gold as well.
Wednesday, October 1, 2008
Luscombe Silvaire 8F: A Classic LSA
A Luscombe enthusiast revives the type with a larger Continental engine and a lower gross weight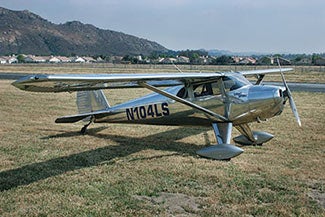 If you're a Luscombe lover (and most any pilot who's flown the type is), the new/old Luscombe 8F must strike a resonant tone. These days, in fact, the old Luscombe design has taken on a new persona, that of an LSA.

Wednesday, October 1, 2008
YIPPEE: Evolution Of A Thoroughbred
Nearly a quarter of a century in gestation, the LoPresti Fury flies into the 21st century full of promise

Roy LoPresti was one of those people who should have been allowed to live forever. I was proud to call Roy a friend and mentor, the smartest man I ever met on the subject of little airplanes.
Tuesday, September 16, 2008
American Champion Super Decathlon: Flight With Greg Koontz
A pilot for practically as long as he's been breathing, Greg Koontz takes the definition of "aviator" to new heights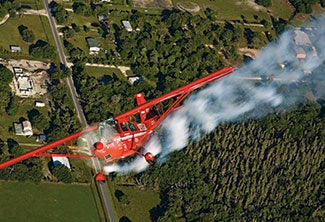 It's always fun to fly with really good pilots, especially those who are better than you. (In my case, that's practically everyone.)
Monday, September 8, 2008
Feel-Good Flyer
Ever met someone you instantly liked? The MD3 Rider is one friendly yet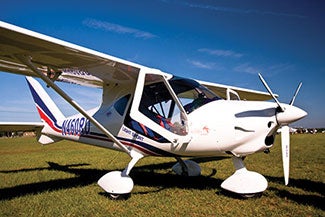 Everything in life is subjective, even scientific observation. And if you're the least bit sensitive to your environment, you'll probably agree that any vehicle, just like any person you meet, has a distinct feel and personality.
Monday, September 1, 2008
The New Look Of GA
How new aircraft buyers are changing the face of general aviation

Just over a decade ago, buying a brand-new aircraft wasn't an option. While you might have been able to special-order something esoteric, most legacy manufacturers had altogether stopped building new airplanes. When you could buy something brand-new, it looked just like the airplanes already sitting on the ramp, albeit a bit shinier and with that "new plane" smell. The technology, both in the cockpit and within the engine, was pretty much the same from one aircraft to another and hadn't really progressed much in more than 40 years. The designs of the aircraft themselves had stayed pretty much the same since the 1950s.

Monday, September 1, 2008
The Ageless Skylane
"Age and experience trump youth and enthusiasm every time." Well, almost every time.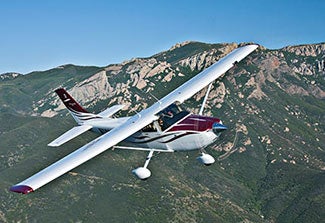 As I look down—and up—at the Andes Mountains ahead, I can't help feeling some comfort that I'm flying one of the oldest, toughest airplanes above the planet. Santiago, Chile, is in the Skylane's rear window as I climb higher above the famous Pan-American Highway, reaching for 13,000 feet to clear the tall ridgeline into Argentina.
Monday, September 1, 2008
Robinson R44 Raven II Helicopter: Piston Chopper
With four seats, a 112-knot cruise and the lowest price in the class, Robinson's R44 is perhaps the ultimate multitasker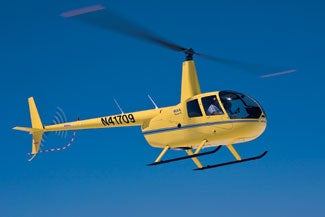 In case all you fixed-wing pilots hadn't noticed, Frank Robinson's success in the light helicopter market has been nothing short of spectacular. Robinson Helicopter Company (www.robinsonheli.com) has sold some 8,500 helicopters in the last three decades.
Monday, September 1, 2008
For Town & Country
A hybrid lands in the bush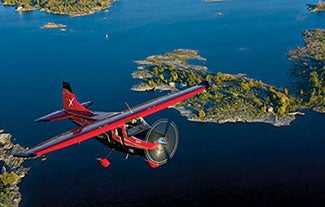 We're on an Expedition. Two of them, actually. Four of us are aboard the Expedition E350, the new tricycle-gear bush plane from Found Aircraft (www.expeditionaircraft.com). The others in our party are aboard the Expedition E350XC, the conventional-gear variant—this one outfitted with amphibious floats—flying barely 20 yards off our right wingtip. We're making a short hop to Ontario's Muskoka Airport, a mere 27 nm southeast of Found Aircraft's headquarters at Parry Sound Area Municipal Airport, also in Ontario.
Thursday, June 19, 2008
LSA Lineup
With more than 1,400 aircraft registered in the States, the phenomenon keeps growing!

What exactly is a light-sport aircraft (LSA)? To qualify as an LSA, an airplane must be a maximum two-place, single-engine, fixed-gear machine that weighs no more than 1,320 pounds (1,420 for watercraft). It must have a level, full-power speed of no more than 120 knots, a clean stall speed no faster than 45 knots and a fixed-pitch propeller.
Thursday, June 19, 2008
The Mystique Of The Baron
The basic design may be 40 years old, but the 2008 Baron G58 flies with a newborn's enthusiasm and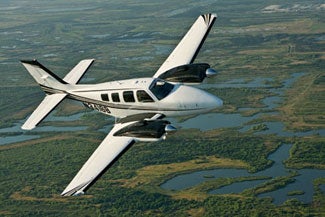 If you're wondering if the new Baron G58 is an airplane I don't like, then you've come to the wrong place. The current version of the Baron 58 is almost impossible not to love.
Thursday, June 19, 2008
A Trainer With Attitude
The Diamond DA20 brings fun and enthusiasm to flight training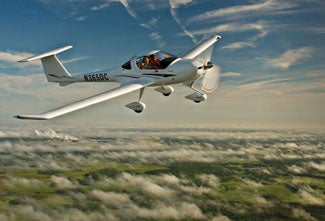 As of two years ago, the training market became a little more complex with the official introduction of a dozen or more light-sport aircraft. Today, the number of different LSA models has swollen to well over 60, and that figure increases on practically a daily basis. Many of these airplanes are fine little two-seaters, easily capable of handling the training mission despite their occasional performance limitations, and that's exactly the market their manufacturers are targeting.
Sunday, June 1, 2008
Redressing A Skylane: Project 182, Part II
Flying by the seat of your pants is more comfortable and fun when you're nestled into a supercomfortable seat surrounded by first-class furnishings

Someone in the aircraft refurbishment business once said (or should have said), "The paint may be what you see, but the interior is where you live." So it is with Plane & Pilot's Project Skylane. Since buying the 1981 Cessna 182 on the East Coast three years ago as a fixer-upper, we've done equal shares of research, hand-wringing and procrastination. Eventually, we had no choice but to actually give birth to the project. As a result, we've finally managed to finish the panel, paint and interior.

Sunday, June 1, 2008
Piper Saratoga II TC: It's All About Comfort
Forty years after the model's introduction, the retractable Saratoga II TC is still a great way to haul a team of huskies in comfort at 180 knots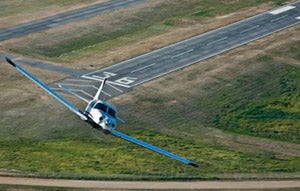 The runway we had just landed on wasn't bad by Alaskan standards: A combination of dirt and grass, probably 1,800 feet long, but mostly unimproved and pretty rough for anything but bush planes—or so I thought.
Sunday, June 1, 2008
Water Stinson
Though the Stinsons of the late '40s weren't designed as floatplanes, they adapt to water as if born for it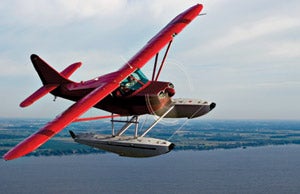 Lake Winnebago isn't agreeable today, as we splash out from the Oshkosh Seaplane Base.
Tuesday, May 20, 2008
Mooney Acclaim Type S: Still The Fastest!
If speed is your thing, The Acclaim Type S may be at the peak of the production pyramid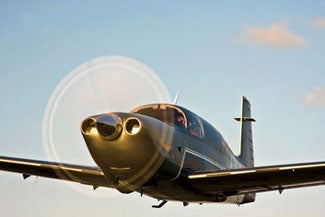 A few inches away, the world isn't a friendly place. I'm cruising in a new Mooney M20TN Acclaim Type S at 25,000 feet over central Florida, and despite clear skies and warm temperatures on the ground, the air is cold and thin nearly five miles above the ocean. Without the Mooney's protective bubble of aluminum and Plexiglas, plus oxygen masks to provide supplemental O2, I'd be in trouble.
Tuesday, May 20, 2008
Aviat Husky A-1C
A venerable bush plane turns visionary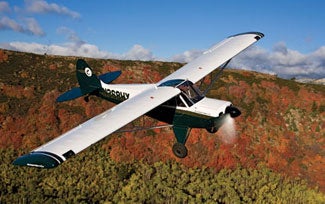 The lights of Lakeland, Fla., sparkle a thousand feet below, a pointillist painting on a black canvas. Yet despite the darkness, I can clearly distinguish open fields, forested tracts, clumps of trees, a couple of large ungulates—either horses or cows—even a narrow, sandy beach on a lake that should be invisible. All I have to do is glance at the small monitor sitting on the glare shield of the Aviat Husky A-IC.
Tuesday, May 20, 2008
Cirrus Perspective
A Garmin-based glass-cockpit revelation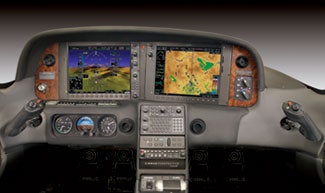 When the engineers at Cirrus Skunk Works branded the company's Garmin-based, next-generation glass-panel system, Codename Fighter, the moniker was more apropos than they might have thought.