General Aviation Aircraft
Explore the world of general aviation aircraft with our reviews. Written from a pilot's perspective, these reviews provide fantastic insight into what these general aviation planes are really like.
Tuesday, March 24, 2009
Ownership Made Easy
New versus old: What you get and what you don't get

This week, within the course of about two hours, I received calls from two friends who wanted to buy similar, but different, airplanes. The common thread was that each wanted something fun and simple to own.

Tuesday, March 24, 2009
Cubbing Around
A light-sport blend of old-school nostalgia and modern technology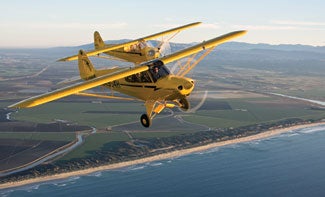 In a sky filled with high-performance pistons, turboprops and jets that speed to their destination, there's still something undeniably irresistible about a little yellow Cub. Puttering around low and slow, the humble two-seater makes lazy circles over emerald fields as its pilot smiles down on Earth, senses ignited by a soft breeze and the scent of grass airstrips that waft through the open window.

Tuesday, March 24, 2009
2009 Cessna 172S: Skyhawk In Year 53
Forever young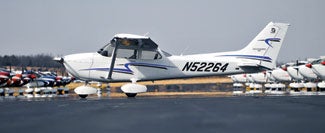 Is it just me, or does the Cessna Skyhawk seem younger than 53? After all, take away the panel, paint and interior, and you might mistake a 2009 for a 1964 model if both airplanes were parked side by side on the ramp in bare aluminum livery. But while the current model's configuration is physically very similar to that of the older models, the 2009 172S is a very different machine from that early version.

Tuesday, March 10, 2009
LSA Flight Report: Cruiser In School Clothing
Mix all-aluminum construction, deep aviation manufacturing background and the desire to build a robust training aircraft, and what have you got? Eaglet!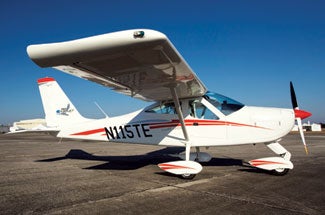 The truly wonderful thing about events like the recent Sebring U.S. Sport Aviation Expo is that you have the fun, and the scheduling challenges, of flying many different types of aircraft at one sitting. "Sitting" is a key word. I came to regard it as an aviation smorgasbord—for my tush. Of course, such an avian feast feeds other visceral, spiritual and intellectual appetites too, but sitting comfort in an airplane is also important, yes? You betcha.

Tuesday, February 24, 2009
DA 40 XLS: The Innovator Keeps Getting Better
With the addition of Garmin's Synthetic Vision Technology and other improvements, the popular composite four-seater reaches a wider audience

The day was a dappled gray when I arrived at Long Beach Airport in California for my chance to fly the brand-new Diamond DA40 XLS. Rain had been forecast for the afternoon, but the thin overcast had given way to broken clouds with a deep blue sky peering from behind them.
Tuesday, February 24, 2009
Improbable Pacer
A rebuilt classic in a class by itself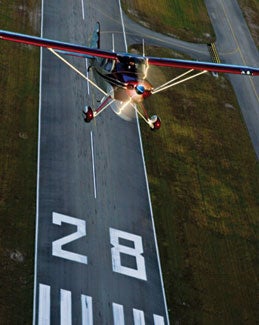 There are few aircraft type organizations in general aviation more enthusiastic than the Short Wing Piper Club. That's, perhaps, ironic in view of the inexpensive prices of most short-wing Pipers. The compact, little two- to four-seaters are among the cheapest entry-level airplanes available. Many sell for less than $25,000, especially the minimalist Vagabond, Clipper and Colt. As the last of the non-Cub Piper taildraggers, the Pacer enjoys a similar price advantage. Even the last of the Pacers, the 1954 model, sells today (in stock configuration) for well under $20,000. The PA20 was introduced in 1950 as a follow-on to the Piper Clipper after Pan American World Airways claimed it owned the name "Clipper" (apparently ignoring the fact that hundreds of sailing ships in the 19th century were called "clippers").

Tuesday, February 10, 2009
Up-And-Comer
The new Remos GX rises to satisfy sport pilots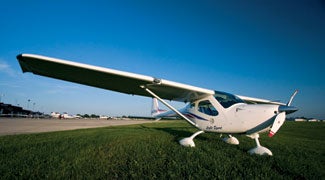 An LSA that was 10 years in the making may aptly be called a "mature design" within this nascent sector of piston aircraft. A few others share a similarly "ripe, old" heritage, but most are far newer than the trusty GA models in which many of us learned the art of flying.
Tuesday, January 27, 2009
King Me!
Down & dirty in the spectacular Utah Canyonlands

Todd Peterson built this STOL-bred King Katmai precisely to enable such thread-the-needle landings.
Monday, January 26, 2009
Liberty XL2 Vanguard: The Soul Of A Tiger
The FADEC-equipped two-seater makes training and cruising fun again

The mission was an intriguing one: I would fly the brand-new Liberty Aerospace XL2 Vanguard Edition for a pilot report along California's Malibu coast.
Tuesday, December 2, 2008
Choosing A Six-Seat Single
Efficiency, comfort, modern technology and so much more

In our current era of financial belt-tightening, efficiency counts for a lot. Vero Beach and Wichita are really getting it right with their newest batch of six-seat singles. Why? Because today's six-seat singles offer a great combination of comfort, baggage capacity, speed, ease of flying and modern technology for people who need to cover a typical 250-mile stage length with four to six passengers and a lot of luggage.

Tuesday, December 2, 2008
LSA Buyer's Guide
Vanilla, chocolate, strawberry or Fudge-Ribbon Granola-Mocha Delight? How's a pilot to choose which bird to buy?

As a prospective LSA owner, you might justifiably conclude that once you've made the crucial decision to buy an aircraft, the most difficult decision is behind you, yes? To quote Comrade Putin: Nyet!
Tuesday, December 2, 2008
The Hottest Four Seaters
A look at new fixed-gear, four-seat singles

If you're looking to purchase a four-seat single, then you've got no shortage of models to select from. Aside from price range, the models encompass a wide variety of performance capabilities and equipment.
Saturday, November 1, 2008
A Look At The Piper Jet

Approximately two years after unveiling its much-anticipated PiperJet, Piper Aircraft recently gave members of the media, Piper dealers and prospective owners a firsthand look at the jet. Piper's unveiling consisted of both a ground viewing and aerial demonstration over the Vero Beach, Fla., factory. With more than 200 visitors on hand, Piper provided many new details on the jet's performance, design and certification status.
Tuesday, October 21, 2008
Co-Ownership: Navigating Airplane Partnerships
Buying an airplane with a partner opens up ownership to any pilot. Do it right the first time

It's a safe bet that before the ink was dry on your solo endorsement, you started thinking about buying an airplane. If you stayed with the same FBO after your checkride, the negative aspects of renting became clear: dirty cockpits, long squawk lists, items held together with duct tape, and having to schedule weekend flights far in advance. Like many pilots, you probably made some calculations and figured out that you could never afford to own. Most people stop there. But there's a way that almost anybody with just about any income can own an airplane. The answer: a partnership or, more correctly, a co-ownership.

Tuesday, October 21, 2008
Cessna 350: Cessna's New-Generation Single
Is the Cessna 350 the new NGP?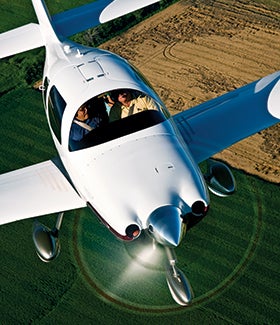 If you want to start a lively debate with a group of pilots, take a side on the high-wing/low-wing debate, and then stand back. You're almost guaranteed to hear passionate arguments from both sides of the issue. Cessna has always built its single-engine airplanes with the wing on the top. Columbia Aircraft models are most emphatically not high-wing airplanes. Perhaps for that reason, it came as a surprise in November 2007 when Cessna purchased the rights to a bankrupt Columbia Aircraft for a relatively paltry $26.4 million.
Tuesday, October 21, 2008
Maule MXT-7: Simplicity Redefined
A different take on the question of four-seat economy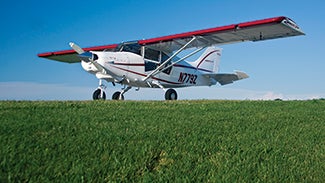 Back in the last century, when I lived in Alaska, I used to hear stories of pilots who could fly Maules out of places where other airplanes would fear to roll a tread. I didn't have a chance to fly one in those days, but I always wondered if the stories were true.
Tuesday, October 21, 2008
Jabiru J230: Heart Of Gold
Beauty and solid, easy-flying handling in one package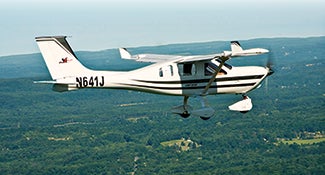 What draws a person to an airplane? For some it's raw performance—faster/higher/farther; for others, it's enthusiastic raves from fellow pilots. But for most of us, it's an intangible moment of "smittenness" with the sheer visual appeal of a new flying machine. How great, then, when the object of your latest affection turns out to not only have eye-catching beauty, but a heart of gold as well.
Wednesday, October 1, 2008
Luscombe Silvaire 8F: A Classic LSA
A Luscombe enthusiast revives the type with a larger Continental engine and a lower gross weight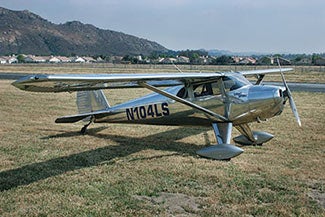 If you're a Luscombe lover (and most any pilot who's flown the type is), the new/old Luscombe 8F must strike a resonant tone. These days, in fact, the old Luscombe design has taken on a new persona, that of an LSA.

Wednesday, October 1, 2008
YIPPEE: Evolution Of A Thoroughbred
Nearly a quarter of a century in gestation, the LoPresti Fury flies into the 21st century full of promise

Roy LoPresti was one of those people who should have been allowed to live forever. I was proud to call Roy a friend and mentor, the smartest man I ever met on the subject of little airplanes.
Tuesday, September 16, 2008
American Champion Super Decathlon: Flight With Greg Koontz
A pilot for practically as long as he's been breathing, Greg Koontz takes the definition of "aviator" to new heights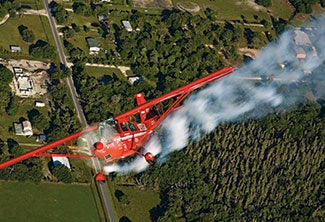 It's always fun to fly with really good pilots, especially those who are better than you. (In my case, that's practically everyone.)
Monday, September 8, 2008
Feel-Good Flyer
Ever met someone you instantly liked? The MD3 Rider is one friendly yet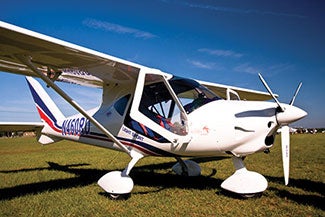 Everything in life is subjective, even scientific observation. And if you're the least bit sensitive to your environment, you'll probably agree that any vehicle, just like any person you meet, has a distinct feel and personality.
Monday, September 1, 2008
The New Look Of GA
How new aircraft buyers are changing the face of general aviation

Just over a decade ago, buying a brand-new aircraft wasn't an option. While you might have been able to special-order something esoteric, most legacy manufacturers had altogether stopped building new airplanes. When you could buy something brand-new, it looked just like the airplanes already sitting on the ramp, albeit a bit shinier and with that "new plane" smell. The technology, both in the cockpit and within the engine, was pretty much the same from one aircraft to another and hadn't really progressed much in more than 40 years. The designs of the aircraft themselves had stayed pretty much the same since the 1950s.

Monday, September 1, 2008
The Ageless Skylane
"Age and experience trump youth and enthusiasm every time." Well, almost every time.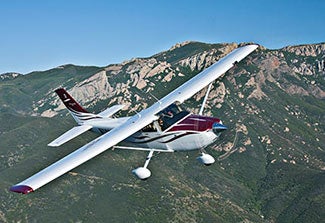 As I look down—and up—at the Andes Mountains ahead, I can't help feeling some comfort that I'm flying one of the oldest, toughest airplanes above the planet. Santiago, Chile, is in the Skylane's rear window as I climb higher above the famous Pan-American Highway, reaching for 13,000 feet to clear the tall ridgeline into Argentina.