General Aviation Aircraft
Explore the world of general aviation aircraft with our reviews. Written from a pilot's perspective, these reviews provide fantastic insight into what these general aviation planes are really like.
Monday, September 8, 2008
Feel-Good Flyer
Ever met someone you instantly liked? The MD3 Rider is one friendly yet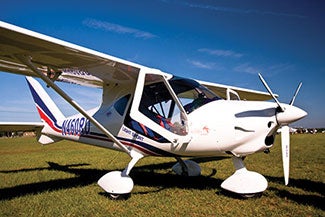 Everything in life is subjective, even scientific observation. And if you're the least bit sensitive to your environment, you'll probably agree that any vehicle, just like any person you meet, has a distinct feel and personality.
Monday, September 1, 2008
The New Look Of GA
How new aircraft buyers are changing the face of general aviation

Just over a decade ago, buying a brand-new aircraft wasn't an option. While you might have been able to special-order something esoteric, most legacy manufacturers had altogether stopped building new airplanes. When you could buy something brand-new, it looked just like the airplanes already sitting on the ramp, albeit a bit shinier and with that "new plane" smell. The technology, both in the cockpit and within the engine, was pretty much the same from one aircraft to another and hadn't really progressed much in more than 40 years. The designs of the aircraft themselves had stayed pretty much the same since the 1950s.

Monday, September 1, 2008
The Ageless Skylane
"Age and experience trump youth and enthusiasm every time." Well, almost every time.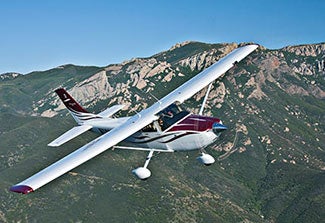 As I look down—and up—at the Andes Mountains ahead, I can't help feeling some comfort that I'm flying one of the oldest, toughest airplanes above the planet. Santiago, Chile, is in the Skylane's rear window as I climb higher above the famous Pan-American Highway, reaching for 13,000 feet to clear the tall ridgeline into Argentina.
Monday, September 1, 2008
Robinson R44 Raven II Helicopter: Piston Chopper
With four seats, a 112-knot cruise and the lowest price in the class, Robinson's R44 is perhaps the ultimate multitasker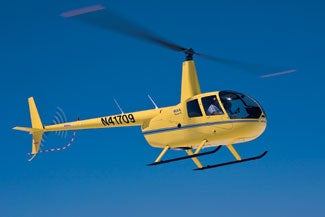 In case all you fixed-wing pilots hadn't noticed, Frank Robinson's success in the light helicopter market has been nothing short of spectacular. Robinson Helicopter Company (www.robinsonheli.com) has sold some 8,500 helicopters in the last three decades.
Monday, September 1, 2008
For Town & Country
A hybrid lands in the bush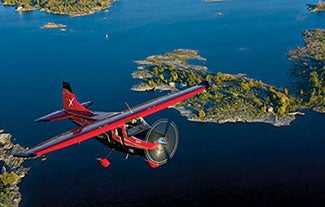 We're on an Expedition. Two of them, actually. Four of us are aboard the Expedition E350, the new tricycle-gear bush plane from Found Aircraft (www.expeditionaircraft.com). The others in our party are aboard the Expedition E350XC, the conventional-gear variant—this one outfitted with amphibious floats—flying barely 20 yards off our right wingtip. We're making a short hop to Ontario's Muskoka Airport, a mere 27 nm southeast of Found Aircraft's headquarters at Parry Sound Area Municipal Airport, also in Ontario.
Thursday, June 19, 2008
LSA Lineup
With more than 1,400 aircraft registered in the States, the phenomenon keeps growing!

What exactly is a light-sport aircraft (LSA)? To qualify as an LSA, an airplane must be a maximum two-place, single-engine, fixed-gear machine that weighs no more than 1,320 pounds (1,420 for watercraft). It must have a level, full-power speed of no more than 120 knots, a clean stall speed no faster than 45 knots and a fixed-pitch propeller.
Thursday, June 19, 2008
The Mystique Of The Baron
The basic design may be 40 years old, but the 2008 Baron G58 flies with a newborn's enthusiasm and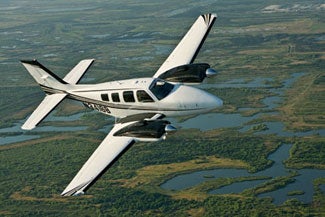 If you're wondering if the new Baron G58 is an airplane I don't like, then you've come to the wrong place. The current version of the Baron 58 is almost impossible not to love.
Thursday, June 19, 2008
A Trainer With Attitude
The Diamond DA20 brings fun and enthusiasm to flight training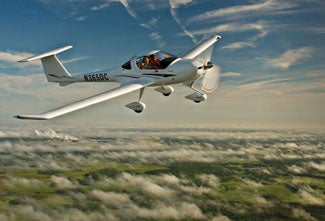 As of two years ago, the training market became a little more complex with the official introduction of a dozen or more light-sport aircraft. Today, the number of different LSA models has swollen to well over 60, and that figure increases on practically a daily basis. Many of these airplanes are fine little two-seaters, easily capable of handling the training mission despite their occasional performance limitations, and that's exactly the market their manufacturers are targeting.
Sunday, June 1, 2008
Redressing A Skylane: Project 182, Part II
Flying by the seat of your pants is more comfortable and fun when you're nestled into a supercomfortable seat surrounded by first-class furnishings

Someone in the aircraft refurbishment business once said (or should have said), "The paint may be what you see, but the interior is where you live." So it is with Plane & Pilot's Project Skylane. Since buying the 1981 Cessna 182 on the East Coast three years ago as a fixer-upper, we've done equal shares of research, hand-wringing and procrastination. Eventually, we had no choice but to actually give birth to the project. As a result, we've finally managed to finish the panel, paint and interior.

Sunday, June 1, 2008
Piper Saratoga II TC: It's All About Comfort
Forty years after the model's introduction, the retractable Saratoga II TC is still a great way to haul a team of huskies in comfort at 180 knots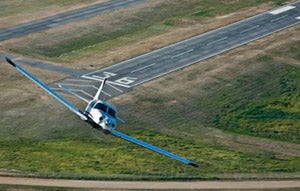 The runway we had just landed on wasn't bad by Alaskan standards: A combination of dirt and grass, probably 1,800 feet long, but mostly unimproved and pretty rough for anything but bush planes—or so I thought.
Sunday, June 1, 2008
Water Stinson
Though the Stinsons of the late '40s weren't designed as floatplanes, they adapt to water as if born for it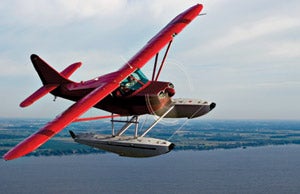 Lake Winnebago isn't agreeable today, as we splash out from the Oshkosh Seaplane Base.
Tuesday, May 20, 2008
Mooney Acclaim Type S: Still The Fastest!
If speed is your thing, The Acclaim Type S may be at the peak of the production pyramid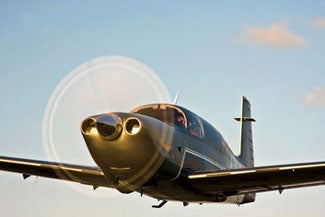 A few inches away, the world isn't a friendly place. I'm cruising in a new Mooney M20TN Acclaim Type S at 25,000 feet over central Florida, and despite clear skies and warm temperatures on the ground, the air is cold and thin nearly five miles above the ocean. Without the Mooney's protective bubble of aluminum and Plexiglas, plus oxygen masks to provide supplemental O2, I'd be in trouble.
Tuesday, May 20, 2008
Aviat Husky A-1C
A venerable bush plane turns visionary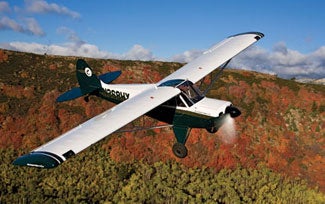 The lights of Lakeland, Fla., sparkle a thousand feet below, a pointillist painting on a black canvas. Yet despite the darkness, I can clearly distinguish open fields, forested tracts, clumps of trees, a couple of large ungulates—either horses or cows—even a narrow, sandy beach on a lake that should be invisible. All I have to do is glance at the small monitor sitting on the glare shield of the Aviat Husky A-IC.
Tuesday, May 20, 2008
Cirrus Perspective
A Garmin-based glass-cockpit revelation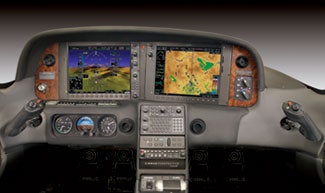 When the engineers at Cirrus Skunk Works branded the company's Garmin-based, next-generation glass-panel system, Codename Fighter, the moniker was more apropos than they might have thought.
Thursday, May 1, 2008
We're Headed For The Future
It's a great year to buy a plane!

To borrow a line from my favorite songwriter and performer, Neil Diamond, aviation is "headed for the future and the future is now." If you've ever been in the market for an airplane, 2008 is a banner year to buy.
Thursday, May 1, 2008
The Day Of The Personal Jet
No one can guess if the personal jet market will be as robust as many entrepreneurs think, but here's a look at the current and projected crop of contenders

It's a new world. VLJs and personal jets are on their way. Despite naysayer predictions, Eclipse Aviation is actively marketing its model 500 twin jet, with more than 100 aircraft completed and 50 delivered (as of mid-February), and there are at least another 10 models of small jets set to debut in the next three years.
Thursday, May 1, 2008
Capt. Dale "Snort" Snodgrass
Gaining Positional Advantage

Captain Dale "Snort" Snodgrass (U.S. Navy, ret.), former Top Gun instructor, legendary F-14 Tomcat pilot and current air show superstar, is politely considering a question he's likely been asked many times before: What's the "right stuff" all about?
Thursday, May 1, 2008
Flying With Speed Brakes
Speed brakes can ease the process of descent and landing, and they can even decrease engine wear and tear on piston aircraft

I was flying with a buddy in my Mooney, returning from a Saturday hamburger flight. We'd come home from the desert via the tall road, high-jumping to 10,500 feet to clear the San Jacinto mountains on the short 120 nm hop back to Long Beach, Calif.
Thursday, May 1, 2008
2008 Cirrus SR20-G3: Don't Call It A Comeback
The SR20 has been here for years, and now steps out from the shadow of the SR22

Most pilots equate progress in flying with stepping up to bigger, faster and more powerful airplanes. When I earned my private pilot license in a 310 hp Cirrus SR22, it was difficult to imagine enjoying anything with less performance. But as insurance (and my bank account) dictated, almost all of my post-checkride flying has been in a rented 200 hp Cirrus SR20-G2. First delivered in 1999, the SR20 wowed pilots with its composite construction, digital avionics suite and BRS parachute recovery system.
Thursday, May 1, 2008
Resurrecting A Dream
A restored Staggerwing fulfills a father's wish

Bill Morrison, a pilot with now-defunct Western Airlines, was perusing the classified ads in the Los Angeles Times, back in 1974, when he erupted in a shout. "Oh my God, there's a Staggerwing for sale!" his sons heard him exclaim.
Mark, then 17, and Ron, then 14, both wondered the same thing: "What the heck is a Staggerwing?"
Thursday, May 1, 2008
Air Elite Storm Rally
This LSA is adapted from a European model that has been flying for years in Europe as both a four-seater and an aerobatic sportplane

Anyone who has followed the development of the LSA market in the States is probably aware that many of the current crop of LSAs were developed in Europe as many as 20 years ago.
Tuesday, April 1, 2008
Project 182, Part I
Let's say you own a 1981 Cessna Skylane with adequate avionics, an old paint job and a pedestrian interior, but want to increase capability and safety. What would you do first?

Here at Plane & Pilot, we seem to enjoy lavishing full rebuilds on old Skylanes. Back in the late '70s, I found and negotiated the purchase of a 1963 Skylane for the magazine as a reader project airplane. A few years ago, ex-editor Lyn Freeman purchased our current project airplane, yet another C182.
Tuesday, April 1, 2008
$1,000 Per Month Airplane
An affordable way to own

Because response to Plane & Pilot's "$500 Per Month?" article [October 2007] was so overwhelming, we decided to take the idea to the next level.