General Aviation Aircraft
Explore the world of general aviation aircraft with our reviews. Written from a pilot's perspective, these reviews provide fantastic insight into what these general aviation planes are really like.
Sunday, May 1, 2005
The Littlest King Air
Fifty years of continuous production point out the importance of a twin turbine.

Too often, it seems the aviation press gives short shrift to one of the most important segments of business flying. Turboprops have long been the forgotten stepchild of corporate aviation. To paraphrase comedian Rodney Dangerfield, "Turboprops just can't get no respect."
Sunday, May 1, 2005
The New & Improved Liberty XL2
The composite and aluminum two-seater has already come further than most. Now it's pulling into the fast lane!

What would you do with a successful two-seat, kit-built airplane? Some folks would be happy to just bask in the glory of it. Others would think about a new model at some point, or a different engine, or even a fast-builders program. But this path was no good for Tony Tiarks, the CEO of Liberty Aerospace.
Friday, April 1, 2005
Straight Talk From Lycoming
The largest piston-engine maker to introduce diesel & other designs

In a long-awaited move, Lycoming general manager Ian Walsh said that his company will be introducing a new diesel engine. While the company hasn't released details of the new engine, Walsh did say that it would be dramatically more efficient than today's gasoline-powered engines and would solve other problems, including the use of lead in aviation fuel. The diesel, when introduced, would run on standard jet fuel.
Tuesday, March 1, 2005
Mooney's Glass-Paneled Ovation2 GX
The cockpit of an airplane with the soul of a sports car

Have you ever driven a Ferrari? A Ferrari is like no other, a bit hard to climb into, but once you're there, you become part of the car. Acceleration, braking, turning, a Ferrari does everything fast, with a solid in-control feedback you feel in your whole body. It looks as fast as it drives.

Tuesday, March 1, 2005
Piper's First Retractable Single
There are a few airplanes that deserve better than they got. The Comanche 250 is one of them.

The Comanche was conceived in the late '50s when Piper and the rest of the industry was playing catch-up with the premier four-seat retractable, the Beech Bonanza. Piper's Comanche was introduced as both a 180-hp and a 250-hp model, sporting four- and six-cylinder versions of the same engine. The former was planned to compete with Mooney's wood-wing and tail Mark 20A, the latter with Beech's successful V-tail, along with the dark horse Bellanca 260 and Meyers 200.
Tuesday, February 1, 2005
Seneca In The Fifth Generation
Long on fuel economy and lean on sticker price, New Piper's twin carries a big bunch of admirers

Old home week, I reminisced, as I sat in the left front seat of the 2005 Seneca V. Well, perhaps not exactly. The panel of the new Seneca V has about as much resemblance to my old company airplane's as does a new Ford Thunderbird's to a Model T's.
Tuesday, February 1, 2005
Origin Of The Skyhawk
The straight-tailed C-172 marks the birth of the world's most popular general-aviation airplane

Can it really be almost 50 years since Cessna introduced the first C-172? In a word, yes. Next year, the Wichita, Kan., company will celebrate the 50th anniversary of the C-172's introduction, and the rest, as no one should ever say again, is history.
Saturday, January 1, 2005
Aviation's Top Websites
In slightly more than a decade, the World Wide Web has gone from being a mere novelty to one of the most important tools available. Now, with a click of the mouse, pilots can access live weather, plan flights with previously unheard-of flexibilities, check fuel prices, find aircraft values, search databases, take virtual tours of museums and study volumes of hard-to-access aviation product information. In the proceeding pages, Plane & Pilot has assembled the best online sites for pilots who are searching for excellent resources on the Internet.
Saturday, January 1, 2005
Cessna's All-New Stationair
Adding Garmin glass to the newest line of C-206s has reinvented the aircraft's workhorse capabilities

Utility airplanes must answer to a different kind of owner. Unlike most personal-transportation machines that are dedicated to recreation or fun, utility models are most often working airplanes that must pay for themselves.
Saturday, January 1, 2005
The Ultimate V-Tail
This Bonanza has the most famous silhouette in the sky

Pilots don't agree on much. We argue about virtually everything: Continental versus Lycoming; high wing versus low wing; fixed gear or retractable; the relative merits of turbocharging; and a hundred other things. While we rarely agree, there are a few universal truths: Airspeed is life; you can never have enough power; and the V-tail Bonanza is one of the most beautiful airplanes ever designed.
Wednesday, December 1, 2004
Cirrus SR22-G2
The Klapmeiers' vision enters the second generation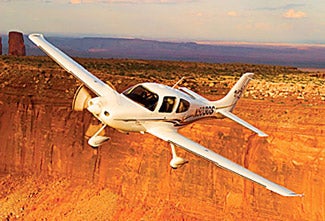 For those of you who haven't heard, Cessna was just recently dethroned as one of the top-selling general-aviation companies in the world. For the first two quarters of this year, the total number of Cessna Skyhawks and Skylanes was bested by Cirrus Design's combination of SR20 as well as SR22 sales. In fact, the vast majority of Cirrus' sales came from its showpiece, the new SR22-G2.
Wednesday, December 1, 2004
Geronimo!
For many light-twin owners, Piper's Apache is about as good as it gets

Let's just say that you own a flight school in a huge and major market and you feel a need for a new multi-engine trainer. If you're completely determined to buy new, you have only one choice, really, for a dedicated twin trainer, the Piper Seminole. (The diesel-powered Austrian Diamond Twin Star isn't expected to be available until later this month.)
Monday, November 1, 2004
The Archer Goes Glass
New Piper's amazingly popular PA-28 series now comes with the Avidyne FlightMax Entegra

For most pilots, the quintessential Cherokee always has been the Archer. Yes, there's still the Warrior, and there were the 140, 150, 160 and Cadet before that, but the Archer always has represented perhaps the most generic of the Cherokees. Just as the Cub was the signature general-aviation single of the '30s and '40s, and the flawed but beautiful V-tailed Bonanza dominated the '50s and '60s, the Piper Cherokee has become one of the most recognizable aviation icons of the '70, '80s and '90s, hardly the fastest or the most comfortable, not the most efficient to buy or operate, but an outstanding combination of talents nevertheless.
Monday, November 1, 2004
Money-Saving Maintenance
A forum of experienced A&P mechanics and IAs pass along tips to preserve the value and airworthiness of airplanes in the most cost-effective way

Those pilots who have ever found themselves paying huge chunks of money on maintenance bills know that they can get quite expensive. What most people don't realize, however, is that there are other simpler and less expensive ways to save on aircraft maintenance bills—and it all starts with the aircraft owners and operators themselves.
Monday, November 1, 2004
Cessna 421 Golden Eagle
This one has really gone to the dogs

Some pilots will do anything, use any subterfuge and resort to any rationalization to justify buying an airplane. With that said, Pat Cattarin's excuse is more than a little over the top. He bought a late-model 421, specifically to transport dogs.
Monday, November 1, 2004
Cessna's Turbo Skylane RG
What a difference it makes when you can say, "Look ma, no legs!"

There will always remain some argument about the birthplace of aviation. It seems to be either North Carolina, where the Wrights finally flew, or Ohio, where all the hard work was done before history was made at Kill Devil Hill, N.C. Wichita, Kan., is like Dayton, Ohio.
Friday, October 1, 2004
A Sharper Bonanza
The image of success for a multi-million-dollar company

Gnoss Field is one of Northern California's most idyllic small airports. Nestled on the floodplain of San Francisco Bay, which lies only 30 miles north of the state's most famous city, the airport's single 3,300-foot runway parallels the coastal hills. Predictably, Gnoss Field is quite a popular base for hundreds of personal and business airplanes owned by Bay-area pilots.
Friday, October 1, 2004
Piper 6x
Return of the Big Six

Piper recertified the 6X and 6XT last summer, and the company quickly cranked out 25 airplanes to fill the domestic and international pipeline. The basic PA-32 always has been a popular model overseas, especially in places such as Africa, Australia and South America where paved runways aren't always available.
Friday, October 1, 2004
Cessna's Big 185
The perfect machine for those moments when the amount of fun is as huge as the load you're hauling

When Cessna makes single-engine airplanes, it makes them with wings on top. It's a given—that's just the way things are done at Cessna. There are many advantages of a high-mounted wing: Downward visibility is good, and it's easy to get in and out of, not to mention the fact that cabin space isn't taken up by messy spars and other protrusions.
Wednesday, September 1, 2004
Just Tires?
Very few pilots realize how important they really are

When we were student pilots, we were told to check the tires for condition and inflation before each takeoff. But as we progressed in our flying careers, some of us have taken tires for granted. Sure, we're careful to check the "important" stuff—engine oil, fuel, headset batteries and radios—but we keep tires on a second-class status, merely glancing at them to make sure that they're all accounted for and aren't flat.
Wednesday, September 1, 2004
The Very First Aeronca Sedan
A Testament to its indomitable spirit, serial #001 is alive and well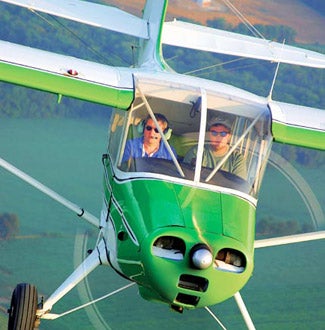 In 1947, the Aeronca Company was in trouble. A successful series of two-seater aircraft didn't distinguish it in the slumping post-World War II aircraft market. Many manufacturers with new airplanes and thousands of surplus airplanes flooded the economy. Aeronca decided to put its eggs in the four-seat basket. The Sedan was its first and only entry into the larger airplane market. It reached production in 1948 and looked poised to take off.
Sunday, August 1, 2004
Blue Angel Tomahawk
On the air, one way or another

The sun has barely broken the eastern horizon, and the Dixie Chicks are just finishing the song "Wide Open Spaces" on the studio monitor. The on-air light flashes as Dan Stroud turns to his microphone, "You know, Dave, when my wife got home last night, she asked me to take her bra off."
Sunday, August 1, 2004
Socata Trinidad GT
A beautiful little French retractable with a certain je ne sais quoi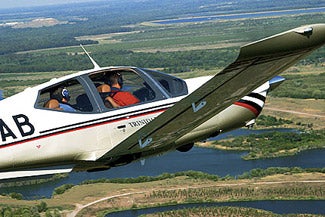 By any measure, the sky around us is an aviation mecca. For one week each spring, the weeklong Sun 'n Fun Fly-In brings thousands of flying machines and several hundred thousand people to warm, comfortable central Florida.
Thursday, July 1, 2004
Bellanca Viking: Wood, Fabric & Genius
The brainchild of an Italian designer, this classic airplane exudes a rare combination of style and substance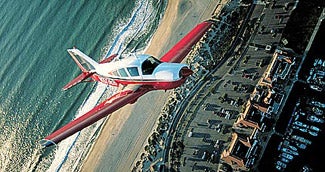 It's almost inevitable that Italian airplanes are compared to Italian automobiles. You can't look at the smooth, sculptured lines of a Marchetti SF-260 or Partenavia P68 without thinking of a Ferrari or Maserati.