General Aviation Aircraft
Explore the world of general aviation aircraft with our reviews. Written from a pilot's perspective, these reviews provide fantastic insight into what these general aviation planes are really like.
Sunday, July 1, 2007
Cessna Turbo Stationair: Escalade For The Jeep Trail
An acknowledged workhorse for nearly 40 years, the Cessna Stationair adds major avionics sophistication and uncommon comfort to its credentials

Somehow, the very idea of motoring along a mile above the tallest mountain in the contiguous 48 states in a Cessna Stationair seems almost a contradiction in terms, an oxymoron (a moron on oxygen). Most pilots simply don't associate the tough 206 with operation in the flight levels. The airplane's image is more utility station wagon than high-performance, turbocharged SUV.
Friday, June 1, 2007
I Need A Price Check On Runway 6, Please
User fees have the potential to significantly change the way we fly

On February 5, 2007, President Bush released his 2008 fiscal year budget. Fears of how the budget would affect aviation came to fruition with a proposed budget cut of $1 billion off of the present funding level of $14.3 billion. A week later, the government declared that they'd be looking for a closer matching of costs to benefits; additionally, they recommended increases in the fuel tax and the implementation of several user fees. To make matters worse, if the budget goes through as presented, general aviation will be at war with commercial aviation about who and how much each side will have to pay for the right and privilege to fly. And the clock is tickling—funding for the FAA expires on September 30, 2007.
Friday, June 1, 2007
Diamond Twin Star: 21st Century Multi
Diamond Aircraft, the world's third-largest manufacturer of GA, fixed-wing aircraft, is betting that the diesel-powered Twin Star will be the multi trainer of the future

Perched in the catbird seat of Jerry Barto's Diamond Twin Star, 11,500 feet above Palm Springs, I can't help reflecting that this truly is a new-generation airplane. Calling any flying machine 21st century has a nice ring to it, but the DA42 truly deserves that accolade. From concept to power to configuration, it has about as much similarity to the old light/light twins as does a new Infiniti G35 to a '57 Chevy.
Tuesday, May 1, 2007
The Bonanza Hits 60 Strong and Fast!
On its 60th anniversary, the Bonanza is still a true pilot's airplane

Any good design has a timelessness that transcends fashion. Whether you consider a toaster or a car or an airplane, a successful design starts with a good robust understanding of the balance betweenperformance, looks and customer requirements.
Tuesday, May 1, 2007
Evektor SportStar: Czech Mate
Mostly metal and all fun, the Evektor SportStar brings its own formula to the LSA class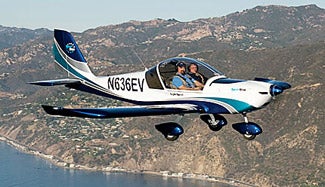 The category is called light-sport aircraft, and one look at the Evektor SportStar suggests that it practically defines the type. A product of the Czech Republic's largest aircraft manufacturer, Evektor-Aerotechnik of Kunovice, the SportStar is one of many products from a company with a prestigious international client list—Boeing, Mercedes, Volkswagen, Let Aircraft and others.
Tuesday, May 1, 2007
The Evolution Of Epic
Epic is planning a whole family of high-performance turboprops and jets, starting with the Dynasty and Elite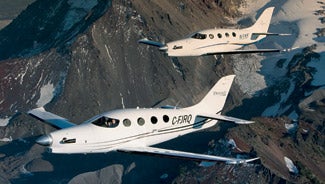 At a time when very light jets are all the rage, turboprops might seem "old school" or out of step with the times. After all, the new VLJs will fly higher and faster for the same or less money.
Sunday, April 1, 2007
The Huskier Husky
An old friend with a bigger engine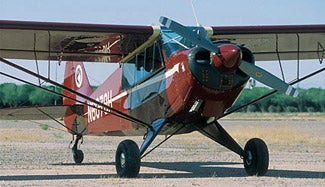 The first flight in a new airplane is exciting, even when it's an old friend with a bigger engine. I had flown Huskies many times, but never the new 200 hp Aviat Husky A-1B-200, and as I started to throttle up, I was watching the edge of the runway for any indication that the airplane was trying to turn; it wasn't. Also, I had a plan: I was going to do a standard Husky three-point, short-field takeoff rather than lifting the tail in the normal manner. What's the fun in flying an airplane with a big motor if you're not going to go for the gusto?
Thursday, March 1, 2007
TBM 850 Scorching The Airways With Style
Meet Socata's answer to the very light jet

Whoa, the simulator at SimCom never accelerated like this! I've just advanced the throttle of N850LA, a brand-new EADS Socata TBM 850 with barely 100 hours, and I feel like I've floored the gas pedal in a candy-apple red 1969 Chevy Camaro with a big-block V8. Sure, the sound is different, but I'm pinned to my seat all the same.
Thursday, March 1, 2007
Liberty XL2: Trainer With A Difference
Cross-country comfort and performance enter the two-seat, flight-training class

Two-seat general aviation airplanes have had a checkered career at best. For every Cessna 150/152 or Citabria that's had a model run of 30 years, there have been a half-dozen other types that only lasted for three or five.
Thursday, February 1, 2007
Remos G-3 Teutonic LSA
This German sportplane is as strong as it gets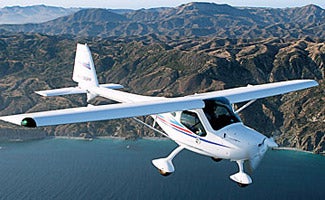 The Germans have never had a monopoly on quality, but there's little question that American drivers have long regarded German cars as some of the best in the world. Mercedes, Porsche, BMW and Audi all have reputations as high-quality, high-performance machines.
Monday, January 1, 2007
Flight Design CT Best Of The LSAs?
Worth Every Penny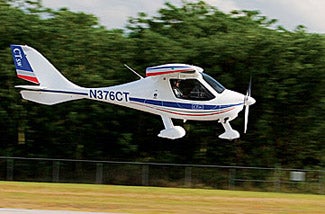 Light sport aircraft come in a variety of flavors. If you're inclined to go traditional, you can opt for the Legend Cub, an upgraded copy of the venerable J-3. At the opposite end of the LSA spectrum, many pilots are selecting the Flight Design CT.
Friday, December 1, 2006
10 Undervalued Classics

Given the way that prices on just about everything keep going up, it's hard to believe there really is such a thing as an "undervalued" airplane. But such a thing does exist, especially when you look back at the older classics.
Friday, December 1, 2006
Accelerating A Mooney
Power Flow's tuned exhaust system works

Okay, I admit it. I was a hot-rodder as a kid. Shortly after I was old enough to drive, a buddy and I began campaigning an old Ford on the second-gear, stock-car circuit around Anchorage and Fairbanks, Alaska. Later, I raced a Triumph TR3B and an Austin Healey 3000 in Sports Car Club of America gymkhana events around New Mexico. I didn't win very often, but I had great fun in the process (until I realized how much money it was costing me).
Friday, December 1, 2006
New-Generation Trainer
Flight schools are oohing and aahing over Diamond's sleek two-seaters

Traditional wisdom in the aircraft business has always been that if you could build the perfect trainer, the world would beat a path to your door. No airplane is perfect, but Diamond Aircraft may have come as close to that ideal as anyone with the Diamond DA20-C1 Eclipse.
Wednesday, November 1, 2006
Piper Mirage: Pistons, Pressure and Class
The most comfortable piston single in the sky

Just as the Mooney 201 rescued its namesake company from oblivion in 1976, in the mid '80s, the Malibu offered Piper Aircraft the only light at the end of the tunnel that wasn't a train. After the whirlwind uphill ride of the '70s, general aviation sales were tumbling all across the board, but the Malibu was an instant success.
Wednesday, November 1, 2006
2007: The Year Of The VLJ
Will the world of VLJ diverge into two distinct markets?

Recently, global superstore Wal-Mart announced that it would sell Eclipse 500s at select locations. Customers will make a deposit, get a demo ride, and if they like it, they'll ink the deal right at the airport. Wal-Mart will even paint its yellow happy face on the tail. Now there's a thought. All that will cost a mere $1.6 million or so.
Wednesday, November 1, 2006
Allegro 2000: Light Sport and Fun!
Fast, Easy to Fly and Relatively Inexpensive—This Plane Is Part of the Sport Pilot Family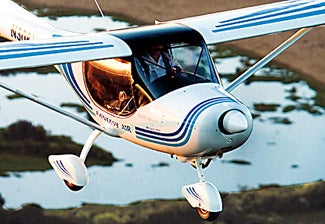 Not all light sport aircraft are created equal; some are more equal than others. From old aircraft barely able to get off the ground to speedy, shiny, new glass aircraft—LSA covers a lot of ground.
Sunday, October 1, 2006
10 Cheapest Birds In The Sky
Don't Let Their Low Prices Deter You: These Planes Aim to Please

As much as those of us in the industry might wish it otherwise, flying is definitely one of the more expensive pastimes. Unfortunately, some pilots simply accept the realities of expensive flying costs without investigating the alternatives. Despite what you may think, there are ways to fly without busting the family budget. True, you won't be aviating at 170 knots in a shiny new A36 Bonanza or Columbia 400, but you can stay in the air for considerably less than the national debt of Peru.
Sunday, October 1, 2006
Columbia 350
Finally Ready For Its Closeup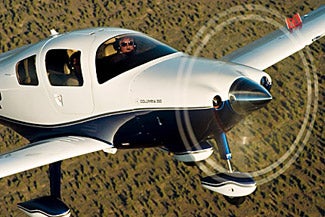 Looking down on the Bend, Ore., airport from 2,000 feet AGL, the ramp at Columbia Aircraft resembled an air show in progress. There were airplanes everywhere. My quick count came up with 63 Columbia 350s and 400s waiting for delivery to their new owners. That's probably $30 million worth of airplanes. There was little question that Columbia was back from the brink, big time.
Friday, September 1, 2006
The Ultimate Bonanza: Glass And Fast
This high flyer can carry six people at 200 MPH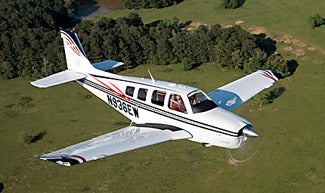 Most new pilots build time in low-performance airplanes before moving up to faster, more complex airplanes. Not Dee Winston—he cuts straight to the chase. A brand-new glass-paneled Bonanza G36 was the perfect fit for his growing business. The fact that he didn't have a fixed-wing pilot's license wasn't a factor.
Tuesday, August 1, 2006
How To Keep Older Aircraft Flying
A new proposal offers some hope for owners of America's aging aircraft fleet

It's a sad state of affairs when it's far easier for older pilots to have new knees installed in their vintage bodies than to have new fuel valves installed in their vintage airplanes. It's, however, becoming an unfortunate reality, as the general aviation fleet grows progressively older and accessing "approved data" becomes more difficult. But now a glimmer of hope is on the horizon for those owners who wish to safely and legally maintain and upgrade their antique, classic and vintage airplanes.
Tuesday, August 1, 2006
The New Mooney Acclaim
EXCLUSIVE! First look at the world's fastest production airplane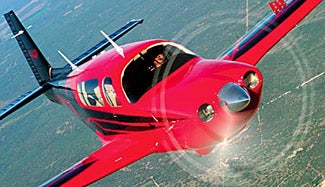 Adapt, overcome and have fun—Mooney has done it again! Whether it's staving off financial troubles, or innovating new products, Mooney has experienced some ups and downs in recent years. With the brand-new Acclaim, however, they've raised the bar. You want fast, you want improved climb rate, you want known ice with air-conditioning, you want to carry a respectable load? In short, if you want to fly higher, faster and farther, then get a new Mooney Acclaim.
Saturday, July 1, 2006
Compress Your Power
Turbocharging. Is it worth its weight and heat?
Let's say you live in Wichita, Kan., where the highest terrain is about 1,600 feet. Normal aspiration should be adequate to cover virtually any situation, right?
Saturday, July 1, 2006
The Baron Of Glass
A seventy-five-year legacy turns the corner on the 21st century

Walter Beech was born with a nearly H.G. Wellsian vision of things to come, at least when it came to aviation. In 1905, at the tender age of 14, Beech designed and built his own glider. Nine years later, he experienced his first flight. During World War I, Beech flew as an army pilot and he became a barnstormer after the war.