General Aviation Aircraft
Explore the world of general aviation aircraft with our reviews. Written from a pilot's perspective, these reviews provide fantastic insight into what these general aviation planes are really like.
Thursday, September 1, 2005
The Need For Speed!
The narcotic that pilots will pay almost anything for

Go ahead, admit it. When you read all of those pilot reports, you skim them, looking for the cruise speed, then go back and read the rest. It's a natural thing. We all love the idea of going fast. But how fast is fast? And is there such a thing as fast enough?
Thursday, September 1, 2005
VLJs Turn Short Final
As the market comes to a boil, three finalists are vying to become the first certified Very Light Jet

We're about to find out if the Very Light Jets (VLJs) will be the dominant force in general aviation that some people predict. CEOs Jack Pelton of Cessna, Vern Raburn of Eclipse and Rick Adam of Adam Aircraft think it will. Within only about 18 months, we're liable to see three different models of VLJs certified and delivered to the market.
Monday, August 1, 2005
"Star Wars!"
The Force behind the Diamond DA42 Austrian invasion


Okay, perhaps it's true other countries outdo the USA when it comes to manufacturing automobiles, computers and TV sets, but there has never been any serious competition with America's general aviation airplanes. Companies such as Piper, Cessna, Beech, Mooney, Maule, Cirrus, Lancair, American Champion, American General, Commander and Grumman-American have accounted for the vast majority of light aircraft sales in the last half-century.
Monday, August 1, 2005
Light Sport Aircraft Are Here And Flying!
Now, there's no argument whether or not LSA designs will become a reality

As some pilots may have heard, the FAA finally handed down its completed rulemaking regarding light sport aircraft (LSA) and sport pilots this past April 15 (perhaps, more than coincidentally, tax day) at the Sun 'n Fun Air Show in Lakeland, Fla. The LSA regulations were several years in the making, the consummation of extensive lobbying efforts by virtually all of aviation's alphabet groups. In fact, the final rules reflect extensive input by the EAA and AOPA, an example of what can happen in that rare instance when the government actually listens to the people it represents.
Monday, August 1, 2005
Straight Talk From Superior Air Parts
The industry's largest producer of aftermarket cylinders and parts sets its sights on the certified engine business

Superior Air Parts, Inc. (www.superiorairparts.com), knows the value of getting the "little things" right because that's what its business was founded on. In 1967, it manufactured little piston-engine replacement parts, like valve guides, gaskets and piston rings for the USAF. It wasn't long after, when the opportunity to provide these parts to the general-aviation (GA) market appeared, that it moved into the commercial sector.
Monday, August 1, 2005
Tonry's Tiger
This snappy little four-seater was so far ahead of its time, it's hard to beat the amount of fun you can have flying it!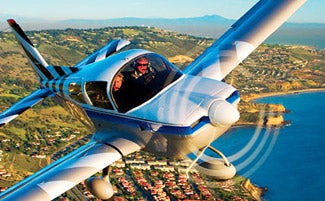 Every pilot loves the Tiger. It's hard not to. The airplane is one of the ultimate concessions to fun flying, a sporty, eager, little single with just enough practical application to justify it in the minds of those who would never buy a pure fun machine.
Friday, July 1, 2005
Piper's Archer II
When you've been around the coolest airplanes in the world, which one would you choose for yourself?

Suppose you know a guy who's a graduate of the Lockheed Skunk Works. I'm sure you have one of these guys at your local airport. One of those guys who spent most of his life building the world's fastest, highest-flying, nearly invisible airplanes. The kind of guy who built extreme airplanes— airplanes that nowadays are famous, but during their operational life, he couldn't even brag to his wife about. One of those "If I told you, I'd have to kill you.
Friday, July 1, 2005
"301 Knots!"
Take the Beech Duke, add turbines, and you get that magical number

It's a magic number and one not often seen in turboprop corporate aircraft. A bare handful of propjets can touch 300 knots in cruise—the Piper Cheyenne 400LS, Commander 1000, Mitsubishi Solitaire, Beech Starship and King Air 350, and the Socata TBM 700.
Friday, July 1, 2005
Clark Kent Of The Sport Class
Mike Jones is a mild-mannered businessman, but in Reno, NEV., he's some kind of Superman!

If you're like me and would not consider missing the Reno Air Races every September, you have to have noticed the increasing popularity of the sport class. The Reno Air Races have survived for years with only four classes of competition: sport biplanes, Formula One, T6 and unlimiteds—the latter, by far, being the top draw of all.
Friday, July 1, 2005
Symphony 160
This new sport trainer gets even better the second time around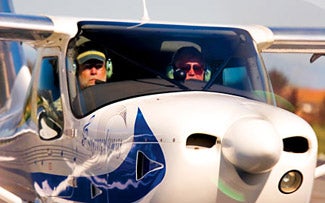 The Symphony 160 was introduced five years ago by OMF Aircraft of Neubrandenburg, Germany, which established a Canadian manufacturing subsidiary, OMF Canada, in 2003, located in Three Rivers, Quebec. Through no fault of its Canadian subsidiary, the parent company declared bankruptcy and the Symphony design was left stranded in the murk of litigation. After negotiating an almost unimaginable morass of legalities, several of the original OMF Canada team has emerged with the rights to bring the high-tech two-seater back to market.
Wednesday, June 1, 2005
2005 Electronic Skyhawk
It's here—the most popular airplane in the world now comes with a glass panel

When Garmin premiered its G1000 do-everything glass-panel avionics system in mid-2003, the package was perceived as an extremely talented collection of electronic wizardry obviously intended for high-end general-aviation aircraft. Glass panels have been available on airline and corporate aircraft for years, but the G1000 expanded the technology to general aviation.
Sunday, May 1, 2005
Cherokee 6
This Oshkosh winner is one of the all-time great flying SUVs!

Folks who live in Seattle, Wash., tell strangers about how bad the weather is; it's a mantra for them. The message is almost subliminal—it's a gloomy place, the sun never shines, it's always raining… For some reason, they don't want the rest of us up there. But the weather in Seattle actually is different from the message. In reality, the climate is mild, the landscape beautifully green, and for Randy Kersten, it's one of best places on the planet to own an airplane.
Sunday, May 1, 2005
Buying Your First Plane
It's an issue practically all of us must address at one time or another. Virtually every pilot—student, private, commercial or ATP—dreams of owning an airplane.

In most cases, the first question a pilot must answer is the obvious one: How much money are you willing to spend on an airplane? In the majority of cases, this will be a finite number that will make the selection process easier. In others, a prospective buyer may be willing to spend as much as he or she needs to buy the airplane he or she wants. One way or another, a smart purchase, like a small fight, begins with gathering all the important information.
Sunday, May 1, 2005
The Littlest King Air
Fifty years of continuous production point out the importance of a twin turbine.

Too often, it seems the aviation press gives short shrift to one of the most important segments of business flying. Turboprops have long been the forgotten stepchild of corporate aviation. To paraphrase comedian Rodney Dangerfield, "Turboprops just can't get no respect."
Sunday, May 1, 2005
The New & Improved Liberty XL2
The composite and aluminum two-seater has already come further than most. Now it's pulling into the fast lane!

What would you do with a successful two-seat, kit-built airplane? Some folks would be happy to just bask in the glory of it. Others would think about a new model at some point, or a different engine, or even a fast-builders program. But this path was no good for Tony Tiarks, the CEO of Liberty Aerospace.
Friday, April 1, 2005
Straight Talk From Lycoming
The largest piston-engine maker to introduce diesel & other designs

In a long-awaited move, Lycoming general manager Ian Walsh said that his company will be introducing a new diesel engine. While the company hasn't released details of the new engine, Walsh did say that it would be dramatically more efficient than today's gasoline-powered engines and would solve other problems, including the use of lead in aviation fuel. The diesel, when introduced, would run on standard jet fuel.
Tuesday, March 1, 2005
Mooney's Glass-Paneled Ovation2 GX
The cockpit of an airplane with the soul of a sports car

Have you ever driven a Ferrari? A Ferrari is like no other, a bit hard to climb into, but once you're there, you become part of the car. Acceleration, braking, turning, a Ferrari does everything fast, with a solid in-control feedback you feel in your whole body. It looks as fast as it drives.

Tuesday, March 1, 2005
Piper's First Retractable Single
There are a few airplanes that deserve better than they got. The Comanche 250 is one of them.

The Comanche was conceived in the late '50s when Piper and the rest of the industry was playing catch-up with the premier four-seat retractable, the Beech Bonanza. Piper's Comanche was introduced as both a 180-hp and a 250-hp model, sporting four- and six-cylinder versions of the same engine. The former was planned to compete with Mooney's wood-wing and tail Mark 20A, the latter with Beech's successful V-tail, along with the dark horse Bellanca 260 and Meyers 200.
Tuesday, February 1, 2005
Seneca In The Fifth Generation
Long on fuel economy and lean on sticker price, New Piper's twin carries a big bunch of admirers

Old home week, I reminisced, as I sat in the left front seat of the 2005 Seneca V. Well, perhaps not exactly. The panel of the new Seneca V has about as much resemblance to my old company airplane's as does a new Ford Thunderbird's to a Model T's.
Tuesday, February 1, 2005
Origin Of The Skyhawk
The straight-tailed C-172 marks the birth of the world's most popular general-aviation airplane

Can it really be almost 50 years since Cessna introduced the first C-172? In a word, yes. Next year, the Wichita, Kan., company will celebrate the 50th anniversary of the C-172's introduction, and the rest, as no one should ever say again, is history.
Saturday, January 1, 2005
Aviation's Top Websites
In slightly more than a decade, the World Wide Web has gone from being a mere novelty to one of the most important tools available. Now, with a click of the mouse, pilots can access live weather, plan flights with previously unheard-of flexibilities, check fuel prices, find aircraft values, search databases, take virtual tours of museums and study volumes of hard-to-access aviation product information. In the proceeding pages, Plane & Pilot has assembled the best online sites for pilots who are searching for excellent resources on the Internet.
Saturday, January 1, 2005
Cessna's All-New Stationair
Adding Garmin glass to the newest line of C-206s has reinvented the aircraft's workhorse capabilities

Utility airplanes must answer to a different kind of owner. Unlike most personal-transportation machines that are dedicated to recreation or fun, utility models are most often working airplanes that must pay for themselves.
Saturday, January 1, 2005
The Ultimate V-Tail
This Bonanza has the most famous silhouette in the sky

Indeed, the Beech model 35 has become something of a legend, an icon by which other airplanes are measured.
Wednesday, December 1, 2004
Cirrus SR22-G2
The Klapmeiers' vision enters the second generation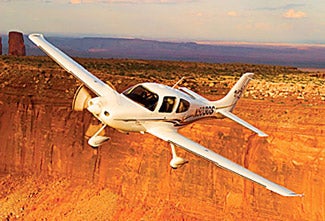 For those of you who haven't heard, Cessna was just recently dethroned as one of the top-selling general-aviation companies in the world. For the first two quarters of this year, the total number of Cessna Skyhawks and Skylanes was bested by Cirrus Design's combination of SR20 as well as SR22 sales. In fact, the vast majority of Cirrus' sales came from its showpiece, the new SR22-G2.