General Aviation Aircraft
Explore the world of general aviation aircraft with our reviews. Written from a pilot's perspective, these reviews provide fantastic insight into what these general aviation planes are really like.
Saturday, May 1, 2004
Diamond Goes Glass
First to market with the Garmin G1000, the new DA40 Star is out of the gate

No one manufacturer takes the industry by storm these days. Beech did it with the Bonanza in the '40s and '50s, Cessna rocked general aviation with the Skyhawk and Skylane in the '60s, and Mooney rescued itself from bankruptcy with the outstanding 201 in the '70s, but today's market is so much smaller that any runaway success is unlikely, if not impossible. But Diamond is set to change all that.
Thursday, April 1, 2004
The New Super Decathlon
American Champion 8KCAB offers some of the best aerobatic talent in the two-seat, sportplane class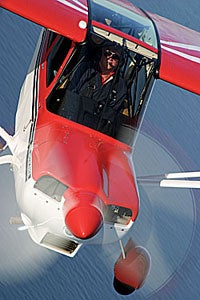 Rich, I know you can't see the ball from the back seat, but if you could, you'd be rolling with laughter," I said. I was flying Rich Manor's new Super Decathlon in left-echelon formation 20 feet from our old friend Saratoga SP photo ship, and my lazy feet were out of practice at flying an airplane with considerable adverse yaw. The ball bounced back and forth out of its cage as I maneuvered on the Saratoga, the slip indicator only occasionally stopping in the center. It had been several years since I'd flown a Super Decathlon, and my rusty technique showed. Gotta unlearn those bad habits, I thought. Too many hours in Mooneys/Bonanzas/Malibus/Centurions and other modern designs that forgive poor rudder coordination.
Thursday, April 1, 2004
Piper Pathfinder
The chief of the four-seat Cherokees still holds its own as a heavy hauler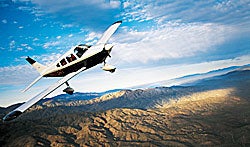 Cherokees have always had a deserved reputation as the most docile singles in the sky. Flown to the bottom of their speed envelope, they have practically no stall at all. Systems are so simple, even magazine writers can manage them, and control response is slow enough to keep the most ham-handed pilot out of trouble.
Monday, March 1, 2004
Getting Better All The Time
With an increase in useful load and some refinements to the avionics, Piper's turbine Meridian continues to evolve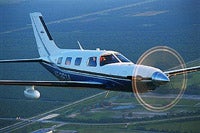 When New Piper first took the wraps off its Meridian, they set some rather lofty performance goals for their first single-engine turboprop. They needed to. Their target buyer was someone who would be moving up from either a high-end piston single or twin. They also wanted the Meridian's performance and capabilities to attract owners who were already flying older turboprops, like King Airs and Cheyennes, but who may be in the mood for a new airplane that gave them the performance they were used to, while cutting their fuel and engine-maintenance bills virtually in half.
Monday, March 1, 2004
Kissimmee Cardinal
Retired, but not ready to slow down—just like its owner

How often has your significant other told you, no, ordered you to get out of the house and go flying? After seeing her husband mow the lawn in different directions for the third time in a week, D Frechette figured that flying was just what her husband, Roger, needed. A retired Massachusetts state trooper, Roger was not, shall we say, challenged with landscaping.

Sunday, February 1, 2004
The NEW Cirrus SRV
The people who put certified composites on the map now offer an entry-level airplane with an all-glass panel

Downscaling an existing model isn't a new trick. Piper has done it a number of times with the Cherokee 140 and Warrior. Maule offered a less powerful, nosewheel trainer version of its M7 bush bird taildragger. SOCATA continues to produce an entry-level model in the Tampico, essentially the same airplane as the Trinidad sans retractable gear and constant-speed prop, and with 90 less hp.
Sunday, February 1, 2004
An Unusual Seneca II
Piper's trusty twin was just a starting point for this revitalized PA-34 modification

Kim Bass is an unusual pilot with an unusual airplane. Bass is a Hollywood screenwriter who manages to survive in one of the world's most cutthroat businesses. Bass has been writing TV and motion-picture screenplays for 13 years, taking scripts from concept to treatment to pilot and sometimes all the way to production. Amazingly, he has yet to file bankruptcy even once.
Thursday, January 1, 2004
10 Affordable Classics
Great news for pilots! Look at the airplanes you can buy for $30,000 or less!

Affordable classics might seem an oxymoron, a contradiction in terms, but in fact, there are more of them available than you might imagine. Before we could home in on the top 10, however, we had to define exactly what we meant by "affordable" and "classic."
Thursday, January 1, 2004
A Really New Skylane
A Garmin glass panel brings a fresh view for Cessna

Cessna naysayers would complain that the company's line of high-wing singles has changed little since its inception, save a continuing, but sometimes diminutive, evolution of enhancement and refinement. But at a recent gathering the company put on for its network of dealers, a sneak preview of the 2004 Skylane turned so many heads that more than 300 of the new C-182s, as well as Skyhawks and Stationairs, were sold—in a single day. Beginning in the second quarter of this year, Cessna will begin shipping its 230-hp four-seat singles with Garmin G1000 glass panels. From a distance, the 2004 Skylane isn't particularly novel.
Thursday, January 1, 2004
Beech Travel Air
How an accidental friendship led to an Oshkosh champion

The grass around the 1958 Beech Travel Air was beaten down, trampled by thousands of feet, wearing a path around the wings and tail of N100BH. When you see this kind of wear and tear on the ground at Oshkosh, where more than 2,000 show planes sit proudly in the sun, it's a sure sign that something special has arrived.
Monday, September 1, 2003
Project Bonanza Part II
The easy part was done. We had bought an airplane. Now we had to get busy with new avionics, paint and interior to create our vision of the perfect flying machine.

Our plan was simple: Choose a relatively economical, high-performance airplane for business and personal trips.
Friday, August 1, 2003
Project Bonanza Part I
By buying a used airplane and weighing its pros and cons, you can settle on a plan to make an "almost" airplane into one that's "just right"

Here at Plane & Pilot, we wanted an airplane that had performance for weekday business missions and economy for fun on the weekends.
Wednesday, November 30, -0001
Top 10 Faux Fighters
Whether you're a G-junkie or a wannabe Top Gun, there's a bird out there for you

Maverick, Goose, Iceman, Tomcat, Sabre, Mustang, hero, testosterone, girls, speed, aerobatics, G-force. What do all these words have in common? Actually, they have two things in common: fighters and daydreams, although they could probably all be bundled into the "daydream" category because there are very few pilots who aren't, to one degree or another, frustrated fighter pilots.
Wednesday, November 30, -0001
Wings For A Wheelchair: Paradise P1
It's strong, friendly, roomy and rigged for hands-only flight!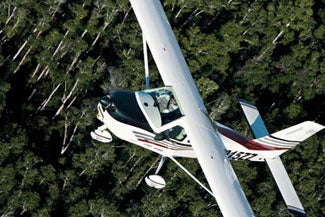 In 1999, an up-and-coming drummer man named Dylan Redd had a terrible car accident that broke his back. Several major surgeries and two years of constant, sleep-depriving pain drove him to the brink of utter despair. Sheer will to live pulled him through.

Wednesday, November 30, -0001
iCub Love
Classic, frisky, friendly, this Cub clone is so 21st Century

When I think of my recent flights in Sportair USA's Bush iCub, they're soaked in rich, golden yellow—Cub Yellow to be precise
Wednesday, November 30, -0001
Cessna Caravan 675 Amphibian: By Land and By Sea
From the hard deck or a Canadian lake, Ed Santangelo's Caravan amphib gets the job done

Pop quiz: What do Harrison Ford, an Arabian prince, Jimmy Buffett, one of the founders of Microsoft and Ed Santangelo all have in common? Answer: the Cessna Caravan—on floats.
Wednesday, November 30, -0001
Our 10 Favorite Cirrus SR22S
Airplanes that stand out from the crowd and make us take notice

It's fair to say that Cirrus changed general aviation in a way that hasn't been seen since the halcyon days following World War II, when it seemed everybody built airplanes.
Wednesday, November 30, -0001
Badlands Buster
Pictures from an exhibition of LSA STOL like you've never seen before

I'm about to commit aviation at Paradise City, the light-sport/ultralight demo area of Sun 'n Fun's annual Fly-In & Expo.