Best Buys on General Aviation Aircraft
There are tons of light-sport aircraft for sale on the market.  Read about the best buys in general aviation planes as well as the most undervalued aircraft.
Monday, December 5, 2011
Piston Singles Buyer's Guide 2012
Which aircraft is best for you?

Despite what some folks believed was a down economy for piston aircraft, there are still nearly four dozen models on the market, and all 11 manufacturers seem to be standing strong against the recession.
Tuesday, October 25, 2011
10 Sexiest Airplanes
More than mere machines

We thought we were doing something really clever when we came up with the "10 Sexiest Airplanes" idea. It wasn't until we delved into making up the list that we came face-to-face with the need to define the term "sexy."
Tuesday, May 10, 2011
Getting Creative: 10 Ways To Fly For Less
Flying doesn't have to leave your wallet empty

Flying is expensive. In fact, recent initiatives by the FAA and AOPA list the cost of flying as one of the reasons people either opt not to learn to fly, or stop taking lessons once they start.
Tuesday, February 8, 2011
Buy To Fly
Rent versus own: What's best for you?

Hello, can I schedule a lesson for Friday afternoon? No? You don't have an airplane available?
Tuesday, December 21, 2010
Choose Your Own Adventure
A look at the best aircraft for backcountry exploration

So, you just hit the lottery for a half-million bucks (after tax). This sounds like a big deal, except that it's redundant because your spouse hit it last week for 10 million.
Tuesday, December 21, 2010
Choosing A Six-Seater
All-inclusive guide to fixed, retractable, single and twin six-seaters

If it's really true that buyers of four-seat airplanes often buy two seats more than they need, the same may not be true of purchasers in the six-place class.
Tuesday, December 7, 2010
Four-Seater Buyer's Guide
20 new aircraft to choose from

Four-seat airplanes have always been the most popular configuration in general aviation.
Tuesday, May 4, 2010
Putting The Adventure Back In Aviation
Top airplanes, gear and schools for a different kind of flying

"Adventure"—now there's a word that's open to interpretation. In fact, the phrase "adventure aviation" may seem redundant to most people because aviation itself usually is seen as an adventure.
Tuesday, April 20, 2010
The Most Affordable Singles
We examine some of the best buys In general aviation

While our last buyer's guide ["Buyer's Mini-Guide To Four-Seat Singles," P&P April 2010] included a smorgasbord of new airplanes, this one deals with used aircraft and draws from an even wider field.
Tuesday, March 23, 2010
Top 20 Tips For Buying An Airplane
Preparation is the key to getting a great deal in today's buyer's market

There's no feeling that matches that of buying an airplane.
Tuesday, February 23, 2010
Buyer's Mini-Guide To Four-Seat Singles
Four-place singles always have been the measuring stick of the industry

Traditional wisdom has it that most light airplane buyers purchase two seats more than they need.
Tuesday, December 2, 2008
The Hottest Four Seaters
A look at new fixed-gear, four-seat singles

If you're looking to purchase a four-seat single, then you've got no shortage of models to select from. Aside from price range, the models encompass a wide variety of performance capabilities and equipment.
Tuesday, December 2, 2008
LSA Buyer's Guide
Vanilla, chocolate, strawberry or Fudge-Ribbon Granola-Mocha Delight? How's a pilot to choose which bird to buy?

As a prospective LSA owner, you might justifiably conclude that once you've made the crucial decision to buy an aircraft, the most difficult decision is behind you, yes? To quote Comrade Putin: Nyet!
Tuesday, December 2, 2008
Choosing A Six-Seat Single
Efficiency, comfort, modern technology and so much more

In our current era of financial belt-tightening, efficiency counts for a lot. Vero Beach and Wichita are really getting it right with their newest batch of six-seat singles. Why? Because today's six-seat singles offer a great combination of comfort, baggage capacity, speed, ease of flying and modern technology for people who need to cover a typical 250-mile stage length with four to six passengers and a lot of luggage.

Thursday, May 1, 2008
The Day Of The Personal Jet
No one can guess if the personal jet market will be as robust as many entrepreneurs think, but here's a look at the current and projected crop of contenders

It's a new world. VLJs and personal jets are on their way. Despite naysayer predictions, Eclipse Aviation is actively marketing its model 500 twin jet, with more than 100 aircraft completed and 50 delivered (as of mid-February), and there are at least another 10 models of small jets set to debut in the next three years.
Friday, February 1, 2008
The Cessna Buyer's Guide
Which one is right for you?

During the private flying boom in the early '50s, America fell in love with Cessna Aircraft Company's high-wing singles. By the mid-'70s, Cessna had built more single-engine airplanes than any other manufacturer (100,000 by 1978). In the late '70s, production peaked for all new airplanes, including Cessna singles, and then sharply tapered off (the production line was actually dormant from 1987 to 1996).
Saturday, September 1, 2007
10 Sexiest Airplanes
…in the eye of the beholder

Okay, we freely admit it: What started as a simple exercise, to select the 10 sexiest airplanes in the world, has turned out to be one of the most difficult and divisive projects in which we've ever been involved.
Saturday, September 1, 2007
25 Great Aviation Websites
Flying the Internet is shifting from a flight of fancy to an icon of information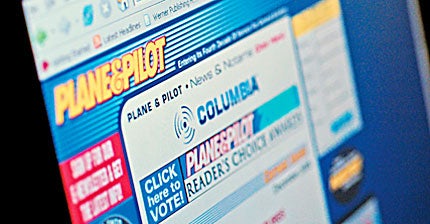 Anyone looking to find the facet of flying that has grown the most over the past decade will discover that it's the part of aviation on the Internet. What began as a mere curiosity some years ago is now a well-established component in most pilots' lives. Never before have we been able to find so much information about the passion we share.
Friday, December 1, 2006
10 Undervalued Classics

Given the way that prices on just about everything keep going up, it's hard to believe there really is such a thing as an "undervalued" airplane. But such a thing does exist, especially when you look back at the older classics.
Sunday, October 1, 2006
10 Cheapest Birds In The Sky
Don't Let Their Low Prices Deter You: These Planes Aim to Please

As much as those of us in the industry might wish it otherwise, flying is definitely one of the more expensive pastimes. Unfortunately, some pilots simply accept the realities of expensive flying costs without investigating the alternatives. Despite what you may think, there are ways to fly without busting the family budget. True, you won't be aviating at 170 knots in a shiny new A36 Bonanza or Columbia 400, but you can stay in the air for considerably less than the national debt of Peru.
Thursday, June 1, 2006
Ultimate Showdown
Battle of the four-seat speedsters

Contrary to what many people think, there's little to support the idea that general aviation's glass is half empty. Examine the last dozen or so years of aircraft development. In that time, at least six single-engine, four-seat airplanes—all capable of cruising near or even well above the magic 200 knots—have emerged.
Saturday, October 1, 2005
25 Bargain Birds For 2005
The aircraft market continually changes, creating new low-cost airplanes for pilots who dream of owning their own plane

Compiling any list of the 25 best bargain buys in general aviation is almost guaranteed to ruffle some feathers. Our choices aren't always going to agree with everyone else's. No matter how much we try to be fair and impartial, our selections have to be at least a little subjective. We're probably as subject to partiality as the next pilot, even if we're allowed a broader frame of reference.