Tuesday, October 25, 2011
10 Sexiest Airplanes
More than mere machines
Honorable Mentions
Lockheed F-104 Starfighter
Aliens from space were involved in the design of the Starfighter, right? Put the airplane in context: When it flew for the first time, Howdy Doody and Hopalong Cassidy were still on the air, and Chevrolet hadn't yet produced its soon-to-be-legendary small-block V8. This long, sexy artillery shell first flew in 1954! Seems impossible, doesn't it?
F-5 Freedom fighter
A relatively tiny fighter, the F-5 jet looks as if it were designed specifically for someone who not only enjoys her fabulous performance and handling, but intends to park it in his or her garage. Between the his-and-her Ferraris.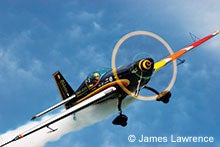 Extra 300L
Extra 300L
Looks aren't all there is to defining sexy. There has to be an element of promise-delivered involved. And that would be the Extra 300L. Perfect lines combined with perfect performance equals a perfect date every time the lucky owner takes her aloft.
Stemme Motorglider
Okay, we give up: the Stemme motorglider is sexy-looking if nothing else, because its shape is among the most efficient in the world, giving it a 50:1 glide ratio. This kind of performance in a power plane doesn't happen, if there are extraneous bumps or curves. The name of the game is efficiency, and the result is hyperslick looks.
Page 4 of 4