Saturday, September 1, 2007
25 Great Aviation Websites
Flying the Internet is shifting from a flight of fancy to an icon of information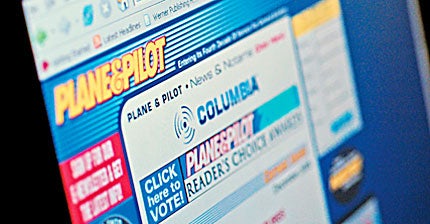 Anyone looking to find the facet of flying that has grown the most over the past decade will discover that it's the part of aviation on the Internet. What began as a mere curiosity some years ago is now a well-established component in most pilots' lives. Never before have we been able to find so much information about the passion we share.
No matter how much the World Wide Web figures in your flying routine, its role is just about to get a lot bigger. Scheduled to start in April, Lockheed Martin, which operates the nation's flight service system, will launch a Website offering pilots more information and capabilities than anything that has preceded it. While you'll still be able to call and talk to a preflight briefer, the new FS21 Internet portal will offer much more than is available by phone. Not only will pilots be able to get preflight briefings online—and file flight plans, store profiles and get certified graphical weather—but for the first time, pilots will be able to view a weather chart online while talking with a briefer who's looking at the same chart. This opportunity, along with an incalculable increase in safety, comes to you courtesy of the Internet.
The following are some of the most useful aviation addresses, and while you may have already used a few of them, even Websites you think you're familiar with have likely improved or added new features since you last visited. That's the great thing about the Internet—it's becoming a more valuable aviation tool by the minute.
www.duats.com
&
www.duat.com
DTC DUAT and CSC DUATS are the original weather, flight-planning and flight plan-filing Websites. Both have evolved over the years to provide increasingly sophisticated weather-related and flight-planning tools. If you haven't used either, try both. If you're used to one, try the other to see what's new and different. Both offer free access, but require you to create a user account.
www.aopa.org
Members of the Aircraft Owners and Pilots Association (AOPA) should absolutely use its Website. Creating a membership account is required, but you've already paid your AOPA dues. Even if you aren't a member of the AOPA, there's useful information on the home page. For example, there's a link that lets you review the most current TFRs throughout the country.
www.ebay.com
Typically, you wouldn't think of eBay as an aviation-related site, but its auctions offer complete aircrafts, aircraft parts, magazines, among other aircraft-related items. Type in the name of your favorite aircraft and you'll probably find a slew of relevant items.
Page 1 of 5