Tuesday, February 23, 2010
Buyer's Mini-Guide To Four-Seat Singles
Four-place singles always have been the measuring stick of the industry
| | |
| --- | --- |
| Cessna Corvalis (photos by Chad Slattery) | |
Cessna Corvalis
($550,000) &
Corvalis TT
($635,000)
The former Columbia 350 and 400 singles continue to live on as Cessnas. That might seem an unlikely marriage, since the traditional Cessna singles are all-metal high wings, and the Columbias are state-of-the-art, composite, low-wing designs, but Cessna hopes the Corvalis line will keep it in the hunt for the high-performance-single dollar.
Both Corvalis airplanes utilize the same big Continental IO-550 engine rated for 310 hp. The blown model TT features twin turbochargers and twin intercoolers for a maximum altitude of 25,000 feet and a cruise of 235 knots. Max cruise spec on the basic Corvalis is promised at 191 knots.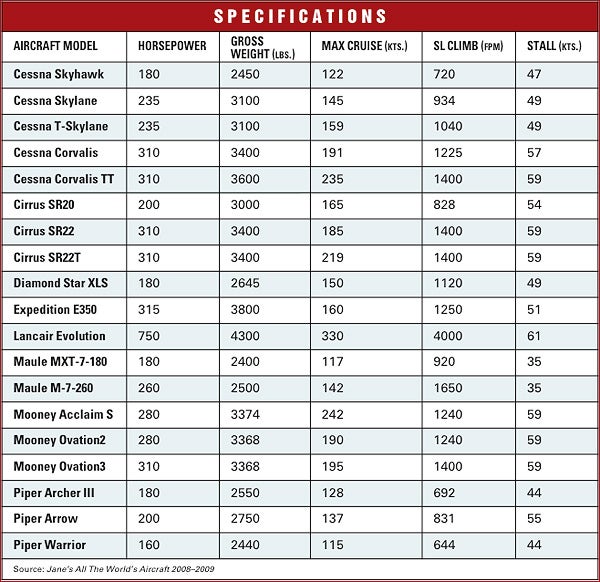 | | |
| --- | --- |
| Diamond Star DA40 XLS | |
Diamond Star DA40 XLS
($334,950)
Diamond's four-seat single has a qualification that's rare among four-seaters: a back door. That's certainly not its main talent, but it's unusual among four-seaters. (The Maule M-7-260 also offers a rear door.) Like the old Grumman American Tiger, the Star is an efficiency expert, capable of speed in the 145-knot range with fixed gear below and only 180 hp under the cowl. The Star comes in two versions: the CS and the top-of-the-line XLS. The CS is the more basic machine, geared more toward flight schools, while the XLS features a three-blade MT prop, an autopilot, a Power Flow exhaust and a number of other improvements.
Page 2 of 6