Tuesday, February 23, 2010
Buyer's Mini-Guide To Four-Seat Singles
Four-place singles always have been the measuring stick of the industry
Found/Expedition E350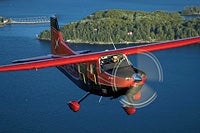 A Canadian entry from Parry Sound, Ontario, in conjunction with the former Found Aircraft (remember the Bushhawk?), the E350 is a semi-bush machine designed specifically for use in the outback…sort of. The airplane can be configured with either a nosewheel (the E350) or tailwheel (350XC). It's technically a five-seat machine, similar in design to a Maule. Power is provided by a Lycoming IO-580-B1A, generating 315 hp. In combination with a large, 184-square-foot wing (10 square feet larger than a 210's), the E350 sports a 1,250 fpm climb and a 160-knot cruise. But that's not its primary claim to fame. The airplane is an especially talented short-field machine, leaping off in 800 feet and landing in just over 600 feet. Gross weight is 3,800 pounds, and a typical max fuel payload approaches 1,000 pounds. Ninety-eight gallons of fuel is enough for about 4.5 hours of endurance, worth an easy 650 nm range. The E350 is intended more for what it can carry and where it can fly than how far it can go.


Buying With ClassG
Whether you're buying a new or used aircraft, two major considerations are airplane type and where to buy it. Some pilots only have a foggy idea of the perfect airplane for their situation. Others have firm opinions of the type of airplane they'd like to own, but are unsure about the best choice for their budget.
Enter the Internet, of course. We recently came across a website that makes the task a little easier. ClassG.com, an aircraft search organization based in Salt Lake City, is designed to help both buyers and sellers in the aircraft sales business.
ClassG offers "comprehensive pricing information, detailed aircraft specs and performance information, operating costs, side-by-side comparison tools, photo galleries, videos, unbiased editorial content…all the information an aircraft shopper needs to make a confident buying decision." ClassG.com simplifies the purchase process and makes sense of the confusing general aviation aircraft market. Visit
www.classg.com
.
THE QUESTION OF INSURANCE
If you're planning to buy a new airplane, you'll be interested in the cost of insurance. It makes sense to protect a purchase in this price class, and insurance will be required if you finance the purchase. Accordingly, we asked Jim Lauerman, president of Avemco Insurance (
www.avemco.com
), to provide rough quotes on six models. He looked at prices for pilots with the same total flight hours (500) and time in type, but one with an instrument rating and the other without. Here's a summary of the results for four-place singles hangared in California. These rates are for $100,000 bodily injury, $1,000,000 property damage and per occurrence. By definition, these are generic rates with all the usual qualifiers, but they give some idea of the relative costs for coverage. Our thanks to Avemco VP of Underwriting Mike Adams for his work on the project.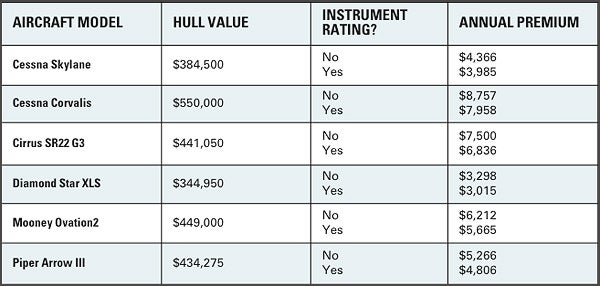 Page 5 of 6