Tuesday, December 2, 2008
Choosing A Six-Seat Single
Efficiency, comfort, modern technology and so much more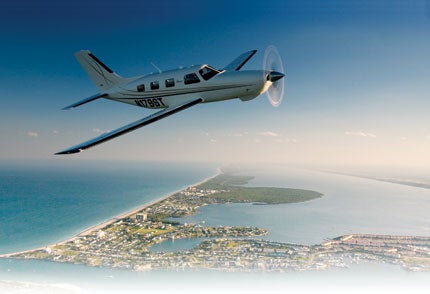 In our current era of financial belt-tightening, efficiency counts for a lot. Vero Beach and Wichita are really getting it right with their newest batch of six-seat singles. Why? Because today's six-seat singles offer a great combination of comfort, baggage capacity, speed, ease of flying and modern technology for people who need to cover a typical 250-mile stage length with four to six passengers and a lot of luggage.
The purchaser of a six-seat single-engine airplane is looking for a combination of comfort and economy. A family of four will probably experience a difficult time packing all of its clothing and sports/entertainment accessories into one of the traditional four-seat Mooney/182/Bonanza/Comanche designs of the 1950s. The American flying family has grown and wants to bring along a friend or a relative, plus lots of recreational toys and luggage, so a bigger airplane is necessary. Businesses, constrained by the need to move employees and technical people to remote locations with a plethora of tools, equipment and devices, can no longer count on the airlines. Try getting a surveyor's tripod (or any other large, valuable instrument or business tool) into an overhead bin. Sorry, it's going to have to be checked as luggage. Oh, and when you arrive in Cleveland to do your survey work, and your tripod has been loaded on a flight to Portland…well, sorry. Some things just don't work on the airlines anymore.
All of these factors compel families and businesses to look for their own mini-airliners. But they all look great, so how do you decide which one to buy? The answer lies in the unique qualities of each aircraft, and pilot preference.
To choose the best six-seat single, you need to look at speed, useful load (not payload, and we'll tell you why in a minute), runway requirements, insurance requirements and the one aspect that always gets you—price.
The least fun topic is cost, but it's a driving factor. Every pilot has a budget, and that's often determined by a variety of factors, primarily income and the amount of expense that can be allocated toward transportation costs. Most of the models we'll consider are priced around $600,000; the very capable Matrix costs a little more than $800,000, and the top-of-the-line pressurized, six-seat Mirage is about $1.2 million.
Page 1 of 3