Tuesday, December 2, 2008
Choosing A Six-Seat Single
Efficiency, comfort, modern technology and so much more
After price, the next factor to consider is comfort. It's determined by cabin size, both for the pilot and passengers in the back. The cockpits of the six-seat singles are roomy enough for a Joe Montana–sized NFL quarterback. You won't hear many complaints about a modern six-seater's front office, but what about the rear cabin? Four teenagers will be fine in the back of any of our six-seat singles, but can four normal-sized executives fit comfortably? This is a big factor and shouldn't be glossed over too quickly.
What about luggage? Which airplane carries the most skis, snowboards, parkas and changes of clothes per teenager? Or briefcases, golf bags and product displays? What about useful load?
Remember, we said we want to look at useful load instead of payload. This is because you can't fill up all the tanks and all the seats on most airplanes, and you really don't need to. If your average trip length with five to six people is 250 miles, why carry tanker fuel? If you're routinely going farther than 300 miles with six people, then you probably need a bigger airplane anyway. So useful load (the amount of weight that you can divide between people and gas) is a driving force. The point of the six-seat single is to serve as your own flying Suburban, carrying lots of folks and luggage comfortably.
What about pilot skills, experience and insurance? Do any of these aircraft require appreciably different pilot skills or carry a higher insurance cost? What about the runways on which you'll be landing? Are they in big city airports at sea level or in hot-and-high, rough mountain areas? In addition to cost, cabin size and useful load, airport requirements and pilot/insurance requirements are also important factors when selecting the airplane that's right for you.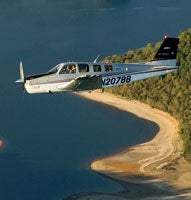 BEECHCRAFT BONANZA G36
The G36 is, by every standard, the grand dame of the six-seat singles. It's classy and roomy, and it's a Beechcraft. The speed will be on par with a Turbo Saratoga (and the useful load is a little higher), but it carries significantly less luggage. Its market is largely driven by brand loyalty. Some Bonanza owners have owned nothing else and will never own anything but a Bonanza.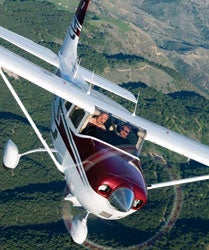 CESSNA 206
This aircraft is generic to the six-seat single-engine world. It carries less luggage than other six-seaters, and the rear-most seats are a bit of a squeeze for anyone older than 16, but it still has an important place in the lineup. It lands places where the others shouldn't or can't. You can fit things in the cabin that will only squeeze into a 206 (and nothing else short of a DC-9 or Pilatus PC-12). Also, anyone can fly a 206. Insurance companies love them because of their fixed gear. If the Mirage is the Mercedes-Benz of the aviation world, then the Saratoga is the Chevy Suburban, the G36 is the Cadillac and the Cessna 206 is the Hummer. If your cargo needs are for hauling something slightly smaller than a baby whale, and you have to land on a 2,500-foot gravel strip at an 8,000-foot elevation with a low-time pilot, then the Cessna 206 is the only option.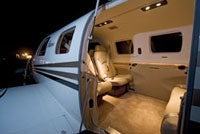 PIPER MATRIX
Piper's big, roomy and fast heavy hauler comes sans the pressurization that makes insurance companies crazy. The Matrix gives those pilots who don't want to pay the higher costs or meet the insurance requirements associated with pressurization (i.e., annual training/approved schooling) the largest cabin and best range/payload combination they can get while avoiding the aforementioned costs and requirements.
Page 2 of 3