Tuesday, December 21, 2010
Choosing A Six-Seater
All-inclusive guide to fixed, retractable, single and twin six-seaters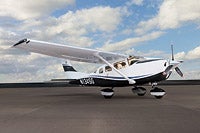 Cessna 206
Cessna T206
The turbocharged Stationair is the identical airplane with the benefit of a blower under the bonnet to maintain sea-level manifold pressure to 15,000 feet. This allows the airplane to climb to 27,000 feet, higher than its oxygen system will sustain passengers, and fly at nearly retractable speed. I recently ferried a fully tricked-out T206 (TKS, air, G1000, etc.) from St. Louis to the Isle of Man in winter, and the airplane did very well at typical altitudes of 15,000 feet, most often flying above the ice over Canada, Greenland and Iceland. Base Price: $574,000.
Retractables
There are only three in the class, two turbocharged (variations on the same airplane) and one normally aspirated.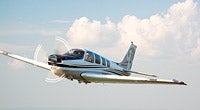 Bonanza G36
Beech G36 Bonanza
For some pilots, however, there will never be an airplane to match a Bonanza. The V-tailed airplanes are almost 30 years gone, and all modern Bonanzas have adopted conventional empennages and six seats. Like the Beech G58 below, the Garmin-equipped Bonanza maintains the type's status as an icon. Beech has done an excellent job of perpetuating the airplane's image as the ultimate, top-of-the-line, unpressurized single. Despite a low, 74-gallon fuel capacity that limits max cruise endurance to a little over three hours, plus reserve, the G36 is an excellent cross-country machine for small companies and big families. Base Price: $717,700.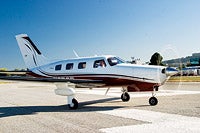 Piper Mirage
Piper Malibu Mirage
Piper designer Jim Griswold could not have imagined in 1984 that his futuristic, pressurized single, the Malibu, would become the company's most popular airplane. (In fact, during the recession of the early 1990s, Piper shut down production of all models except the Malibu.) Born with a 310 hp Continental engine, the airplane was repowered in 1989 with a 350 hp Lycoming, and the subsequent model was renamed the Malibu Mirage. At 4,340 pounds, the Mirage is the heaviest, piston single in the industry, but the combination of pressurization, big power and excellent stability produces one of the most comfortable rides in the class. Base Price: $947,500.
Piper Matrix
Take away all the plumbing, electronics and hardware to support the Mirage's pressurization system and you have a Matrix. Born in 2008, the Matrix was an instant success for pilots who didn't feel the need for an inflatable cabin. In fact, the difference in empty weight is almost exactly one passenger's worth, about 180 pounds less empty weight. This means a reasonably equipped Matrix can transport a pilot and four passengers rather than a pilot and three folks. The Matrix was designed specifically to compete head to head with the 36 Bonanza, and sales in the last two years, suggest it's doing exactly that. Base Price: $848,000.
Click on image to enlarge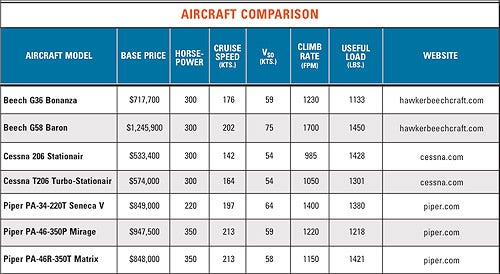 Page 2 of 3
Labels:
Aviation Resources
,
Buyer's Guide
,
Buying A Plane
,
Decision Making
,
Features
,
Pilot Guide
,
Pilot Resources
,
Staying Current
,
Best Buys
,
New Aircraft
,
What's New
,
Aircraft
,
Aircraft Ownership