Tuesday, December 20, 2011
Dream Machines
A turbine-aircraft buyer's guide
Piper Meridian
www.piper.com
,
www.mmopa.com
The six-seat Piper Meridian is the most economical of the single-engine pressurized turboprops. The PT6-42A, 500 hp flat-rated engine and sleek aerodynamics allow the Meridian to cruise at 260 ktas and cover 1,000 nm with standard IFR reserves and a fuel capacity of only 170 gallons. The maximum certified altitude of FL300 clears most weather. Baggage is carried in a netted area behind the seats and is limited to 100 pounds. The cockpit is fitted with a three-screen Garmin G1000 and autopilot system. Standard equipment includes a wing-mounted radar system with a 10-inch antenna. Ice protection is provided by deice boots and an "always-on" inertial separator system for the engine. At gross weight and sea level, the Meridian requires a takeoff roll of only 1,650 feet and 2,438 feet to clear a 50-foot obstacle. Full-fuel payload is 562 pounds. A 5.5 psi pressure differential maintains a comfortable cabin. Standard price is $2.072 million.
Extra 500
www.extraaircraft.com
Designed by Walter Extra, the German-made, all-composite, six-seat Extra 500 is aimed at buyers looking for turbine reliability, low cost and long range. Powered by a 450 hp Rolls-Royce 250-B17F/2, the Extra 500 is certified to a maximum altitude of FL250, but produces its maximum speed of 226 ktas at about 14,000 feet. Full engine power is limited to five minutes at takeoff with 380 hp available at sea level on a continuous basis. Fill the tanks with 172 gallons of Jet A, climb to FL250 and at a normal cruise speed of 190 ktas, get 7.9 hours of endurance—enough to travel 1,450 nm with a 45-minute reserve. Slow to the maximum endurance power of 40% and achieve a whopping 9.6 hours of endurance with a range of 1,588 nm at about 170 ktas. Full-fuel payload is 390 pounds. A dedicated baggage compartment behind the seats is capable of handling up to 198 pounds of bags. The cockpit features large windows for excellent visibility and the two-screen Avidyne Entegra 9 avionics system. Standard equipment includes an electrically anti-iced, five-blade, MT propeller and deice boots for the leading edges. Price is $1.345 million.
Daher-Socata TBM 850
www.tbm850.com
,
www.tbmowners.org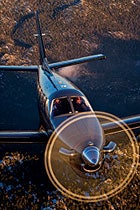 Daher-Socata TBM 850
With a top speed of 320 ktas, the French-made TBM 850 is among the fastest turboprops around—single or twin. With six seats, well-harmonized controls and European-style leather interior, the TBM is often compared to a Ferrari, and it's easy to see why. Powered by a P&WC PT6A-66D, the TBM 850 can climb to its maximum certified altitude of FL310 in only 20 minutes. Topped with 291.6 gallons, the 850 can travel 1,410 nm at normal speed and an impressive 1,585 nm at economy cruise speed of 252 ktas—all with a standard 45-minute reserve. Yet, the TBM can still depart short runways—requiring only 2,840 feet to clear a 50-foot obstacle under standard ISA conditions at maximum takeoff weight. The 850 comes equipped with a three-screen G1000 avionics suite, XM music, onboard radar (with 10-inch antenna), and capacity for 330 pounds of baggage split between forward and rear baggage areas. With a typical full-fuel load of over 900 pounds, the TBM comes close to a full-seats/full-fuel airplane. Daher-Socata estimates that the direct operating costs run in the neighborhood of $469/hour, with total costs of about $714/hour for 200 hours/year at $5/gal for Jet A. The average equipped price is $3.294 million, with options like SVT and optional pilot door extra. The base price includes a unique "Highly Extended Exclusive Maintenance Program" (HEEMP), which basically covers all scheduled maintenance for five years, including five annual inspections up to 1,000 hours total, so new owners pay only for fuel, tires and brakes for the first five years.
Pilatus PC-12 NG
www.pilatus-aircraft.com
,
www.pilatusowners.com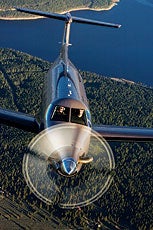 Pilatus PC-12 NG
It's indeed a "great big airplane," and one of the most versatile turboprops on the market. Powered by a single P&WC PT6A-67B flat- rated to 1,200 hp, the Swiss-made PC-12 NG achieves a top speed of 280 knots, and features better harmonized controls than early PC-12 models.
Range at normal cruise speed is an impressive 1,560 nm. Fuel capacity is 402 gallons, which yields a full-fuel payload of 1,209 pounds. Trailing link gear makes for easy landings on pavement or unimproved fields. The roomy cockpit features a four-screen Honeywell Primus Apex avionics system with an AOA indicator and a stick-shaker system. Just behind the cockpit, there's a clever folding enclosed lavatory to help with long flights. With "executive seating," the airplane has room for eight; however a "high-density" option allows seating for up to 11. For most owner-operators, the PC-12 NG really is a "take everything" airplane. The rear cabin is fitted with a 40-cubic-foot dedicated baggage space and a huge 52x53-inch rear cargo door that makes it possible to load really big items—like motorcycles or kayaks. The PC-12 NG is priced at $4 million.
Page 2 of 4
Labels:
Aviation Resources
,
Buyer's Guide
,
Buying A Plane
,
Features
,
Pilot Guide
,
Pilot Resources
,
Staying Current
,
Turbine Twins
,
Best Buys
,
New Aircraft
,
What's New
,
Turbine Singles
,
Aircraft
,
Aircraft Ownership