Tuesday, December 20, 2011
Dream Machines
A turbine-aircraft buyer's guide
Twin-Engine Turboprops
Are you uncomfortable with just one turbine powerplant? Here are two twin-turbine options well suited to owner-pilots.
King Air C90GTxi
www.hawkerbeechcraft.com
For 40 years, the King Air C90 series has been a favorite among owner-pilots because of its excellent handling, roomy cabin, reliability and outstanding safety record. The new C90GTxi from Hawker Beechcraft sports winglets and elevates the C90 series to the next level of performance and refinement. Top the tanks with 384 gallons, load up 737 pounds of people and baggage, and travel a maximum of 1,236 nm with standard IFR reserves or 1,040 nm with NBAA 100 nm alternate reserves. The King Air square-oval cabin provides a spacious feel, with executive seating for eight with an optional ninth seat. In back, a belted lavatory enhances both passenger comfort and range. Next to the lavatory, 48 cubic feet of baggage area handles 350 pounds of bags, which are accessible in flight. On the wings, two PT6A-135A P&WC engines flat-rated to 550 shp produce a top speed of 272 ktas in the low to mid-20,000-foot altitudes. At the maximum certified altitude of FL300, the 5.0 psi cabin differential pressurization system maintains a 12,000-foot cabin. Up front, the capable Collins ProLine 21 avionics system with three screens makes navigation easy. Standard price is $3.67 million.
Piaggio Areo P180 Avanti II
www.piaggioaero.com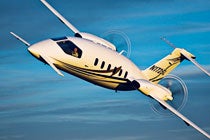 Piaggio Areo P180 Avanti II
Pilots either love the looks or hate it, but no one can deny that the Italian-built Piaggio P-180 Avanti II is one heck of a performer. The secret is the clever use of three lifting surfaces—the rear wing, the forward wing and the fuselage—to dramatically reduce drag. With a top speed touching 402 knots, a maximum certified altitude of FL410 and a 1,420 nm IFR range, the Avanti beats the performance of a lot of jets. Add a spacious, stand-up cabin, unmatched fuel economy and a jet-like quiet ride for a compelling story. Power is provided by two rear-facing PT6A-66B engines driving five-blade props in a pusher configuration. Engine exhaust blows over the props, eliminating the need for prop deicing, producing a distinctive sound on the ramp. Usable fuel capacity is 418 gallons with a full-fuel payload of 1,350 pounds. A 9-PSI cabin-pressure differential holds a sea-level cabin up to FL240 with in-flight noise levels at about 67 dB—quiet enough for easy conversation.
Since the fuselage is widest in the middle, the cabin has an especially spacious, first-class feel. Optional seating for up to 11 is available with an enclosed lavatory in the rear. Up front, the cockpit is equipped with the popular Collins ProLine 21 avionics system. As a single-pilot airplane, the Avanti II is the most expensive and the most capable product in this category at $7.19 million.
Page 3 of 4
Labels:
Aviation Resources
,
Buyer's Guide
,
Buying A Plane
,
Features
,
Pilot Guide
,
Pilot Resources
,
Staying Current
,
Turbine Twins
,
Best Buys
,
New Aircraft
,
What's New
,
Turbine Singles
,
Aircraft
,
Aircraft Ownership