Tuesday, December 20, 2011
Dream Machines
A turbine-aircraft buyer's guide
Entry-Level Light Jets
Don't let the category fool you—these are real jets with serious traveling capability. The jump from a turboprop to a jet is almost as big as the jump from a piston to a turboprop in terms of the quality of the ride. It's quiet, it's fast, it goes high (really high—above 98% of the weather), and it's a whole new world when it comes to traveling comfort. Here's a look at three six-seat, twin-engine jets certified for single-pilot operation.
The Eclipse 550
www.eclipse.com
,
www.eclipse500club.org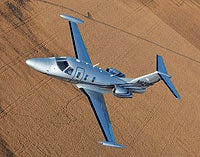 Eclipse 550
The successor to the original EA-500 VLJ, the new Eclipse 550 shares the same airframe but includes numerous enhancements over the original product. These include a fully integrated avionics system by IS&S that supports features such as synthetic vision, enhanced vision, TAWS, TCAS-1, ADS-B, color radar, radar altimeter and iPad data-entry integration. Auto throttles, which are new to this category of aircraft, are offered as an option. Big windows and side-stick controls create a very open feel in the cockpit. Powered by two FADEC-controlled P&WC PW610F engines each delivering 900 pounds of thrust, the 550 has a certified ceiling of FL410, a top speed of 370 ktas and a four-occupant NBAA IFR range of 1,125 nm. The 550 requires 2,394 feet at MTOW for takeoff, and can climb to FL370 in 25 minutes or FL410 in 29 minutes. Load it up with 1,698 pounds (251 gallons) of Jet A and carry 704 pounds of payload. The six-seat cabin is "cozy" with a 16-cubic-foot baggage area located behind the rear seats. Single-engine takeoff climb rate at 5,000 feet and ISA +15 is a respectable 697 fpm. The deicing system includes pneumatic boots on all leading edges. No lavatory is available; though trailing-link landing gear is standard. The EA-550 is priced at $2.695 million, with deliveries beginning in 2013.
Cessna Citation Mustang
www.cessna.com
,
www.citationjetpilots.com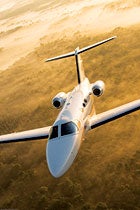 Citation Mustang
The Mustang is the smallest and most economical Citation. Powered by two FADEC-controlled P&WC PW615F engines with 1,460 pounds of thrust each, the Mustang achieves a top speed of 340 knots and climbs directly to its maximum certified altitude of FL410 in 27 minutes. Topped with 385 gallons of fuel and 800 pounds of payload, the Mustang can handle a 1,150 nm trip with NBAA 100 nm IFR reserves. Balanced field length for sea-level takeoff is 3,110 feet at MTOW, making it easy to access most small airports. Trailing-link gear, anti-lock brakes and speed brakes are standard. The deicing system includes pneumatic boots on all of the leading edges and an electrically heated glass windshield. Two large external compartments in the nose and tail totaling 57 cubic feet provide capacity for a maximum of 620 pounds of baggage—golf bags and skis fit easily. The cockpit is configured with a three-screen Garmin G1000 avionics system that includes XM weather, onboard radar (with a 12-inch antenna), and options for XM music. The lack of control column pedestals combined with a short center console make the Mustang one of the most accessible and comfortable cockpits in the Citation fleet—even for tall pilots. The well-lit cabin features two folding tables between four leather club seats with audio entertainment outlets at each seat. A lavatory is concealed beneath a small jump seat in the forward cabin with curtains for privacy. The optional High Sierra Edition includes SVT, a special paint scheme, locking fuel caps, and an enhanced interior. Like all Citations, the Mustang comes with access to the worldwide network of world-class Cessna Citation service centers and a variety of prepackaged support programs. The base price for the Mustang is $3.198 million.
Embraer Phenom 100
www.embraerexecutivejets.com
,
www.phenom.aero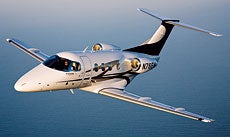 Embraer Phenom 100
Built like an airliner, the Phenom 100 is Embraer's first entry into the business-jet market, and they hit the mark. Somewhat larger than the Mustang, the Phenom 100 features a 390 ktas (0.7 Mach) maximum speed, a four-occupant range of 1,178 nm (NBAA, 100 nm alternate IFR range) with a certified ceiling of FL410. Twin PW617F FADEC-controlled engines produce 1,695 pounds of thrust each. Loaded with 419 gallons of fuel, the Phenom can take on another 780 pounds of payload. Board the impressive air stair to a luxurious cabin featuring an enclosed lavatory in the rear, leather club seating for four and an optional belted fifth seat. Up front, a three-screen G1000 Prodigy system makes single-pilot operation easy.
External baggage is split between a small nose compartment and a large rear area, together totaling 60 cubic feet with 419 pounds of capacity. Trailing-link landing gear, radar (with a 12-inch antenna,) deice boots and an anti-skid brake-by-wire system are standard. Speed brakes aren't available. Balanced field length for takeoff is 3,400 feet. Direct operating costs are estimated at $842/hour. The Phenom sells for $3.745 million.
Lancair Evolution
www.lancair.com
The turbine Evolution offers impressive performance in a pressurized four-seat, all-composite kit aircraft. Powered by a single P&WC PT6-135A, 750 hp turbine, the Evolution turns in a top speed of 300 ktas. With an initial climb rate of over 4,000 fpm, it takes only 12 minutes to climb to the maximum operating altitude of FL280. Take on 168 gallons of Jet A and a payload of 837 pounds, and you can cover an impressive 1,133 nm at normal cruise speed. Comfortable seats, large windows and a 6.5 psi pressure differential make for an outstanding cabin experience. Behind the seats, a dedicated 39-cubic-foot baggage area has the capacity to handle up to 225 pounds. Docile handling and a Vso speed of only 61 knots make the Evolution a safe and easy-to- fly aircraft. Takeoff and landing distances are only 1,000 feet. The standard EFC900X avionics package includes the Garmin G900X system, a GFC7X autopilot and the L3 Trilogy electronic standby instrument. Kit pricing with the EFC900X package is $545,000 minus the engine and prop. A new PT6-135A engine, engine mount plus accessories and Hartzell propeller will set you back another $581,500. Build times are estimated to be about 1,500 hours, and some kits have been completed within 39 weeks.
Page 4 of 4
Labels:
Aviation Resources
,
Buyer's Guide
,
Buying A Plane
,
Features
,
Pilot Guide
,
Pilot Resources
,
Staying Current
,
Turbine Twins
,
Best Buys
,
New Aircraft
,
What's New
,
Turbine Singles
,
Aircraft
,
Aircraft Ownership