Tuesday, December 17, 2013
Jets And Turboprops Buyer's Guide 2014
Jet-A dream machines for 2014
High-Speed SETP Cruisers
Single-engine retractable turboprops are serious traveling machines with low operating economics and high dispatch reliability that are very popular with owner- pilots, businesses and a wide variety of commercial operators.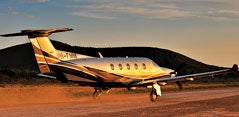 Pilatus PC-12
Pilatus PC-12/47 NG
The 2014 PC-12 has a number of new improvements. First, the landing gear is now fully electric. An electric motor moves the gear through push rods, so there's no fluid at all. The goal is to reduce maintenance and weight while maintaining the high reliability of the old system. Exterior lighting is now all LED for long life and low maintenance. In the cabin, Pilatus brought in BMW Design Works to create six completely new interiors. Four are designed for North American buyers, and two are aimed at the European market.
Up front, Pilatus has joined forces with three other manufacturers to create the "Connected Flight Deck" to allow wireless connection between the Honeywell Primus Apex avionics package and mobile devices. Four apps are currently available to allow wireless database updates (in about 20 minutes), up-loadable flight planning, downloading maintenance and trend data and the transmission of flight data for moving maps in the cabin.
The huge cabin has room for up a maximum of nine seats or a sumptuous, six-seat executive configuration. The ability to reconfigure the cabin has made the PC-12 popular for executive transport, air cargo, air ambulance and special government missions.
At maximum cruise of 280 KTAS, range is 1,573 nm and stretches to nearly 2,000 nm when slowed to 250 knots. The PC-12 also features a forward passenger air-stair door, a stowable enclosed lavatory and a large 52x52-inch rear cargo door. It can carry 1,029 pounds of payload with full fuel (402 gallons) and still operate out of a 2,650-foot runway while clearing a 50-foot obstacle. The maximum certified altitude is a weather-topping FL300. Base Price (2014): $3.8 million; typically equipped executive versions: $4.6 million. Contact:
www.pilatus-aircraft.com
and
www.pilatusowners.com
.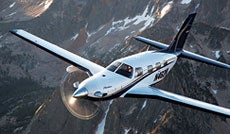 Piper Meridian
Piper Meridian
The 2014 Piper Meridian features a new exterior paint scheme, four interior palettes and a three-screen G1000 avionics suite with synthetic vision. Perfect for the owner-operator, the Meridian combines low acquisition and operating costs with impressive performance. The six-place cabin features leather seats with plenty of baggage room behind the rear seats. Top the tanks with 170 gallons of Jet A, take on 559 pounds of payload, and travel up to 1,000 nm with a 45-minute reserve. At the maximum certified altitude of FL300, it's easy to top most weather. In the mid-20s, the Meridian's 500 shp PT6-42 helps achieve a respectable top speed of 260 KTAS. The Meridian can clear a 50-foot obstacle to get in and out of a 2,438-foot field. Garmin GWX 68 onboard weather radar, GFC 700 autopilot and deice boots are standard. The options list includes XM radio and weather, TWAS, Stormscope and traffic-warning systems. Base Price (2014): $2.2 million; typically equipped: $2.3 million. Contact
www.piper.com
and
www.mmopa.org
.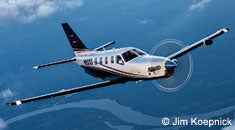 Socata-Daher TBM 850
Socata-Daher TBM 850 Elite
The 2014 TBM 850 Elite has matured with the release of a new POH that provides W&B information for all 42 possible interior combinations. Seven "main" configurations are provided for easy use. For example, the TBM can be configured with only four seats along with a spacious baggage area that hauls an impressive 507 pounds of baggage. This year, Socata has made the pilot door standard, so loading is easy, no matter how you configure the cabin.
Top the tanks with full fuel (291 gallons useable), load 931 pounds of people and baggage, and cover 1,410 nm at max cruise. Climb to the certified ceiling of FL310, slow to 252 KTAS, and range stretches to an impressive 1,585 nm (with a 45-minute reserve). Maximum speed at FL260 is a jet-like 320 KTAS and yet, the TBM 850 can still comfortably operate out of runways as short as 2,840 feet (with a 50-feet obstacle.)
Standard avionics include the three-screen Garmin G1000 with GFC 700 autopilot, Garmin GTS 820 traffic-warning system, Garmin TAWS, on-board GWX 68 weather radar and XM data weather link. Very popular among owner-pilots, the TBM fleet is over 640 with more than 1.1 million operating hours. Base price (2014), fully equipped, with five years of warranty and tip-to-tail maintenance: $3.7 million. Contact:
www.tbm850.com
and
www.tbmowners.org
.
Page 2 of 6