Tuesday, December 17, 2013
Jets And Turboprops Buyer's Guide 2014
Jet-A dream machines for 2014
Multi-Engine Turboprops
If you want two engines, multi-engine turboprops offer comfort, reliability and capability—generally without the need for a type rating.
Beechcraft King Air C90GTx
Emerging from chapter 11 with a strong book of orders, Beechcraft (formerly Hawker Beechcraft) is on a roll again. With more than 7,100 King Airs racking up more than 60 million flight hours, Beechcraft has produced one of the most successful GA turbine aircraft in history. Although it's the baby of the bunch, the C90GTX turns in very respectable payload and performance numbers. The C90GTx features composite winglets that look great and improve both climb performance and fuel efficiency. With dual PT6A-135, 550 hp engines, the C90GTx has a 272 KTAS top speed and can transport four passengers 1,236 nm with NBAA reserves. Payload with the tanks filled with 384 gallons of Jet A is an impressive 937 pounds. At MTOW, the C90GTx can operate out of runways as short as 2,552 feet.
The spacious cabin can accommodate eight to nine people and features a 48-cubic-inch, in-flight-accessible, interior baggage area that can handle up to 350 pounds. Throughout the cabin, 26 dynamic sound dampers are electronically tuned to damp propeller noise and produce an amazingly quiet ride. Passengers are treated to large, fully adjustable leather seats with plenty of shoulder room, light and luxury. Up front, the cockpit features the capable three-screen Rockwell Collins Proline 21 avionics package along with TWR-850 weather radar with four-color, six-range capability. The C90 series fleet size is over 2,000. Base Price (2014): $3.9 million. Contact:
www.beechcraft.com
.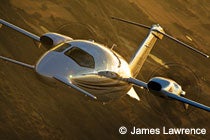 Piaggio Avanti
Piaggio P180 Avanti II
The Piaggio P-180 Avanti II is an Italian work of art. The rear wings, forward wings and fuselage all provide lift, help decrease drag and maximize cabin size. The result is the fastest, most efficient twin turboprop in the sky with an impressive top speed of 402 knots and a certified ceiling of FL410. New for 2014 is an extended range version of the Avanti II. Fuel capacity is increased from 2,826 to 3,226 pounds, with the installation of an extra fuel tank (in a portion of a lav-area closet) increasing range to 1,720 nm with four passengers and FAA IFR reserves. The roomy cabin is nearly tall enough for standing and features six large leather seats with materials and finishes inspired by Italian super-luxury cars.
The twin pusher PT6A-66B engines send exhaust and noise out the back, making prop deicing unnecessary, while creating a cabin environment that's quieter than most jets. PT6A power also helps the Avanti II use up to 40% less fuel, with less carbon emissions than any comparable turbojet aircraft. Fill the tanks (in the ER version) and you can still load an impressive 1,098 pounds of payload and get in and out of a 3,282-foot runway. Up front, the cockpit has excellent visibility and features the popular ProLine 21 avionics system. The Avanti fleet of 229 has racked up more than 800,000 flight hours. The 2014 model pits the P-180 against higher-end light jets in price, size and performance. Base Price: $7.9 million. Contact:
www.piaggioaero.com
.
Do-It-Yourself Turbine Kits
There are some impressive turbine kits available for anyone with a bug to build. Here's a popular option.



Lancair International Evolution


The Lancair Evolution is an all-composite four-seater with a top speed of 300 KTAS. Top the tanks and it can carry 837 pounds of payload and cover an impressive 1,133 nm between fuel stops. Build time is about 1,500 hours. Base price: $1.15 million. Contact: www.lancair.com.
Light Jets
Want to go higher and faster and still fly it yourself? If you've got the means, the light jet market provides a lot of single- pilot certified options. All of these jets are equipped with more technology than many airliners and provide a whole new level of comfort for long-distance travel.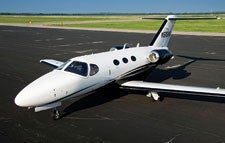 Cessna Citation Mustang
Cessna Citation Mustang
With nearly 445 deliveries and 360,000 fleet hours, the Citation Mustang has been a very popular entry-level jet, and it's easy to understand why. Low operating cost, ease of operation, passenger comfort, outstanding field performance and handling all contribute to its success. The cabin features comfortable leather, four-place club seating, side tables and a curtained lavatory.
Top the tanks with 385 gallons, load 765 pounds of payload, and the Mustang can climb directly to its max-certified altitude of FL410 in only 27 minutes. Range at the normal cruise speed of 340 KTAS is 1,150 nm with NBAA reserves.
Baggage compartments in the nose, cabin and tail provide 63 cubic feet of space with capacity to carry up to 718 pounds. Standard anti-lock brakes help the Mustang operate out of runways as short as 3,100 feet (SL BFL at MTOW.) The well-integrated cockpit features a three-screen G1000 system with the GFC 700 autopilot. Deice boots keep the airframe free of ice, while the GWX 68 weather radar and XM weather link capability provide weather data. Options include XM entertainment, Garmin chart options and satellite phones. There's even a version optimized for air-evac ambulance missions. Cessna estimates that the Mustang costs about $2.73/nm to operate (at $5.50/gal fuel.) Base Price (2014): $3.3 million. Contact:
www.cessna.com
and
www.citationjetpilots.com
.
Page 3 of 6