Tuesday, December 17, 2013
Jets And Turboprops Buyer's Guide 2014
Jet-A dream machines for 2014
Cessna Citation M2
With first deliveries scheduled for around the first of the year, the Citation M2 brings new life to the successful CJ1+ airframe while creating an obvious step-up path for Mustang owners. Winglets and other aerodynamic improvements with new William FJ44-1AP-21 engines produce a maximum cruise speed of 400 KTAS with a range of 1,300 nm. The M2 can climb directly to its ceiling of FL410 in only 24 minutes, while operating out of runways as short as 3,250 feet (SL BFL at MTOW). Full fuel payload is 700 pounds, with seating for up to seven and maximum baggage capacity up to 725 pounds. The cabin features a fully enclosed rear lavatory, fully adjustable leather seating and the optional Heads Up "Clairity" integrated audio/video entertainment system.
Options also include provisions for both global and domestic inflight Internet service. The cockpit has been optimized for accessibility, comfort and convenience, including ample storage space for iPads and phones along with USB charging ports. The panel features the three-screen Garmin G3000 Intrinzic avionics package with dual touch-screen keypads. The WAAS-certified G3000 includes split-screen capability, advanced vertical navigation capabilities, standby flight plans and advanced FMS features. Base Price: $4.4 million. Contact:
www.cessna.com
and
www.citationjetpilots.com
.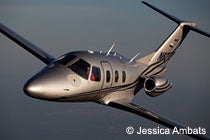 Eclipse
Eclipse Aerospace EA-550
Eclipse Aerospace reached a big milestone with the first customer delivery of a new fully certified EA-550 during NBAA in October 2013. With the ability to climb directly to FL410, the EA-550 will cruise at 375 KTAS while burning a total of only 59 gph. That makes it the most efficient and operationally economical twin jet on the market. Fill the tanks with 251 gallons, and you can transport 636 pounds at 1,125 nm with NBAA IFR reserves. The EA-550 can get in and out of a 2,790-foot field (clearing a 50-foot obstacle), and features anti-skid brakes for powerful stopping power. The interior features five leather seats in a number of different color themes with a dedicated 16-cubic-foot baggage area located inside the pressure bulkhead behind the seats.
Up front, the panel sports the Avio IFMS avionics suite supplied by Innovative Solutions & Support (IS&S). The Avio system ranks among the most technologically advanced cockpits anywhere. It features dual FMS panels, full system synoptics along with support for integrated auto throttles, synthetic vision and EVS (enhanced vision system). Numerous options let customers customize each airplane according to their needs. Base Price: $2.7 million. Contact:
www.eclipse.aero
and
www.eclipse500club.org
.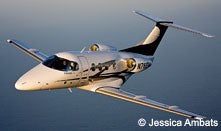 Embraer Phenom
Embraer Phenom 100
The 2014 Phenom 100 includes a number of new options and features. Multifunction spoilers now provide speed brake and lift dump capability, making speed control in the air and on the ground easier than ever. There are also 11 new interior themes to choose from. Reclining premium seats that allow swiveling and lateral adjustment are another new option. Buyers can also choose between a number of refreshment and storage cabinet options. With its six-to-eight-place interior, the Phenom 100 is an entry-level jet with more than entry-level performance. P&WC PW617F-E engines with 1,615 pounds of thrust help produce a top speed of 390 KTAS. Fill the tanks with 419 gallons of Jet A, load up 780 pounds of payload, climb directly to the maximum certified altitude of FL410, and the Phenom 100 can cover up to 1,178 nm with 100 nm NBAA reserves. Seventy-three cubic feet of dedicated cargo space provides plenty of room for bags. A fully enclosed rear lav adds to the big airplane feel.
Up front, the easily accessible cockpit features the Garmin G1000 Prodigy flight deck with three 12.4-inch screens. Onboard weather radar, XM weather, charts, TWAS, WAAS capability, system synoptic displays and traffic alerting all make single-pilot operations safe and manageable. Wing and tail deice boots provide ice protection. The Phenom 100 features numerous standard features like LED lighting, trailing link gear, low carbon emissions and brake-by-wire anti-lock braking. Base Price (2014): $4.1 million; typically equipped, $4.4 million. Contact:
www.embraerexecutivejets.com
and
www.phenom.aero
.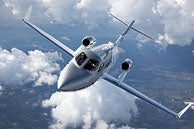 HondaJet
Honda HondaJet HA 420
With first deliveries now predicted toward the end of 2014, the HondaJet has been a long time in the making—but it just might be worth the wait. Honda may be new to the aviation market, but they aren't new to engineering excellence, quality control and customer support—and Honda has the means to get it right. The six-to-seven-seat HondaJet features a top speed of 420 knots (at FL300), a maximum certified ceiling of FL430 and a 1,180 nm range with NBAA IFR reserve.
The FADEC-controlled, Honda, 2,050-pound thrust, HF 120 engines were developed in partnership with GE and are mounted on the top of each wing to increase cabin space and quiet the ride. The highly efficient engines coupled with laminar flow wings and nose help make the HondaJet the most fuel-efficient aircraft in its class. Takeoff distance is less than 4,000 feet, and landing distance is less than 3,000 feet. External baggage volume is a generous 66 cubic feet. Up front, the HondaJet features the three-screen Garmin G3000 avionics suite. Payload data hasn't been released yet. Base Price (2014) $4.5 million. Contact:
www.hondajet.honda.com
.
Page 4 of 6