Tuesday, December 11, 2012
LSA Buyer's Guide 2013
More new models, tighter FAA regulation and budget birds!
Perhaps the biggest LSA (light-sport aircraft) story this year invokes the letters FAA (the Federal Aviation Administration). The agency implemented what you might call a crackdown on industry producers. Now, all new models from current LSA suppliers or new companies must pass a rigorous FAA-implemented audit before receiving its official blessing.
The short take: Too many companies weren't meeting all the production specifications of the ASTM compliance certificate they had been awarded. Instead of local DARs (Designated Airworthiness Representatives) signing off new LSA models, an FAA Air Safety Investigator's thumbs-up is mandated.
That means more expense for makers...and higher costs for buyers. At least one major LSA maker I've heard from may be dropping his entire S-LSA (special light-sport aircraft) line of aircraft and focus on kits only! Even so, six new LSA received certificates this year to join a mini-boom in lower-cost, ultralight-style LSA.
FAA also came out with its own 20-year forecast, which projects growth in just two segments of general aviation: business jets...and our very own light-sport aircraft.
Another development is the industry's answer to the often-heard complaint, "Why aren't there any low-cost S-LSA?" In response, 2012 saw the re-introduction of the famed Quicksilver line of ultralights (15,000 sold to date;
www.quicksilveraircraft.com
). The big news: Quicksilver's plan to certify the GT400 (single-place) and GT500 (two-place) enclosed-cockpit, tube/strut/fabric birds as S-LSA.
Market Leaders
Six new models debuted since our last Buyer's Guide. The most anticipated was likely the all-composite Alpha Trainer from the Slovenian design wizards at Pipistrel, the 25-year-old company that certified four S-LSA models in 2011, while also winning the $1.35 million NASA CAFE Green Flight Challenge with its history-making, two-fuselage, all-electric Taurus Electro G4.
Here's our take on the Top 20 list of FAA-registered S-LSA, as compiled quarterly by hardworking Jan Fridrich for www.bydanjohnson.com. Figures are current only through July 2012, but the pattern from previous years continues: These first 20 entries represent the lion's share of U.S. sales with fully 87.8% of all S-LSA since April 2005. Cleared for takeoff!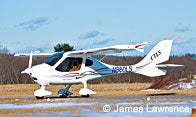 Flight Design
Flight Design
www.flightdesignusa.com
Flight Design tops the registered LSA list with 347 aircraft, 14.5% of all U.S. sales. With the highly regarded addition of the fuel-injected Rotax 912iS engine to the CT line, Flight Design continues to find ways to keep its products and market image fresh and appealing. The new CTLSi engine/airframe package meets the test with a 21% drop in fuel consumption, "smoother" cold starts and operation, and lower engine emissions. Also new: the CTLS-Club, a "lighter, simpler" version of the former CTLS Lite. Flight Design's network of U.S. service centers is a model for the industry. The carbon-fiber, standard, Rotax-powered CTLS and MC metal trainer continue in the company lineup. The four-seat C4 project continues apace toward a 2014 production date. Prices: $152,500 (CTLSi); $139,800 (CTLS); $133,000 (CTLS-Club); $99,000 (MC base price).
Page 1 of 6