Tuesday, December 17, 2013
LSA Buyer's Guide 2014
Our survey of light-sport aircraft for the coming new year!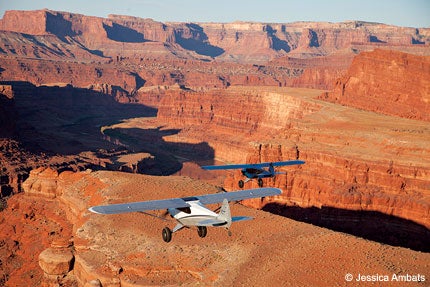 Carbon Cubs
Since our last buyer's guide, we've weathered a government shutdown and an LSA market still coping with a modestly recovering economy. Manufacturers domestic and foreign are tightening their belts to stay viable, but undaunted innovation continues.
The LSA movement's ability to weather tough times derives in part from the explosive age of technology we live in. And that technology is increasingly becoming democratized. For every large manufacturer with several models and deep pockets, you'll find scores of smaller companies with leading-edge design innovation and production methods that enable them to compete with the "big boys."
Speaking of big boys, Cessna's CEO has signaled the company will cease production of its star-crossed C-162 Skycatcher S-LSA-turned-Primary Category offering. Several dozen unsold reportedly await interested buyers.
And speaking of tech democratization, check out the Maker Plane project on
www.indiegogo.com
,
www.makerplane.org
. This two-seat open-sourced 3-D printed, composite-structure high wing fits the LSA category. And at an anticipated $15,000 cost, (engine included!?), could this be the "cheap LSA" we dreamed of a decade ago? The project will have free downloadable plans and will be continuously updated by enthusiasts around the world. If this project takes off, imagine what might come next.
LSA continue to offer affordable alternatives to ever-pricier GA aircraft, cheaper entry to pilot skills and ratings, and that colorful, diverse array of 132—and counting—easy-handling, well-engineered aircraft that have restored us to the sheer joys of recreational flying.
Recent trends include growing enthusiasm for waterborne LSA, with several exciting amphibs set to debut from Brazil, New Zealand and China. Piper Cub-like LSA and bush planes show strong growth in sales.
Quality-built all-metal, composite and tube-and-fabric designs continue to attract buyers. Market sales leader Flight Design has been at the top since Day 1. Tecnam USA fields a formidable array of LSA models.
Meanwhile, here come the electrics, including GreenWing's Yuneec eSpyder and Randall Fishman's ElectraFlyer ULS single-place ultralight, both in production. Plug 'em in, crank 'em up and fly without the noise, fuel burn and vibration of a traditional gas-powered aircraft. Electric flight will be a big part of the future. Human-carrying quadrotors, anyone? Get ready for those and more bizarre designs. As the astronaut in
2010: The Year We Make Contact
said, "Something is about to happen...something wonderful!"
Page 1 of 9