Tuesday, December 17, 2013
LSA Buyer's Guide 2014
Our survey of light-sport aircraft for the coming new year!
Bushcaddy Sport
www.bushcaddy.com
From our friends in Ontario, Canada, comes Tony Watkin's BushCaddy S-LSA, derived from its kit version. True to its name, this handsome, clean-line, all-metal bird's mission is STOL, whether in tricycle, taildragger, ski or float mode. A nice touch: It's a convertible. You can switch between tricycle and taildragger in two to four hours. The company has several bush-style kits with a variety of engines, from Rotax 912 to Lycoming, Australia's Jabiru and Rotec and Italy's new, 10-year-developed MW Fly. It's liquid-cooled, fuel-injected with FADEC, and available in three horsepower ratings (115, 130 and 150). A friendly and capable flyer: look for my pilot report next month. Price: $89,900.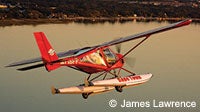 FPNA Capetown
FPNA
www.fpna.com
FPNA (for Float Planes and Amphibs) offers several conventional and water-capable S-LSA. LSA models include the A-22 Valor and its Capetown float version. Price: $112,000 (Capetown).
Kitfox Aircraft
www.kitfoxaircraft.com
Five thousand Kitfox kits and S-LSA delivered worldwide and over more than 25 years of refinements and model updates tells the tale of this folding-wing classic with so much to offer. The current Kitfox S-LSA is the cream of the crop: a super-handling, fast-cruising, quality-finished, fabric-covered flivver that's as enjoyable to fly as any LSA out there. Available with options including Rotax 912iS fuel-injected power, tricycle gear version and of course as a kit. Price: $99,995.
Quicksilver Sport 2S
www.quicksilveraircraft.com
Flight testing for ASTM conformation continues apace for the S-LSA version of the famed ultralight Quicksilver Sport 2S two-seater. The company has sold more than 15,000 ultralight aircraft over three decades. S-LSA deliveries are targeted for January 2014. The E-LSA kit version may win FAA approval this month (December). Anticipated Price (Sport 2S kit): $30,000.
Renegade Light Sport
www.renegadelightsport.com
Renegade offers the lovely composite Renegade Falcon LS, one- and two-seat versions of the Lil Rascal stunt biplane, and the B.O.T. SC07 Speed Cruiser. The company also developed the Lycoming IO-233 124 hp engine for several LSA models. Dealers in six states and Thailand. Prices: $129,000 (Lil Rascal); $139,000 (B.O.T SC07).
SkyReach
www.aerosportplanes.com
The BushCat (formerly Cheetah) tube/sailcloth ultralight-style S-LSA is fun, stylish and brings beyond-ultralight performance at a rock-bottom $49,995 base price. As a kit it's even more affordable ($22,900 without engine). Three Rotax power packages. Price (912 ULS 100 hp): $63,495.
Page 8 of 9