Monday, December 5, 2011
Piston Singles Buyer's Guide 2012
Which aircraft is best for you?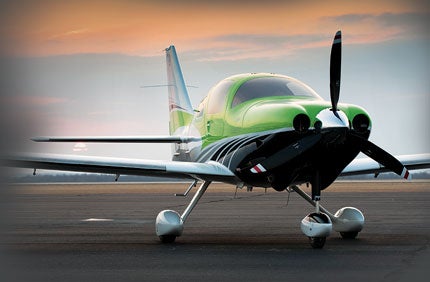 The Corvalis, Cessna's first low-wing single, has a ramp appeal unlike the others. The modern, carbon-fiber speedster will be available with Garmin G2000 avionics in 2012.
Despite what some folks believed was a down economy for piston aircraft, there are still nearly four dozen models on the market, and all 11 manufacturers seem to be standing strong against the recession. Here's a thumbnail sketch of the single-engine piston products available for 2012. Prices may be for 2011 models, as some manufacturers hadn't updated pricing at press time.
Cessna Aircraft
www.cessna.com
Cessna 172 Skyhawk and Skyhawk SP
Perhaps the definitive simple single over the last 50 years, the Skyhawk has matured to become a sophisticated, 21st-century marvel. Okay, so the basic design still has a strong aesthetic resemblance to the original. Virtually everything else about the airplane has improved, from interior materials and creature comforts to avionics and powerplant. Today's Skyhawk comes in your choice of 160 or 180 hp versions, each cruising at an easy 120 knots with 2+2 accommodations, Garmin G1000 avionics and enough other goodies to satisfy the most discriminating pilot. Price: $274,900 (172); $307,500 (172S).
LEFT: Cessna 172 Skyhawk and Skyhawk SP. RIGHT: The Cessna Skyhawk, Skylane and Stationair sport Garmin G1000 panels, leather seats and safety features such as airbag seatbelts.
| | |
| --- | --- |
| Cessna 182/T182 Skylane | |
Cessna 182/T182 Skylane
Cessna's popular Turbo-Skylane offers pilots a more enthusiastic four-seater with performance to match the mountains. The standard-breathing Skylane employs a Lycoming IO-540 engine derated to 230 hp, or you can select the turbocharged model with the same engine inhaling compressed air and delivering 235 hp. The heavy breather is by far the more popular machine, especially for pilots who must operate regularly at high-density altitudes. Perhaps either Skylane's best feature is its simple handling, little more challenging to fly than the lighter Skyhawk, yet an easy 20 knots quicker and with far better climb performance. There may be easier airplanes to fly, but don't ask a Skylane pilot to name one. Price: $398,100 (182); $432,800 (T182).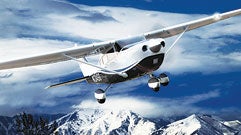 Cessna 206/T206 Stationair
Cessna 206/T206 Stationair
The largest Cessna piston single is the Stationair, a six-seater that's equally happy carrying a hockey team or a load of cargo. The airplane works well as a small corporate transport or a freighter flying resupply missions to the bush country of Alaska and Canada. Like the Skylane, the Stationair comes in both turbo and normal versions, though again, the turbocharged airplane is the hot seller. Service ceiling with compressed power (310 hp) is 27,000 feet, though the airplane is approved for cruise at 25,000 feet. Add Garmin G1000 avionics plus the G700 autopilot, and you have an airplane that can deliver six people to the most or the least sophisticated destinations. Price: $544,000 (206); $585,500 (T206).
Corvalis/TTX
If you're into speed, power, low-wing visibility and comfort, the Corvalis TTX is a different kind of Cessna. The company's first low-wing single ever, the TTX is a new-generation airplane constructed of E-glass and carbon fiber, more reminiscent of military fighters than general aviation designs. The TTX sports the new Garmin G2000 glass panel, with touch-screen controller, a pair of side sticks, a turbocharged 310 hp Continental TSIO-550 engine and a near-cabin-class cockpit more reminiscent of a twin than a single. The Corvalis TTX will deliver speeds in excess of 220 knots at FL250 or range out to 1,000 nm if necessary, but not both at the same time. Price: $733,950.
Page 1 of 5
Labels:
Aviation Resources
,
Buyer's Guide
,
Buying A Plane
,
Features
,
Pilot Guide
,
Pilot Resources
,
Piston Singles
,
Staying Current
,
Best Buys
,
New Aircraft
,
What's New
,
Aircraft
,
Aircraft Ownership