Monday, December 5, 2011
Piston Singles Buyer's Guide 2012
Which aircraft is best for you?
Maule M7-235B
Only a short step down in performance is the injected, 235 hp Maule taildragger, another good water bird and a short-field airplane that will knock your hat in the creek. Performance is slightly reduced, but range is better by reason of improved fuel burn. The "B" utilizes the oleo strut main gear. Contact Maule for pricing.
Maule MX7-180B
This is the economy champ with oleo struts and fuel consumption around 9.5 gph at 75%. Fit the optional 85-gallon tanks, and you can linger aloft for a butt-numbing 10 hours plus reserve. That can be a major advantage when many trips are out-and-backs. The MX7-180C features aluminum spring gear. Contact Maule for pricing.
Maule MXT7-180, MT7-235 and MT7-260
All three of the models above are constructed in steerable nosewheel configuration, specifically for pilots who don't feel the need for bush flexibility of a tailwheel. Performance is relatively unchanged, despite the additional drag of a nose gear over a tailwheel. Contact Maule for pricing.
CubCrafters
www.cubcrafters.com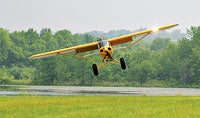 Cubcrafters Top Cub
Cubcrafters Top Cub
Combine the original Cub's USA35B airfoil with 180 hp, and you have an airplane for (practically) all reasons. With a max takeoff weight of 2,300 pounds, the Top Cub boasts a useful load of 1,100 pounds, and it can carry that load on 300 nm out-and-back trips. Like the Husky, the Top Cub is happy on any form of landing gear—wheels, skis or floats—and it offers comparable short-field (-water?) performance. Price: $205,480.
Extra Aircraft
www.extraaircraft.com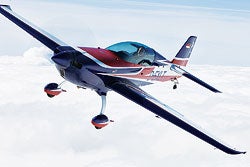 Extra 330LT/LX
Extra 330LT/LX
Walter Extra's remarkable, 3D airplanes come in a variety of configurations. All are power by 315 hp AEIO-540 Lycomings for maximum aerobatic performance, but the LT has been purpose-built for cross-country travel as well as vertical and inverted fun. It features an Aspen PFD/MFD along with a full stack of Garmin radios as standard equipment. The LX is the current two-seat trainer version for those into very advanced aerobatic training. Price: $438,000/$407,500.
Extra 330SC
Finally, the SC is the competition airplane, Extra's full-blown, single-seat, top-of-the-line aerobatic model, more than coincidentally the airplane flown by the 2009 World Aerobatic Champion in Silverstone, UK. This is the most advanced acro Extra available. Price: $428,000.
Page 5 of 5
Labels:
Aviation Resources
,
Buyer's Guide
,
Buying A Plane
,
Features
,
Pilot Guide
,
Pilot Resources
,
Piston Singles
,
Staying Current
,
Best Buys
,
New Aircraft
,
What's New
,
Aircraft
,
Aircraft Ownership