Tuesday, December 11, 2012
Piston Singles Buyer's Guide 2013
You want it, you got it: trainers, cross-country haulers, bush planes and more!
Cirrus Aircraft
www.cirrusaircraft.com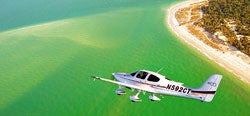 Cirrus SR20
Cirrus SR20
The company's first production product and its entry-level airplane is the SR20 in any configuration you wish, from trainer to lux cross-country cruiser. Either version uses the six-cylinder Continental IO-360ES engine, rated for 200 hp. The SR20 and the later SR22 are a tribute to the work of Dale and Alan Klapmeier in designing a single that side-stepped the two greatest concerns of aspiring pilots: 1. What do you do if the engine quits? and 2. What happens if I get lost? The answer to question 1 was the Cirrus Airframe Parachute System, a whole-aircraft parachute designed to lower the airplane to the ground at 18 fps. Question 2 was addressed with one of the first, large Avidyne MFDs in the industry, providing a moving-map capability that made it next to impossible to lose your orientation. The SR20 offers an 850 fpm climb and a 155-knot cruise. Price: $299,900.
Cirrus SR22/22T
This is the most popular airplane in general aviation, and it's not hard to understand why. Styled with a luxury interior designed after a BMW 5-series sedan, side stick controls and twin cabin doors, the SR22 is a comfortable ride for an hour or a day. With a 310 hp Continental IO-550 on the nose (with or without turbocharging), the SR-22 covers practically every base. Cirrus sold some 207 normally aspirated and turbocharged SR22s in 2011, and if any model can prevail in the current adverse economic and political environment, the SR22 is the one. Price: $449,900.
Diamond Aircraft
www.diamondtaircraft.com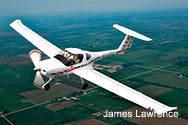 Diamond DA20
Diamond DA20 Eclipse
This Austro-Canadian machine is perhaps the most fun trainer on the market, with more than its share of original thinking. It uses a conventional joystick for roll and pitch control, you can board from either wing and the Continental IO-540B engine cranks out 125 hp, delivering a whole lot more than 125 knots (more like 137 knots). Until 2007, Embry- Riddle provided a fleet of DA20s to the U.S. Air Force Academy with smaller fuel tanks and all flight instruments on the right side to simulate the Air Force's HOTAS (Hands On Stick And Throttle) principle. The Eclipse is spinnable with flaps full up, offers a higher glide ratio than any of its competition and a bubble canopy for excellent visibility. Its 26G seats don't adjust, but the rudder pedals do, the better to accommodate long-legged pilots. The DA-20 isn't IFR certified because of lack of lightning protection, though it may still be used for IFR training under the hood in VFR conditions. Price: $179,800.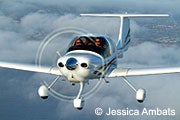 Diamond DA40
Diamond DA40/XLS Star
The Star is a DA20 with a hormone injection and two extra seats. It features something you won't find in most other (make that any other) four-seat, piston singles— a back door. Like its little brother, the Eclipse, the Star flies with a stick, and a separate, aft-left boarding door for back-seaters. All riders board over the leading edge of the wings rather than the training edge. Power is the virtually unbreakable 180 hp Lycoming IO-360 mill, blessed with a TBO of 2,000 hours. Originally offered with a fixed-pitch prop, the Star began offering a constant-speed Hartzell in 2006 and a three-blade semi-scimitar MT composite prop with the XLS upgrade. A few years ago, Diamond also introduced improved wheel fairings and the Power Flow-tuned exhaust system, an aftermarket mod that really works and boosts cruise to at least 147 knots. Garmin's G1000 glass cockpit is standard equipment. Price: $359,800.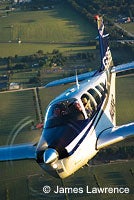 Bonanza G36
Hawker Beechcraft
www.hawkerbeechcraft.com
Beech G36 Bonanza
Depending upon when you start measuring, the Bonanza may be the oldest airplane in continuous production. Its ancient ancestor, the "straight" model 35 V-tail Bonanza, premiered in 1946. The original four-seater flew behind a 185 hp Continental engine and ahead of a V-tail; today's six-seat model flies with a 300 hp Continental, a conventional tail in back, plus a Garmin G1000 glass panel that would do a Space Shuttle proud. Bonanza specs haven't changed much over the years, but if you start with good numbers, change isn't all that necessary. Price: $765,900.
Page 2 of 6