Friday, August 1, 2003
Project Bonanza Part I
By buying a used airplane and weighing its pros and cons, you can settle on a plan to make an "almost" airplane into one that's "just right"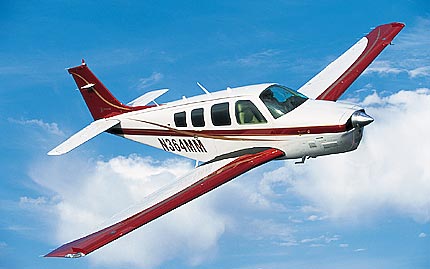 Here at
Plane & Pilot
, we wanted an airplane that had performance for weekday business missions and economy for fun on the weekends. The missions radiate out to a typical 200 to 700 miles from our Los Angeles-area base to Portland, Seattle, Denver or Texas. Such flights demand speed—but not so much as to destroy a budget—and the ability to carry fuel for up to four hours with a load of three or four people and baggage. For business trips, we were looking at two engines or a high-performance single-engine airplane. For "dispatch reliability" (the expectation that the airplane won't often be down for maintenance) and weekend economy, we also wanted a plane that wouldn't require a lot of fuel or repair.
The next thing to consider was insurance. For many pilots, the insurance industry will dictate which airplanes you can consider; you'll need insurance-mandated experience to fly particular types of airplanes. You'll also pay more (sometimes much more) to insure an airplane in which you don't have significant piloting time. Policies on a twin-engine business plane usually require the additional insurance expense of annual simulator training.
Our search quickly narrowed to the big, high-performance singles—Cessna's 210 Centurion, Piper's Saratoga SP and the Beech Bonanza. The hefty Cessna met our requirements and was typically the lowest asking price of the three types. The 210 felt comfortable—after all, almost everyone has time in high-wing Cessnas. An extensive search in FBO papers like The Controller and Websites like www.aso.com, however, revealed that the 210s with the features we wanted seemed to have significant damage history. Maybe pilots are too comfortable with the 210 and don't approach it with the respect it deserves.
That left the Piper Saratoga and the Beech Bonanza. Mostly "just because," we found one that met the requirements of our mission and our ownership goals: The "right" airplane turned out to be a 1982 Beech B36TC turbocharged Bonanza.
Every Plane Is A Project Plane
If you have the funds to order an airplane brand-new from the factory, you'll be faced with lots of choices. Which avionics do you want installed? What colors do you like for the exterior? What fabrics do you want for the interior?
A used airplane is the result of somebody else's choices. In fact, most used airplanes are a conglomerate of several owners' decisions. The average high-performance airplane in the U.S. follows a three- to five-year ownership cycle. A 10-year-old airplane is usually the sum total of two or three owners' choices. The more typical 20- to 40-year-old airplane may be, in some ways, almost unrecognizable to the factory that built it.
So, finding the airplane that's perfect for you is practically impossible. You'll want to fix it up. The trick is to find an airplane that's a good candidate, and then map out a long-term strategy to make the changes and additions you want on a budget that won't force you into the downward ownership cycle.
Page 1 of 3