Friday, February 1, 2008
The Cessna Buyer's Guide
Which one is right for you?
Compare flying a '60/'70s model 172 with a new-generation 172, and you'll quickly see the differences and why pilots are willing to spend extra money for a new or near-new airplane with significantly improved avionics. There are no significant maintenance issues to watch for on any of the newer 172s. It's just a great, simple, affordable, easy-to-fly family single that has justifiably earned its place in the hearts of thousands of pilots.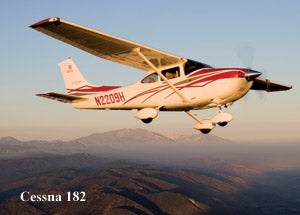 The Cessna 182
What if you took the world's most popular single-engine airplane and made it even better? You'd call it a new Cessna 182. Like the 172, the 182 was introduced in 1956. It offered the same ease of handling, comfort and simplicity of its little brother, the 172, but it also had more speed and better high-altitude performance. Hot-and-high performance was remarkable, mountain flying was a breeze and the aircraft offered a decent 150 mph on cross-country trips. The 182 design proved so perfect that Cessna kept the same powerplant and made only cosmetic styling changes for 30 years (1956 to 1987).
In 1997, Cessna resumed production of the 182 in its new incarnation, the 182S. Even the newer 182 is still the same basic airplane as its 40-year-old cousin (the only major changes, beyond styling, are a Lycoming IO-540 rather than a Continental engine; leather seats; and a fancier, standard King digital avionics stack). A turbocharged model was introduced in 2001; the next major change came in 2004 with the introduction of the Garmin G1000 as standard equipment. The 182 is a true 150 mph airplane on about 15 gph.
The 2008 glass-panel 182 lists at about $370,000. The earlier new-generation 182S (1997 and 1998) runs about $160,000; the next group, the 182T (2001 to 2003), will sell for $200,000 to $220,000; and the early G1000 182 (2004 and 2005) will run $235,000 to $250,000, depending on hours.
The new 182 may offer one of aviation's best overall values and capabilities; on the glass-panel airplanes, it's common to see the optional equipment include traffic avoidance, weather downlinks and XM Stereo. With Frank Sinatra or Mick Jagger playing on your headset at 10,000 feet and 150 mph on a beautiful sunny day, in an airplane so simple that anyone can handle it safely, can personal flying get any better than a 182?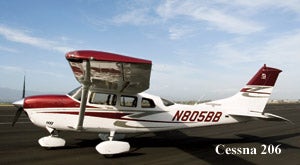 The Cessna 206
Do you have a big family? Do you need to travel to short, unimproved runways with the family dog, baby stroller and enough luggage for a month? If so, and you can't spend $3 million for a new Pilatus PC-12, you're probably flying a Cessna 206 (or a 180 or 185, but we'll get to those). The days of the air-taxi operator flying 206s are almost gone—except for in Latin America, Africa and Alaska. Today's typical Cessna 206 owner is more like this:
Mr. Bob Cavrell, owner of a Cessna 206, is a private pilot with a noncurrent IFR rating. Recently, his wife inherited a valuable antique piano that was 400 miles away. Not trusting a moving company with the valuable family heirloom, she enlisted her husband and the 206 to retrieve the prized antique. By removing all the seats (except the pilot's), and using the two large cargo doors and some careful maneuvering, Bob got the piano into the 206 and safely delivered it to his wife three hours later. Try that with FedEx. That's why Cessna 206 owners universally adore their airplanes.
Page 2 of 7