Friday, February 1, 2008
The Cessna Buyer's Guide
Which one is right for you?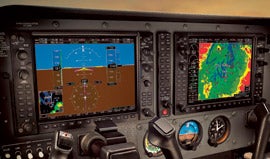 The Garmin G1000 glass-panel system comes standard on Cessna 182 aircraft. The standard "six-pack" is shown on a primary flight display, and a moving map with terrain and weather overlays is on the multi-function display.
Following the overwhelming success of the 172 and 182, Cessna reintroduced the 206 in 1999. Two versions of the 206 were offered: a turbocharged model and a normally aspirated model. The new 206H was introduced with a full King/Honeywell IFR panel, corrosion-proofing, optional float-fittings and a 300 hp Lycoming IO-540 engine. The airplane remained virtually unchanged from 1999 to 2003. In 2004, Cessna also added the Garmin G1000 to the 206 line. All 206s are easy to fly, roomy, excellent on short/rough fields and easily handled by low-time pilots. There's nothing negative about the airplane. Figure a solid 150 mph on about 18 gph.

A 2008 G1000-equipped 206H will run almost $500,000; a new-generation (1999 to 2003) 206 starts at about $240,000. A near-new glass-cockpit 206H (2004 and 2005) will sell for around $350,000. Whether you need to haul oil drums in the Amazon, tourists on photo safaris in Africa, plywood to remote villages in Alaska or just Sam the golden retriever and an occasional antique piano, think of a 206 as a flying Chevy Suburban, because that's exactly what it is.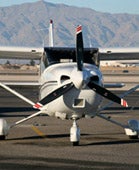 Which Cessna Is Right For You?
What kind of flying do you realistically do? What's a typical trip 70% of the time? And what can you easily afford? Each of the aforementioned planes is terrific, but to decide which Cessna best fits your travel or mission needs (and comfortably suits your checkbook), examine your flying profile, honestly assess your requirements and talk to a few Cessna owners and pilots. Ultimately, you can't go wrong with any of the new Cessna singles, but for you, right now, which one is best? Decisions like these are the best problems to have.




Page 3 of 7