Thursday, May 1, 2008
The Day Of The Personal Jet
No one can guess if the personal jet market will be as robust as many entrepreneurs think, but here's a look at the current and projected crop of contenders
PiperJet
Piper introduced the mockup of its PiperJet at last year's NBAA Convention, and it was one of the show's hits. Piper's entry will be an all-metal airplane, one of the largest and certainly the most powerful of the singles. It will mount a Williams FJ44 engine with a presumable 2,400 pounds of thrust.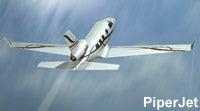 The big Williams will be mounted in the tail, DC-10-style, about a third of the way up the vertical stabilizer. This should prevent engine/wing or engine/fuselage interference, allowing the FJ44 to ingest clean, unobstructed air. Piper says engineering analysis suggests that high angles of attack, short of aerobatic, shouldn't present problems with air intake.
To offset the pitch change associated with power adjustments on such a high thrust line (more power will pitch the nose down and less power will pitch it up), Piper plans to install what it's calling the "Piper Automatic Thrust System." This will link pitch trim directly to thrust and will automatically correct elevator trim as power is added or reduced.
Turbine engines spin at up to 41,000 rpm, and to quell fears of catastrophic rotor bursts that might sever control, electrical or hydraulic lines (remember the United DC-10 in Sioux City?), Piper will encase the Williams engine in a double-thick protective shield and overbuild all surrounding tail structures to provide strength and redundancy.
Such a rearward engine position also necessitates an unusual aft wing installation. Crew and passengers will enter through the huge, three-foot-wide door; most people will ride forward of the natural laminar flow wing. The fuselage is a variation on the Mirage/Meridian cabin, stretched four feet to accommodate up to seven folks in a 2/1/2/2 arrangement. The current payload target is 800 pounds with full fuel.
With a 35,000-foot max operating altitude, pressurization will need to be 7.5 psi to keep everyone breathing normally. The airplane's performance should assure that no one will sit for long, as cruise is projected at 360 knots, and NBAA range with reserve is alleged to be 1,300 nm, roughly halfway across North America.
Piper hopes to fly a POC airplane before the end of 2008 and to deliver the first production example in early 2010. The projected price will be $2.2 million (in 2006 dollars).
Cirrus "The-Jet"
Alan and Dale Klapmeier have always gone their own way, and "the-jet" is a definite departure from most of the competition. Loosely derived from their pioneering work with Jeff Viken on the VK-30 pusher in the late '80s, the new Cirrus will emphasize comfort, just like the SR20 and SR22.
Cirrus' world-beater piston singles emulated BMW 5 Series interiors to provide max comfort with good performance, and the Klapmeiers hope to once again maximize the auto-to-airplane interface in "the-jet." Seating will be for seven in a 2/2/3 configuration with what appears to be a notably wider fuselage than appears in the competition.
The aircraft will mount its engine on the top fuselage centerline, with exhaust exiting between a V-tail. The Williams FJ33-4A-19 fanjet is roughly 80% of an FJ44 and will deliver 1,440 pounds of thrust, providing a 300-knot max cruise at 25,000 feet. Pressurization demands should be moderate, only about 5.5 psi, and operating at FL250 and below will allow "the-jet" to avoid the expense of RVSM certification.
Page 3 of 5