Thursday, May 1, 2008
The Day Of The Personal Jet
No one can guess if the personal jet market will be as robust as many entrepreneurs think, but here's a look at the current and projected crop of contenders
Alan Klapmeier doesn't like to make promises he can't keep, so he's playing "the-jet" close to the vest. Still, he suggests the airplane should climb at an initial 2,000 fpm and offer a 1,000 nm range with a medium load. The wide-span, long-chord Fowler flaps should make easy work of short, piston aircraft runways.
Target price is, once again, $1 million (in 2006 dollars), and first deliveries are planned for 2009.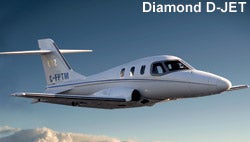 Diamond D-JET
Diamond's D-JET premiered at Oshkosh in 2006, and the company has been aggressively pursuing development ever since. CEO Christian Dries says Diamond has received 300 deposits for the D-JET and was given a $19.6 million investment from the Canadian government for research and development.
The D-JET is configured for four to five seats and tentatively priced just under $1.4 million. It's comparable to the Cirrus in mission profile. Diamond recently upgraded the D-JET's powerplant to the higher-powered Williams FJ33-4A-19, generating 1,900 pounds of nominal thrust. This engine incorporates several technical advantages over the previous engine, including better bleed air handling and improved specific fuel consumption. Unlike all the other personal jets, the D-JET's engine uses dual blended inlets just above the wings and exhausts beneath the fuselage. The D-JET is intended for operation at 25,000 feet or less and will offer a max cruise of 315 knots.
Diamond recognizes that many pilots will prefer more realistic cruise numbers in exchange for lower fuel consumption and longer range, and at 250 knots, the airplane will offer 1,350 nm between fuel stops. Diamond is planning for a 5,110-pound gross and an 880-pound payload with full fuel.
Diamond hopes to begin deliveries by late 2008. If the company meets that schedule, the D-JET will be the first personal jet to come to market.
Epic Victory
The Epic Victory is the wild card of the group, a variation on a theme by the enterprising Rick Schrameck. It's currently offered only as a homebuilt, but it may become available as a certified production airplane. If Schrameck pursues certification, he'll do so initially in Calgary, Canada, at the Canadian Center for Aircraft Certification, then probably produce the airplane at Epic's factory in Bend, Ore.
The prototype has been flying with a P&W 600 turbofan mounted atop the aft fuselage, but finished airplanes will probably operate in front of Williams engines similar to ones used on the D-JET and "the-jet." Like those airplanes, the all-carbon-fiber Victory will be certified below the RVSM minimum altitude, in this case, at 28,000 feet.
Pressurization differential is planned for 6.5 psi, which should provide a 9,000-foot cabin at 28,000 feet. Interior dimensions are 56 inches across by 53 inches tall, which should be plenty of room for almost anyone.
Page 4 of 5