Tuesday, April 20, 2010
The Most Affordable Singles
We examine some of the best buys In general aviation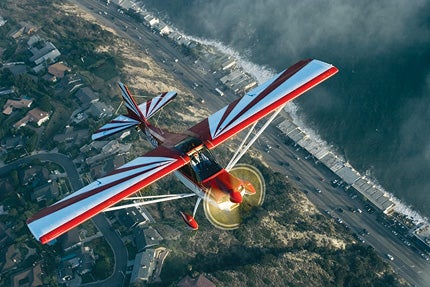 American Champion Decathlon
While our last buyer's guide ["Buyer's Mini-Guide To Four-Seat Singles,"
P&P
April 2010] included a smorgasbord of new airplanes, this one deals with used aircraft and draws from an even wider field. For this effort, we set a top price of $200,000. We could argue all day about whether $200,000 is "affordable," but we feel that it's a reasonable compromise—more than enough, but less than too much. Alternatively, two hundred large might buy you a decent timeshare in Aspen, an exotic sports car or a twin-engine cabin cruiser for fishing in the Gulf of Mexico.
Because there are few new airplanes available for $200,000 or less (except for LSA), this list comprises what we feel are the best used buys on the market. To avoid including antiques, whose value often is more intrinsic than practical, we set an age limit of 25 years. That's not because older models can't be made to look and fly young, but because reliability could be compromised on flying machines suffering from the aviation equivalent of middle age.
All pricing information is courtesy of
RVI's Aircraft Bluebook Price Digest, Winter 2009/2010
, but keep in mind that despite the depressed market, primo examples of older planes (between 1985 and 1995) probably will have been upgraded with Garmin 430/530 radios, making them worth a little more than usual.
And now, we offer our list of the most affordable singles in general aviation. (Let the e-mails begin.)
1
AMERICAN CHAMPION SUPER DECATHLON 8KCAB:
Some planes are intended for fun—the Super Decathlon certainly is one of these airplanes. With 180 hp out front and enough aerobatic chops to handle all but the most exotic maneuvers, the 8KCAB can serve as a basic trainer or an acro bird. Additionally, it makes a fun, comfortable cross-country airplane, with an easy 1,200 fpm climb and reasonable 128-knot cruise speed. With 40 gallons in the tanks and a baggage compartment behind the aft seat, you can load up to two lightweights and a suitcase, and take the airplane on 350 nm cross-countries. Originally a Champion, then a Bellanca and now an American Champion, the Super Decathlon still is in production. You can purchase most 8KCABs for less than our target price of $200,000.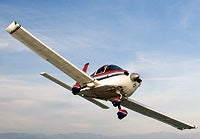 American General Tiger
2
AMERICAN GENERAL AA-5B TIGER:
The Tiger has a huge fan club. It's certainly one of the most popular airplanes that's not in production (though the type-certificate owner, True Flight Aerospace of Valdosta, Ga., hopes to reintroduce it). What endeared the Tiger to two generations of pilots was the quickest handling in the class and surprising performance for only 180 hp and fixed gear. With a sliding hatch to trick your friends into thinking you're a retired fighter pilot, bonded construction and a basically clean design, the Tiger offers performance equal to that of slower 200 hp retractables—800 fpm climb and a 135-knot cruise. You can find Tiger models from as late as 2005 (under the Tiger Aircraft banner), and all fall below our $200,000 ceiling.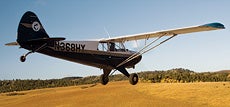 Husky A-1C
3
AVIAT HUSKY A-1:
If your mission is utility flying, you'd be hard-pressed to find an airplane better suited to hard knocks than the Aviat Husky. Though the top-of-the-line 200 hp 2010 Husky A-1C is priced at well over $350,000, the type dates back to 1988, and $200,000 will buy you an example from as late as 2009. The A-1A, A-1B and A-1C are similar airplanes separated by carbureted 180 hp, injected 180 hp and injected 200 hp, respectively. Like the Super Cub it emulates, the Husky does its best work in short-field mode. Runway requirements can be less than 500 feet, and a full-jump takeoff effort gets the airplane in the air in half that length. Adaptable to oversized bush wheels, skis and floats, the Husky covers all bases in the outback. All but the last two years' production of Huskys sell for $200,000 or less.
Page 1 of 5