Tuesday, April 20, 2010
The Most Affordable Singles
We examine some of the best buys In general aviation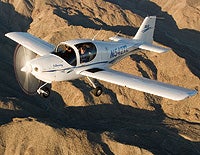 Liberty XL2
16
LIBERTY XL2:
The two-seat Liberty XL2's primary claim to fame is that it was one of the first airplanes to embrace FADEC (full authority digital engine control). The Liberty employs a computer-controlled, 125 hp Continental IOF-240-B that manages all parameters of engine management automatically. An obvious benefit of computer control is efficiency, and the XL2 scores about 5.3 gph at 60% power. Liberty sells the airplane as a trainer or personal transport, and it's a comfortable machine in either mode, with a 48-inch-wide cabin. Cruise is 125 knots at max throttle and 7,000 feet. If you have a budget of $200,000, you should be able to buy a used XL2 Vanguard from as late as 2008 to 2009.
Improvements To The Breed
Perhaps contrary to popular belief, several of the airplanes in this article have experienced changes in the last quarter century. Cessna's Skyhawk, the world's most popular airplane until a few years ago, has undergone some upgrades since its revival in 1997. Though Cessna switched to Lycoming engines with the reintroduction of the Skyhawk, Skylane and Stationair, the Skyhawk was offered in two hp configurations: 160 hp on the 172R, and 180 hp on the 172S. Performance differences were minor, though the S version of the Skyhawk obviously benefitted from slightly better climb and about one knot more cruise. Another major improvement in the Skyhawk was the Garmin G1000 glass-panel display. Today, Cessna has dropped the 172R and produces only the 172S.

Another popular Cessna, the Centurion, represented a major improvement in its 1995/1996 iterations. The airplane had been available in normally aspirated, turbocharged and pressurized versions for several years. For the last two years of production, Cessna upgraded the turbo and pressurized models from 300 hp to 325 hp, and added new wingtips to make the Cessna 210R more competitive with the Piper Malibu. The R version of the Centurion added about 100 fpm to climb, 15 knots to cruise and 100 pounds to payload.

The Aviat Husky has been around since 1988, and again, the newest airplane retains the basic configuration while offering significant upgrades. The original Husky, A-1 and A-1B used the carbureted, 180 hp O-360-A1G/P, while the more recent A-1C employs the injected, 200 hp IO-360. Predictably, the extra 20 hp transforms the airplane's takeoff and climb performance from spectacular to just short of unbelievable. Huskys have assumed the old Super Cub's place at the top of the bush bird pyramid, and the A-1C only continues that tradition and widens the gap between the competition.
Page 4 of 5