Wednesday, November 30, -0001
Top 10 Faux Fighters
Whether you're a G-junkie or a wannabe Top Gun, there's a bird out there for you

Maverick, Goose, Iceman, Tomcat, Sabre, Mustang, hero, testosterone, girls, speed, aerobatics, G-force. What do all these words have in common? Actually, they have two things in common: fighters and daydreams, although they could probably all be bundled into the "daydream" category because there are very few pilots who aren't, to one degree or another, frustrated fighter pilots." />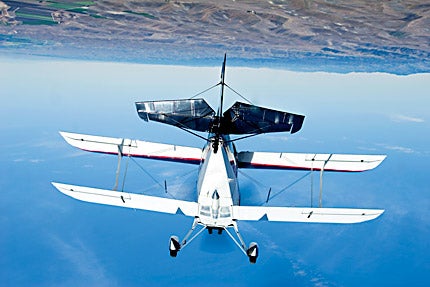 Maverick, Goose, Iceman, Tomcat, Sabre, Mustang, hero, testosterone, girls, speed, aerobatics, G-force. What do all these words have in common? Actually, they have two things in common: fighters and daydreams, although they could probably all be bundled into the "daydream" category because there are very few pilots who aren't, to one degree or another, frustrated fighter pilots. Some of us are more frustrated than others, but there are ways of dealing with that frustration without either joining the armed forces or shelling out a couple million dollars for a combat warbird.
There are airplanes, faux fighters, if you will, scattered around the fringes of general aviation, that will let us sample the drama (and fun) of flying fighters without the drama of being shot at or of writing huge checks. Some of these fantasy airplanes are more affordable than others and some are more mission-specific than others, but for anywhere from $20,000 to $300,000, you can easily find something that will fit both your budget and your tastes.
Before going shopping, it's important to first decide what it is that each of the airplanes on our shopping list must include. Bear in mind that we're not talking practicality here (admittedly, a few of the choices do include some practicality, but we won't hold that against them). Each of the airplanes must have, if not pure balls-out performance, at least much-better-than-average performance. There will be no ho-hum airplanes here. To help us live out our fighter-pilot fantasies, the closer an airplane comes to setting our hair on fire during takeoff, the better.
Also, if at all possible, the airplane has to be a character in its own right. Let's face it: If Maverick had been running around in a Cherokee, the entire
Top Gun
thing would have lost something. Tomcats rule! The airplane has to have that certain "something" that touches us in a way that other airplanes don't. Who can walk past a Mustang and not feel it? Or a Hornet? These are machines that, even when sitting on the ground, sing a siren song that kicks off daydreams we know we'll never actually live and can't afford anyway.
High-G maneuverability is another factor that must be included because the ability to dance is central to the character of a fighter: If it can't boogie, who cares about it, right? So, if it isn't aerobatic, it won't make the cut. After all, "yankin' and bankin'" is what daydreams are all about. And to many of us, that's what aviation is all about.
So, here's our daydream list of favorite make-believe fighters. Amazingly enough, some of them are even affordable!
Page 1 of 4