Tuesday, December 20, 2011
Top 20 LSA
Celebrating quality, innovation and endurance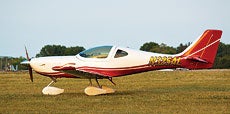 Arion
Arion
www.flylightning.net
Breaking in to the top 20 list, the U.S.-built Arion LS-1 Lightning, originally an all-composite kit sleekster, continues its sales successes with six more registrations for 2011 and a total of 17 aircraft, which in this economy ain't bad at all. The max cruise of 120 knots comes at the 2,850 rpm setting on the Jabiru 3300 engine. Climb rate is 1200 fpm! Many options include long-range tanks (30-gallon) and multiple avionics packages. Base Price: $98,000.
The Rest Of The Story
Sales indicators can give us important bell weathers of the health of a company and its industry, but they don't tell the whole story. Another fourscore or so LSA models we don't have space for may not have gained significant traction in the market for a variety of reasons, but the general lack of economic robustitude should be considered the prime Usual Suspect here. In the spirit of rooting for the underdog, here's a gathering of aircraft worthy of mention that could yet bust out of the Peloton and race to a win:

Two For The Road + A Water Bird: Although Terrafugia's Transition "roadable aircraft" (www.terrafugia.com) still awaits production and is now listed at $279,000 base price, the project continues. Meanwhile, the came-outta-nowhere Maverick (www.mavericklsa.com) paraglider-lofted dunebuggy, originally built for missionary work in third-world countries, is ASTM approved (#110), highway legal (as is the Transition), in production with an FAA-exempted 1,430-pound gross weight...and priced at $84,000! Meanwhile, another high-profile but long-delayed aircraft is the gorgeous Icon A5 amphibian (www.iconaircraft.com). First flown more than three years ago and with many presold, another 143 deposits were taken at Oshkosh 2011, a radio-controlled model is in the works, and the production prototype flew last July...can first deliveries come in 2012?

Not Kitting Around: We generally don't cover kit-only companies in this S-LSA guide, but one breakout story deserves recognition: the Van's Aircraft RV-12 (www.vansaircraft.com). Van's has sold thousands of general aviation kits over the years, and already has shipped hundreds of RV-12 kits, although numbers alone can mislead: Many tailfeather or wing kits may go out, but the whole airplane is never bought. Still, the prototype is S-LSA approved, which means it's E-LSA legal. Got a few to several hundred hours to invest in a building project? Check it out. RVs have a fanatical following that includes type-centric building and flying clubs. Rumors of a production S-LSA abound, but for now it's only a kit.

Honorably Mentioned: Germany-based FK Lightplanes (www.hansenairgroup.com) serves up several top-quality, proven composite designs. Latest is the Comet S-LSA aerobatic biplane, unique in its field since, unlike the Snap!, it's a tandem two-seater. The cockpit holes easily convert to bubble canopies for year-round skyjinks.

Just Desserts: Just Aircraft (www.justaircraft.com) has built rugged, quality backcountry high-wing taildraggers for some time. Its Highlander model is a kit that can be factory-built as an S-LSA (ASTM #33), in tricycle or taildragger style, and offers plenty of STOL performance, baggage hauling and room for big pilots (6'7"+)...and you can fly it with the doors off!

What's Not To Lyc?: The Renegade Falcon 2.0 (www.renegadelightsport.com) remains one of the sexiest planforms in the LSA realm. All composite and sporting the new Lycoming IO-233 LSA, 115 hp, auto-fuel-burning engine, production is reportedly underway, at a well-equipped $125,000 price point. If Corvette-style looks and Wichita Tin powerplants are in your dream wheelhouse, give this studly bird a look.

Tight Belts and Cloud Streets: If your bottom line is your monetary bottom line, a few aircraft deserve a close look: the Rainbow Cheetah XLS (www.x-airlsa.com) at ($49,500 to $62,900) and the X-Air LS (www.x-airlsa.com at $59,995. I.C.P. Aviation of North America (www.icpnorthamerica.com) takes over the reins from former dealer Skykits to market the highly respected Savannah S-LSA. The Italian-built STOL airframe comes in several variations: "S" model, wide-body "XL" and the "VG" (vortex generators). The "S" model will be reintroduced at a very attractive base price of $69,950 (fob Texas), powered by a Rotax 912ULS.

Soar High: And finally, for those of us who want our soaring cake and to eat it, too, by being able to effortlessly power up to the lift, the Phoenix motorglider (www.phoenixairusa.com) is a soaring motorhead's dream come true. Beautifully designed and built, this side-by-sider boasts a motor-off 32:1 glide angle, sports a 1,200 fpm climb and 115-knot, long-range-cruise on its Rotax 100 hp mill, carries a 612-pound useful load, and is truly a dream to fly. Not cheap at north of $150,000, but worth every shekel for the pilot who wants to have it all and share it with a companion.
Page 4 of 4
Labels:
Aviation Resources
,
Buyer's Guide
,
Buying A Plane
,
Features
,
Pilot Guide
,
Pilot Resources
,
Staying Current
,
Best Buys
,
New Aircraft
,
What's New
,
Aircraft
,
Adventure Aircraft
,
Aircraft Ownership
,
Adventure Flying