Tuesday, March 23, 2010
Top 20 Tips For Buying An Airplane
Preparation is the key to getting a great deal in today's buyer's market
10
CREATE A "TRUE OWNERSHIP COST" SPREADSHEET.
The romanticism of owning an airplane often clouds the facts. One of the best ways to realistically look at the true costs of buying an aircraft is to see the numbers on a spreadsheet, which can feature calculations for every variation of fixed and variable costs. Though many pilots create their own, you can get a good start at
www.planequest.com/operationcosts
and
www.ben.com/flying/costown.html
.
11
DO YOUR RESEARCH.
Before you commit to a purchase, it's essential that you know the plane's history. The Internet makes researching a prospective aircraft easy. A simple search-engine lookup of the N-number will reveal vital information. Run the free lookup at
report.myairplane.com
(check all the report boxes). If buying used, order any FAA Form 337s on your prospective airplane; these will show major repairs and alterations. You can order these forms directly from the FAA for a nominal fee, or pay much more for a title and escrow company to do the work for you. You'll need the N-number and aircraft serial number if you do it yourself. Order documents at
aircraft.faa.gov/e.gov/ND
.
12
GET FINANCING APPROVAL EARLY IN THE PROCESS.
The reason for this is simple: the ability to act quickly. Whether buying new or used, it's important to know what you can afford and what the bank will lend you (assuming you're getting a loan for the purchase). Preapprovals allow you to concentrate on finding the right aircraft, and enable you to immediately make an offer when you do find it. A great buy can slip through your fingers if another buyer comes along while you're busy trying to find financing.
13
LEARN ABOUT FACTORY INCENTIVES.
There's neither a magic bullet nor a simple website to put it all together for you. Dealer incentives aren't always easy to locate, but the fact is that right now, and for the foreseeable future, it's a buyer's market in the aircraft world. Manufacturers issue incentives to get people to purchase their airplanes. The trick to finding these incentives is to establish a relationship with an aircraft broker, or to research individual manufacturers. This could mean phone calls or Internet searches. Dealers also will be happy to help you, so do your homework before you start shopping.
Real Stories
Of Aircraft Buyers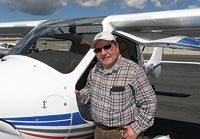 Light-Sport Airplane



Buyer: Bob Salinas
Airplane: 2006 Flight Design CT
Airport: El Monte Airport (KEMT)
Profile: Bob fell in love with airplanes as a kid. Because he was bedridden with a medical condition, he'd build airplane models to pass the time. When he learned about the LSA category three years ago, he decided to learn to fly. Because he has two artificial knees, the category fit his needs exactly. Salinas now has been flying for three years. He decided to buy an aircraft during training.
Typical Mission: Recreational flying. He usually flies with an instructor, and he does a lot of short sightseeing flights that are less than 200 nm.
Why This Airplane?: Ease of cockpit access, wide doors and easy maneuverability with limited leg mobility. Economical and simple to fly.
Intended Vs. Actual Use: Surprisingly similar. It's a bit more pricey than intended but fits his needs exactly—especially physical accessibility.
Best Flight: To Catalina Island. Bob had been scared by the "urban myths" about the airport, but he found Catalina to be great for a leisurely flight.
Top Tips: Shop for an airplane like it's a pair of shoes; the airplane has to fit the pilot. Be willing to pay a little more for exactly what you want.
Page 5 of 7