Thursday, June 1, 2006
Ultimate Showdown
Battle of the four-seat speedsters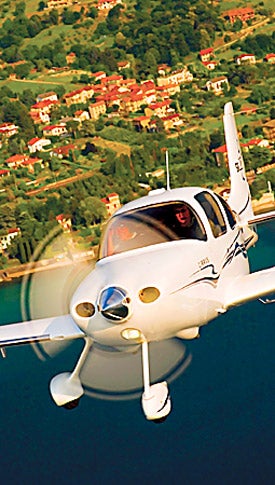 Battle of the four-seat speedsters
Contrary to what many people think, there's little to support the idea that general aviation's glass is half empty. Examine the last dozen or so years of aircraft development. In that time, at least six single-engine, four-seat airplanes—all capable of cruising near or even well above the magic 200 knots—have emerged.It's true that one is a homebuilt, but take a look at the other five planes. Two of the models easily exceed 210 knots; the remaining three approach 190 knots without the benefit of a blower under the bonnet. Considering that it has only been 40 years since the industry passed the 200 mph barrier, topping 200 knots is a major accomplishment.
It's true that some manufacturers produce and sell the same or similar models in nearly identical wrappers, but there are several major aircraft companies that offer totally new products, specifically Diamond, Columbia and Cirrus. Even Cessna is planning an all-new single, presumably something along the lines of a modernized Centurion.
Here's a rundown of the six fastest, piston, four-seat singles available in either production or kit form. Before anyone cries foul, we're aware that there are faster airplanes out there—the Marchetti SF260, Beech V35TC Bonanza, Comanche 400 and Bellanca Turbo Viking, to name four. For this comparison, however, we've confined ourselves to new aircraft or, in the case of the Lancair IV, an available kit machine. (Considering the price of admission, we're aware that many aspiring Lancair IV owners may not be able to devote the time required for building their own airplanes, but there are legal ways to have one built while still satisfying the FAA's 51% rule.)


1.
Lancair IV/IVP
Lance Neibauer's remarkable Lancair IV, which is the only homebuilt we looked at, is, predictably, also the fastest airplane in the group. For better or worse, its homebuilt lineage carries both positive and negative ramifications. You do have to build it, and for some pilots, that's a major disincentive. True, you could shop
Trade-A-Plane's
used experimental section and purchase someone else's handiwork, trusting to faith that they were as meticulous as you'd be and constructed a strong, reliable airplane, with no weak components or systems. However, some pilots, this one included, wouldn't consider flying anything they built themselves.
Whether you construct a Lancair IV with your own hands or purchase someone else's handiwork, Neibauer's ultimate four-place, piston homebuilt has an advantage of at least 60 knots over the rest of the group. In terms of sheer speed, the Lancair IV's 350 hp Continental pushes the airplane along at turboprop speeds. (Neibauer also offers a version of the IV that may be powered by a 750 shp Walther turbine.)
In a first-rate Lancair IV, plan on 300 knots at FL250. Even a slow IV should score an easy 275 knots at max cruise. Consider that Conquest I, Cheyenne II or King Air C90 turboprops are all working hard to deliver 250 knots. With Lancair's largest fuel tank option (110 gallons) you can plan on covering at least 1,100 nm between pit stops at max cruise, 1,200 nm if you're willing to pull back the inches a little and linger aloft for five hours. Perhaps best of all, you can construct a pressurized version of a Lancair IV that will deliver pretty much the same performance without requiring an oxygen mask.
Page 1 of 3