Tuesday, October 21, 2008
FIKE MODEL E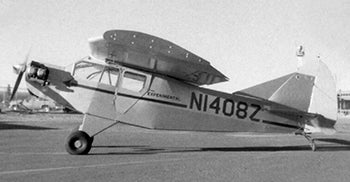 STANDARD DATA: Gross weight: 1,150 lbs.; Empty weight: 690 lbs.; Fuel capacity: 15 gals.; Wingspan: 22 ft. 5 in.; Length: 19 ft. 7 in.; Engine: 80 hp Continental.
PERFORMANCE: Top speed: 110 mph; Cruise speed: 100 mph; Stall speed: 37 mph; Climb rate: 800 fpm; Service ceiling: 10,000+ fpm; Takeoff run: 400 ft.; Landing roll: 600 ft.; Range: 280 nm.
William Fike, designer and Alaska airline pilot, created this two-place cabin monoplane. The Model E's airframe structure includes a Piper J-3 tail assembly, a welded steel-tube fuselage and an all-wood, fabric-covered wing. Power is supplied by an 85 hp Continental engine. The wing can be removed within 10 minutes to enable the plane to be towed.