Friday, February 1, 2008
10 Things To Look For In An LSA
Use your heart and your brain when considering your LSA purchase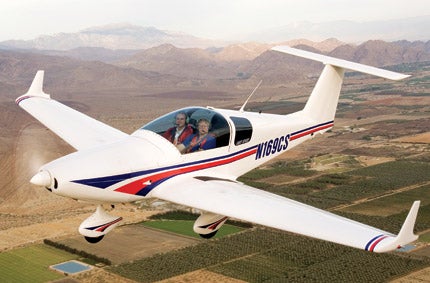 Aviation is experiencing an exciting transformation. At one point, a GA aircraft wouldn't show signs of obsolescence for, let's say, 30 years or so, give or take a decade. Those days are gone. Today, technological advances find their way into airframes and cockpits at an ever-increasing speed.
Technologically advanced aircraft (TAA) have fully integrated glass cockpits with, to name a few features, satellite weather, traffic advisories, terrain warning systems, electronic approach plates, attitude-based autopilots with flight-level change and flight directors, plus 130 channels of entertainment. Composite airframes, once negatively characterized as "plastic planes," have been validated by the likes of Boeing, Airbus and Uncle Sam. Collectively, composite aircraft represented more than half of all new piston-aircraft deliveries in 2006. Airframe parachutes. FADEC. Airbags. What's next? Run-flat tires? Well, guess what, they've already arrived.
Until something modern appears firewall forward, however, the next big thing to hit the GA scene may just be the exciting new category of small aircraft aptly know as light-sport aircraft (LSA). This new genre of airplanes has spurred a small revolution (really more like an overnight coup).
In Europe, innovative aircraft manufacturers have been building and flying very light aircraft (VLA) for years. Today, variations of these affordable sporty aircraft are finding their way to domestic shores in growing numbers. And while LSA aircraft have many commonalities with these sport aircraft, such as a 1,320-pound max gross weight, two seats, fixed gear and a top cruise speed of 120 knots, that's where the similarities end. For anyone in the market for a new LSA, whether for commercial training fleets, first-time aircraft buyers or last-time buyers, here are 10 things to consider when poring over the emerging fleet of LSAs.
1
Cockpit Standardization
If you're a seasoned aviator or aviatrix, one oddity that may grab you about sport aircraft is that there seems to be little cockpit configuration standardization among manufacturers. The vast majority of well-seasoned pilots learned to fly behind a menagerie of steam gauges lovingly referred to as the "six-pack." We were taught how to establish good habits like the all-important instrument scan. Mastering this habit of proficient aviating made it easy to transition from one aircraft to another because those same six instruments were usually right where you expected them to be in practically every airplane on the ramp.
In many of today's imports, however, the cockpit layouts are more a function of where instruments fit than a matter of convention. But if you've spent 500 or 5,000 hours behind a six-pack, your eyes are likely conditioned for the standard instrument scan. Furthermore, for flight schools training new pilots, aircraft with steam gauges configured in the standard six-pack will help establish a good scanning technique and make the transition into larger aircraft an easy one.
So, whether you're considering a new LSA for your training fleet as a cost-saving measure, looking for your first plane for learning to fly, or simply looking for a flying sports car to quell your midlife crisis, keep an eye out for an aircraft with a conventional six-pack configuration. Of course, all bets are off if you're inclined to join the "flat-screen generation." In that case, you'll find that the avionics manufacturer has already standardized the primary flight display. Just make certain the barometer is in inches and not millibars or hectopascals.
Page 1 of 4