Friday, February 1, 2008
10 Things To Look For In An LSA
Use your heart and your brain when considering your LSA purchase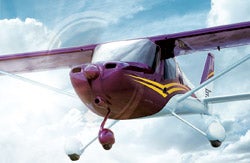 9
Warranty & Support
Okay, even if you were to debate the validity of the first eight items, numbers 9 and 10 are where the rubber meets the runway. Without question, let your head rule your heart in the area of warranty and support after the sale. You'll likely invest a chunk of change that could almost put a kid through college, purchase a second home or score the hottest exotic car in town. Thus, before you sign on the dotted line, it's important to keep your emotions in check and let your brain do the talking for a minute. Ask your friendly neighborhood LSA dealer what kind of warranty the aircraft has to protect your investment. You should expect some assurance that your investment won't become a high-priced lawn ornament through no fault of your own. Airframe warranty coverage varies significantly from zero to two years/400 hours. It's important, however, to ask this question up front so you enter into the purchase agreement with your eyes wide open. Also, if by some chance you have a warrantable problem in an aircraft whose origin is an Eastern Bloc country, you'll definitely want to know in advance where to turn domestically for warranty or technical assistance.
Don't forget to ask about parts availability. Does the importer support what he/she sells by stocking parts in the United States? Ask the questions and make an educated purchase decision, not an emotional one based on the cool factor. A grounded aircraft that needs a flap hinge isn't that cool.
10
Price
One thing you'll surely find when comparing sport aircraft is a variation in advertised price. Some dealers quote a low price, and later add all sorts of delivery charges and hidden fees. Some companies quote a "delivered" price. This means that there are no hidden fees and you can actually fly away for the advertised price—probably even with a tow bar stowed in the back. So before you just compare prices, dig deeper and see what it will actually cost to fly your new bird home. A "delivered price" should be all-inclusive with no hidden fees.
Bottom line? None of the current fleet of LSAs is from a familiar or legacy brand (i.e., Cessna, Diamond, Piper, Cirrus, etc.), so don't make assumptions about quality, handling or performance. There are some exquisite sport aircraft available in and coming to the Unites States, and many others are in various stages of development. What's important to note is that all LSAs aren't created equally. We have suggested some key things to consider during the purchase process, but only you can decide what's important for your mission requirements and peace of mind.
Page 4 of 4