Tuesday, June 25, 2013
2013 LSA Buyer's Guide
Stronger sales, more new models and something for everybody: That's LSA!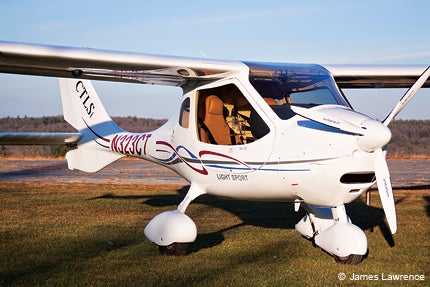 The list of 131 ASTM-certified light-sport aircraft ranges from high- and low-wing composites to all-electric two-seaters. Above: Flight Design CTLSi
The economy is resurgent, and light sport has weathered the storm. Here's our cherry-picked proof: a survey of an LSA market—the most diverse in general aviation history—that's truly astonishing in its variety.
First, some exciting new developments: an in-production single-seat electric-powered LSA; a taildragger-style STOL; an unbelievably faithful 70% P51 Mustang replica and a new low-wing beauty from a veteran Italian manufacturer.
The current list of ASTM-certified aircraft stands at 131. By the time you read this, it may well have grown! Such is the dynamic force of nature that is light-sport aircraft.
So far this year, several distributors say The Coin is flowing back into the LSA marketplace. Established and newbie companies alike report the strongest sales figures in years.
LSA is the recreational sector with something for everyone, whether local hamburger hopping, engine-off soaring in a sailplane-shaped motorglider, blasting out of a body of water in an amphib or float plane, or cruising cross-country at 120 knots.
You can get aftermarket, auto-style air-conditioning now, and advancements in non-certified, top-quality, affordable light-sport digital avionics continue to dazzle all of us.
We still hear gloom and doom about aviation's decline, too-high LSA prices and more. We say, meh. The LSA adventure offers such a cornucopia of great flying adventure, we suggest you do whatever it takes to join the fun, whether you lease, rent or buy with partners: Recreational flight's future looks bright and strong.
New Kids On The Ramp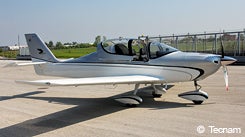 Tecnam Astore
Tecnam Astore
www.tecnam.net
Leading off is the lovely Astore from longtime Italian producer Tecnam. This sleek low-winger is already in production and will make its U.S. debut at Oshkosh to celebrate the company's 65th anniversary (the very first Tecnam was also dubbed "Astore"). It spreads the same wing as the company's Sierra and Bravo models, but otherwise has a completely new airframe of monocoque construction with aluminum sheet over steel tubing. Spacious inside (46.5 inches wide), beautifully appointed, and it comes standard with a mounted iPad mini. Price: $135,900.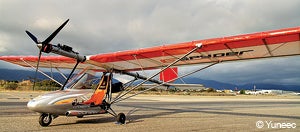 Yuneec eSpyder
Yuneec eSpyder
http://yuneeccouk.site.securepod.com
In 2009, Yuneec International of China wowed us all with the e-430, a graceful all-composite electric two-seat LSA prototype. Then personal and technical setbacks brought Yuneec into 2013 with no production electric—until last April's AERO event in Germany, where the company debuted its eSpyder electric.
The eSpyder, a reworked Flightstar ultralight from the 1980s, is a handsome revisioning indeed. Flight Design USA's Tom Peghiny, producer of the Flightstar for many years, sold the design to Yuneec but continued helping with development. He believes eSpyder, which just completed Germany's rigorous DULV aviation standard, is the world's first certified electric.
It's powered by a 27 kWh motor, (equivalent to a 34 hp gas engine) and two 70-pound batteries, and has up to a one-hour duration, with reserve for a go-around or an additional 20 minutes of air time. Price (S-LSA): estimated at $40,000. E-LSA version will cost less.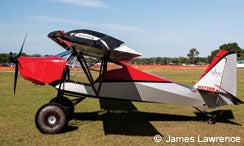 Jus SuperSTOL
Just SuperSTOL
www.justaircraft.com
My recent flight report extolled the virtues of the Just Aircraft SuperSTOL, a classic doped fabric/chrome moly steel frame taildragger with automatically deploying full-span two-segment leading-edge slats, 15-25-40-degree barn door flaps, Rotax 912 power and truly macho hydraulic shock-absorbing main gear struts. A whole lot of people went nuts about this airplane at Sun 'n Fun. Currently a low-cost kit ($36,650 before engine and avionics), with S-LSA certification underway. Just also makes the popular Highlander on which the SuperSTOL is based. Base price (kit): $36,650. S-LSA price to be announced.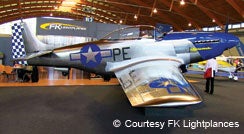 FK51 Mustang
FK51 Mustang
www.fk-lightplanes.com
Though it won't hit the U.S. market until 2014, this stunning 70% scale version of that most revered of all WWII fighters, the P-51, is a stone-dead showstopper. Of all-composite carbon-fiber/honeycomb construction, the surface finish nonetheless replicates with breathtaking fidelity the metal skin of the original Mustang! The European version has retractable gear and a 200 hp motor. The U.S. edition (either S-LSA or Experimental Amateur Built) will have fixed gear and prop, and Rotax 912 or 914 power. The FK51 is yet another stellar creation from master German designer Peter Funk. Price: $130,000 (estimated).
Page 1 of 7