Tuesday, September 22, 2009
Backstage With A Rock Star
An exclusive look into flight-testing one of the most anticipated light-sport aircraft: the Icon A5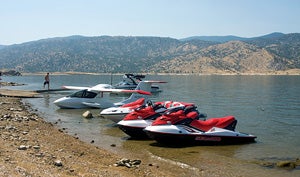 The design of the A5 was, in part, inspired by the look and feel of Jet Skis and other high-performance watercraft. Above, the seaplane is at home with the rest of Icon's fleet.
As we sit in the airy design room, Hawkins tells us how he drew the basic design on a napkin (one he still has) after experiencing an epiphany in 2004. He had just read an article about the FAA introducing the light-sport category and sport pilot license. "These were the biggest changes in aviation in 50 years," says Hawkins. "They gave me the idea to do something completely different with an airplane and take flying to entirely new audiences." LSA meant Hawkins could create an airplane without having to meet the onerous requirements of FAR Part 23. It freed him to conduct market research about his idea while earning his master's degree from Stanford Graduate School of Business that year.
The results of that research have become Hawkins' mantra: There's enormous pent-up demand for an airplane that's exciting, sexy and easy to fly; one that puts the fun back into aviation. "There are literally hundreds of thousands of people who want to fly, but are turned off by the cost and complexity of entry," notes Hawkins. He points to the dismal numbers associated with general aviation; from student-pilot enrollments and poor completion rates to the dwindling active pilot base. Hawkins says that the LSA category and sport pilot license are an opportunity to reverse these trends: to get aviation back to the adventurous roots that once inspired so many people to fly.
What's different about the A5 is that it was born from design first, and then everything else followed. Every button, knob, curve, material and dial on the A5 was thought of first from a design, human-experience and aesthetics perspective. "Take a Jet Ski, for example, while fundamentally it must deliver functional performance, many of the elements are there solely to enhance the way it looks and feels, and the overall human experience—to evoke a strong emotional response," says Hawkins. "Your average airplane isn't designed this way—and given its different mission of pure utilitarian air transportation, it isn't required to be."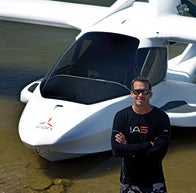 Icon CEO Kirk Hawkins
On the walls around us are the proprietary "storyboards" used to create the production concept of the aircraft. Icon profiled potential A5 buyers and gave each an imaginary name, along with a dossier of "personality" information. There is, for example, "John," the pilot. He likes the complexity of flying and is a perfectionist professional with a type A personality. There's "Derek," the skier/skateboarder/snowboarder with tattoos who likes everything fast and furious. There's "Brock," the single and moneyed playboy with time and funds to spare. There are several more. Each profile is distilled down to features he or she would likely want in an airplane. The design features are charted out and rated, with the final product being an ideal combination of characteristics from each profile.
The Team
Months later, Jessica and I travel to Lake Isabella, where Icon conducts private flight-testing. Some 40 miles north of Tehachapi, this is where Icon's designers and engineers are based. Isabella is void of people, except for the encampment Icon has set up. This is a logistically difficult site for testing, since everything has to be brought in. There's a small fleet of watercraft huddled near the shore: a sport boat, a pair of new Sea-Doos and a wakeboarding boat wait patiently. A birdlike Aventura II amphibious kitplane is tied to the dock, and an RV rests on the rocky shore, with chairs and coolers placed loosely around it. This is Icon's base-ops for the next few days.
I can see the A5 in the water, being coddled and caressed, as any rock star should be. The A5 looks good in the water—less gangly than the mockup being displayed to the public. She looks futuristic and young, and the calm waters of Isabella lap her sides with a gentle "thunk" sound against her composite hull. A team hovers around the A5, attending to various duties. Their calm demeanor belies the fact that many have been working endless days and hours getting the A5 ready for flight-testing.
Page 2 of 5
Labels:
Aviation News
,
Buyer's Guide
,
Features
,
Floatplanes
,
Journeys
,
LSAs
,
New Products
,
People and Places
,
Seaplanes
,
Sport Pilots
,
New Aircraft
,
Aviation Personalities
,
Travel
,
What's New
,
Backcountry Flying
,
Aircraft
,
New Airplanes
,
Adventure Aircraft