Tuesday, September 22, 2009
Backstage With A Rock Star
An exclusive look into flight-testing one of the most anticipated light-sport aircraft: the Icon A5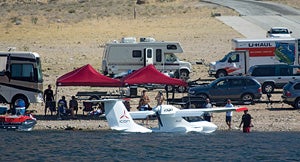 Lake Isabella in Kern Valley, Calif., serves as a testing bed for the Icon team, including engineers Jon Karkow and Matthew Gionta, both credentialed with years of experience at Scaled Composites.
Hawkins' genius is demonstrated in the Icon team. He recruited some of the best engineers and designers from Scaled Composites, the Burt Rutan company that gave birth to SpaceShipOne, Voyager and WhiteKnightTwo. Hawkins brought Steen Strand on board, a former investment banker turned product designer and entrepreneur (as well the inventor of the "Freebord," a 70,000-unit-and-counting sales success that combines a skateboard and snowboard). Hawkins has brought young, eager and talented minds to the task, while adding the rock stars of automobile and power-sport design, marketing, manufacturing, investment and business.
Today belongs to pilot and lead aerospace engineer Jon Karkow, who spent more than 20 years designing and developing ultra-unique aircraft at Scaled Composites. He was, by all accounts, the most respected engineer in the history of Scaled, having led some 20 aircraft programs and designed five complete airplanes, including the Virgin Atlantic Global Flyer. A lauded aeronautical guru, Karkow is a meticulous pilot, and the only pilot to have flown the Icon A5 other than Hawkins. Karkow will fly our aerial photo session. He's a man of few words, but every team member repeats the same thing: "Jon's the man."
Matthew Gionta doesn't look a day over 25, but his experience betrays him. Gionta is the chief technical officer and VP of engineering on the A5 project. At Scaled, he also was the VP of engineering, and he served as project engineer on no less than 11 programs in his first six years there. As we sit along the lakeshore under a makeshift shelter, Gionta tells me about flight-testing the A5. "We're coming out of the hydrodynamic testing phase," he explains. "We've refined the hull shape to give it optimum performance in the air and on the water. The A5 is excellent in both."
Gionta and I talk for more than an hour, and he gives me enough information for 10 magazine articles. He tells me about the Icon's Rotax 100 hp engine: "It's enough power. But we're also looking at the turbocharged engine." He also discusses the innovative tooling used at the team's Tehachapi workshop: "Because of the materials we're using on the A5, we can use 'disposable' tooling that allows two or three uses." And he reveals how production of the 430-odd pre-ordered airplanes will likely start in California, "But California is hardly friendly to aircraft manufacturing," he adds ironically.
Flying An LSA Seaplane
No seaplane rating required, endorsement only
The key to the success of the Icon A5 is the introduction of both the LSA category and the sport pilot license. The LSA category allows Icon's designers to take a different approach to creating production aircraft. Certification under FAR Part 23 isn't required, saving Icon—or any prospective LSA builder—hundreds of millions of dollars. That's one reason for the proliferation of LSA.

Sport pilot rules allow the substitution of a valid driver's license in place of a medical certificate. The FAA requires 20 hours of flight training—half of what's required for a private certificate. Sport pilots are restricted to day and VFR flying; something that won't affect buyers of the A5, since it's meant for pure fun flying.

The A5 is further unique in that it's an LSA seaplane. A seaplane rating isn't required to fly an LSA seaplane. Instead, an instructor's endorsement will suffice (similar to a tailwheel endorsement). The process involves first earning the sport pilot certificate, then undergoing additional seaplane training from a CFI and, finally, getting a proficiency check by a different flight instructor who'll endorse your logbook.

Icon says the additional seaplane training "is often accomplished in a single weekend," which points to the fact that these are recreational-use vehicles. Owners will likely trailer them to a lake, set up camp and operate there for a few days at a time.

Page 3 of 5
Labels:
Aviation News
,
Buyer's Guide
,
Features
,
Floatplanes
,
Journeys
,
LSAs
,
New Products
,
People and Places
,
Seaplanes
,
Sport Pilots
,
New Aircraft
,
Aviation Personalities
,
Travel
,
What's New
,
Backcountry Flying
,
Aircraft
,
New Airplanes
,
Adventure Aircraft