Tuesday, September 22, 2009
Backstage With A Rock Star
An exclusive look into flight-testing one of the most anticipated light-sport aircraft: the Icon A5
Mojave: The Wild West Of Aviation
Icon is the first in our ongoing series about the secret and fascinating workings of California's Mojave Desert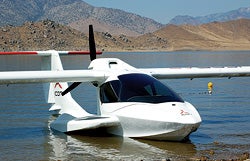 The Mojave Desert in California has always played a central role in the development of extraordinary aviation. Today, it still guards the industry's biggest secrets. Whether it's "Plant 42" (part of Lockheed Martin's famed "Skunk Works" in Palmdale), or NASA Dryden at Edwards Air Force Base, or even Mojave Airport, our nation's first civilian spaceport, this remote and empty desert has always been a "wild west" of secret projects, extreme aircraft and unbridled innovation. It's also a playground for many: from aerobatic contests at Apple Valley to dry lake bed landings at El Mirage. Even Angelina and Brad have been known to escape in their Cirrus from Los Angeles to Barstow-Daggett, where they explore the desolate landscape on dirt bikes.

The enormous area encompasses parts of five counties and is marked by Tehachapi on the western corner, Death Valley on the north, the Colorado River on the east and Joshua Tree on the south. The bone-dry air, remote location and long stretches of flat, empty land for emergency landings make it an ideal place to test new kinds of aircraft.

We're launching our "Wild West" series with Icon Aircraft. The company's work on the unique A5 amphibious LSA in Tehachapi is just one example of the rich aviation research going on here. Icon selected the location because of its proximity to the world-class engineers at Mojave Airport and the sparsely populated environs of Lake Isabella, where they conduct flight-testing. Both civilian and military testing mingle here, and it's not unusual to spy a UAV (unmanned aerial vehicle), secret military jet or other odd-looking contraption in the skies above.

Since the 1920s, the Mojave Desert has stood as a sentinel to airplanes and spacecraft more fantastic than we can even imagine. Because we don't have a cone of silence to fall back on, if we told you everything we were going to cover, we might have to… Well, we just can't tell you. Look for more articles and videos from this series in upcoming issues!

Page 5 of 5
Labels:
Aviation News
,
Buyer's Guide
,
Features
,
Floatplanes
,
Journeys
,
LSAs
,
New Products
,
People and Places
,
Seaplanes
,
Sport Pilots
,
New Aircraft
,
Aviation Personalities
,
Travel
,
What's New
,
Backcountry Flying
,
Aircraft
,
New Airplanes
,
Adventure Aircraft