Tuesday, June 22, 2010
Best LSA
Bringing the fun back to flying with our picks for exciting light-sport aircraft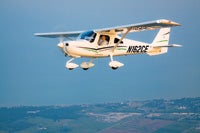 Cessna
Although 1,000 customers ordered the C-162 Skycatcher after it was announced in 2006, only one aircraft has been delivered. Testing and production setbacks are the culprits. Yet how can we leave out this major player from our top-tier list? The company is on track to catch up to the pack after receiving ASTM certification, and production airplanes should at last begin arriving at airfields as you read this. CEO Jack Pelton hopes for 300-400 deliveries per year. Price: $112,500.
Contact:
www.cessna.com
.
UP-AND-COMERS
Some airplanes achieve wild popularity long before they even come to market, such as the Cessna Skycatcher, PiperSport and Icon A5 amphibian. Others of comparable quality, performance and visual appeal may take longer to work their way into the LSA vernacular.
Herewith we present our selection of LSA we feel worthy of your closer attention. Some have yet to be delivered. Some target niche flyers (amphibians, motorgliders). Many are solid performers from Europe, but less known here. And a few are brand new but already establishing reputations.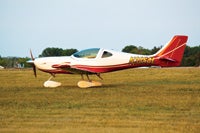 Arion
The Lightning is a flat-out stunning, new, all-composite design that's turning heads and opening wallets. Tied for sixth place in registrations this year, it won Reserve Grand Champion at Sun 'n Fun 2010. First flown as a kit in 2006, the LSA version is tested well beyond ASTM specs—including a 270 mph flutter test. The S-LSA version is just one year old, though 83 kits are out there. Quick specs: All-composite construction; 120 hp Jabiru 3300 engine; 44 knots clean stall; 1,200 fpm climb at full gross!; AN hardware, Matco wheels and brakes, other quality American components; 120-knot cruise; 42-inch cockpit; U.S. built. Price (base): $93,900.
Contact:
www.flylightning.net
.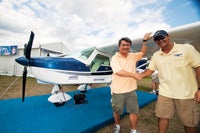 Paradise
A perfect example of an up-and-coming S-LSA: The Paradise P-1 is the S-LSA version of a popular Brazilian homebuilt that first flew in 1999. Adapted from a four-seater, there's room for lots of baggage, not a typical LSA feature. Airframe is welded chrome-moly steel tubing with aluminum skin: a time-honored construction method that's strong yet light. Solid-aluminum spring gear, docile and comfortable handling, all-leather interior, Amsafe seatbelt airbags, dual yokes, steerable nosewheel...definitely worth a look. Price: $108,830.
Contact:
www.paradiseaircraft.us
.

Aeropro
A real up-and-comer (tied for eighth for 2009), the Czech-built Aerotrek comes in two versions: A220 taildragger and A240 tricycle gear. Built in the Czech Republic and assembled in America, 300 of the fabric/tube sportsters are flying worldwide. A cool feature: folding wings. One person, 10 minutes, and into the garage or onto the trailer it goes. Lightweight, comfortable, with good visibility and a real fun-flying feel, these airplanes are considerably evolved from their original Kitfox ancestor. Optional 100 hp Rotax—or standard-equipped 80 hp 912UL for $67,950.
Contact:
www.fly-aerotrek.com
.
Page 3 of 5