Tuesday, February 25, 2014
Celebrating 10 Years Of Sport Aviation
The latest and greatest from the U.S. Sport Aviation Expo 2014
The 10th annual U.S. Sport Aviation Expo drew a near-record crowd of more than 20,000 to Sebring Municipal Airport (SEF) in mid-January for what has become the nation's premier sport-aircraft showcase and the kickoff to general aviation's annual calendar of events. Some 140 vendors displayed aircraft and ancillary products and services, while a full schedule of forums covering all facets of sport aviation—expanded to four from previous years' three venues—ran throughout the day. The exhibition hangar hosted streams of visitors who came to talk to the avionics manufacturers, residential airpark agents, sport-aircraft specialists and other aviation business reps who filled the booths.
Aircraft were showcased in flight at the daily 10:30 morning demonstrations and afternoon fly-bys, and throughout the day, OEMs demoed their planes for potential customers. "I'm estimating we gave at least 50 demo flights," said Ken Scott of Van's Aircraft.
The daily flight activity is the defining event of each day, and Expo Director Jana Filip plans to keep it that way. "We intend to remain a sport-aircraft product exposition, not an air show," she said.
Underscoring the increasing importance the industry places on the show, Expo also saw the introduction of several new aircraft and additional products aimed at the sport-pilot and general aviation markets. If you missed this year's show, make sure it doesn't happen again. The next U.S. Sport Aviation Expo is scheduled for January 15 to 18, 2015. Here's a look at airplanes and products that made a buzz this year.

Resembling a baby Catalina, the composite Super
Petrel LS amphibious pusher made a splashy
U.S. debut at Expo '14.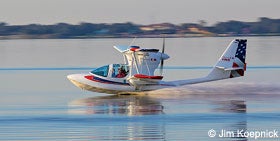 Super Petrel LS
Super Petrel LS
www.edraaeronautica.com.br/en/
Resembling a baby Catalina, the composite Super Petrel LS amphibious pusher made a splashy U.S. debut at Expo '14, becoming one of the most talked about aircraft at the gathering, on the ground and in the air at Sebring Muni, and on the water at Lake Jackson. Brazilian-designed, and built to ASTM standards by EDRA Aeronautica, the original Petrel was introduced over a decade ago, and more than 250 have been sold worldwide, according to the company. The Super Petrel LS, introduced in 2009, is the sixth generation of the design. Well built and nicely upholstered, its 100 hp Rotax 912 ULS lifts the Super Petrel off the ground in some 260 feet and from the water in about 400 feet, it cruises at 112 mph with five hours' endurance, stalls at about 35 mph, lands wheels down in about 400 feet and about 330 feet on water. Brian Boucher of Flight Design distributor Florida Light Sport Aviation engineered FAA approvals process for U.S. certification over the past year. "It flies like a dream," the 20,000-hour retired airline captain says. Price: $135,000.
Page 1 of 4