Tuesday, February 25, 2014
Celebrating 10 Years Of Sport Aviation
The latest and greatest from the U.S. Sport Aviation Expo 2014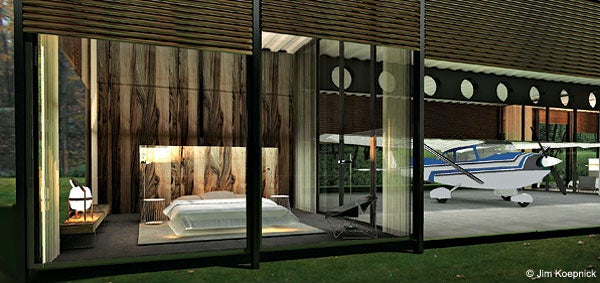 Green Airpark
Green Airpark, French Fly-In Community
www.greenairpark.fr
Green Airpark is a residential airpark for the new century—in the heart of France. This soi-disant "ecological aeronautical village" will have bio-climatic, zero-energy and -waste design homes, with 33 sites on 102 acres flanking parallel 3,250-foot asphalt and grass runways. Paddy Casey, a rep for European GA publications, displayed a large folio filled with artists' computerized renderings of the homes at his company's booth, noting, "There's room for a swimming pool or tennis court." Developer Penicaud Architecture Environnement will design and build a "modern ecological villa" with integrated hangar. The low-slung glass-walled contemporary structures envisioned are all sleek modernity, set on plots between 1.2 and 2.2. Green Airpark home sites are located some 250 miles south of Paris and under "constraint-free aeronautic space" in the Poitou-Charentes region. Price: $200,000 to $215,000.
GRT Mini
www.grtavionics.com
GRT Avionics introduced its Mini all-in-one backup flight instruments and autopilot system, a compact, affordable unit designed for three different types of flying. You can use the Mini as a VFR EFIS system for LSAs or light kitbuilts, as a backup for a larger EFIS system or as a stand-alone autopilot and backup flight instruments display. Available in three models, all can serve as a serial altitude encoder and control head for a remote Trig TT22 transponder. At the company's booth, marketing director Katie Bosman noted the unit uses the same familiar interface as the popular GRT Horizon or Sport, and can serve as an auxiliary autopilot control head for GRT servos if the main display fails. Price: $1,195 (Mini-B); $1,395 (Mini-X, including synthetic vision and moving map); $2,100 (Mini AP, add-ons include a flight director).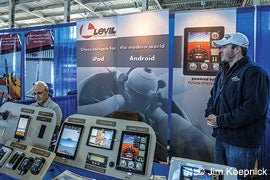 iLevel Series AW
iLevil Series AW From Levil Technology
www.aviation.levil.com
Unveiling the second model of what it calls "the magic box," Florida-based Levil Technology introduced its iLevil Series AW, a battery-powered portable ADS-B in a standalone Attitude and Heading Reference System (AHRS)/GPS/WAAS receiver, an enhanced version of the iLevil Series SW. Both pocket-sized units can turn a mobile device into a glass panel. Compatible with iPad/iPhone and Android devices, and mobile flight apps including WingX, Airtrack, Xavion and Avilution, both have 978 MHz ADS-B receiver and GPS, attitude/heading indicator (AHRS) and serial data mixer. The AW adds internal pressure sensors for Air Data integration, providing indicated airspeed, pressure altitude and VSI when connected to the pitot system. The embedded zero-drift AHRS technology is provided by Tucan Systems. Demonstrating the unit at the company's booth, Joseph Manszal says in addition to serving as portable backup for any panel unit, it can be installed permanently (remote antenna options available). Price: $1,199 (SW); $1,399 (AW).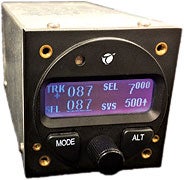 Vizion Autopilot From TruTrak Flight Systems
www.trutrakflightsystems.com
TruTrak Flight Systems introduced its Vizion Autopilot system for experimental and light-sport aircraft at Expo. Utilizing the familiar interface of TruTrak's Digiflight II, the Vizion system contains all-new hardware, and is available in both single-axis option (Vizion 280) and with altitude pre-select (Vizion 380). Lucas Massengale demonstrated the system at the TruTrak booth. The Vizion 280 includes built-in Ground Track DG, Track Select mode and GPS Nav mode. The Vizion 380 adds Altitude Hold, VS Select Mode, Altitude Select, Control Wheel Steering and Pitch Trim Annunciation, and the Vizion 385 adds lateral and vertical GPSS Steering. Both units are available in either 2.25-inch round or Flat Pack configuration, in either 12- or 28-volt units. Price: $1,700 (Vizion 280); $2,800 (380).
Page 2 of 4